The REVIEWS are in for Frankie Drake Mysteries!!
Well, the reviews are in and FRANKIE DRAKE IS A HIT!!
HUZZAH!! The full reviews are on my REVIEW page on this website BUT here are some shout outs for FLO!! The morgue attendant with purpose!
FROM TV, EH?: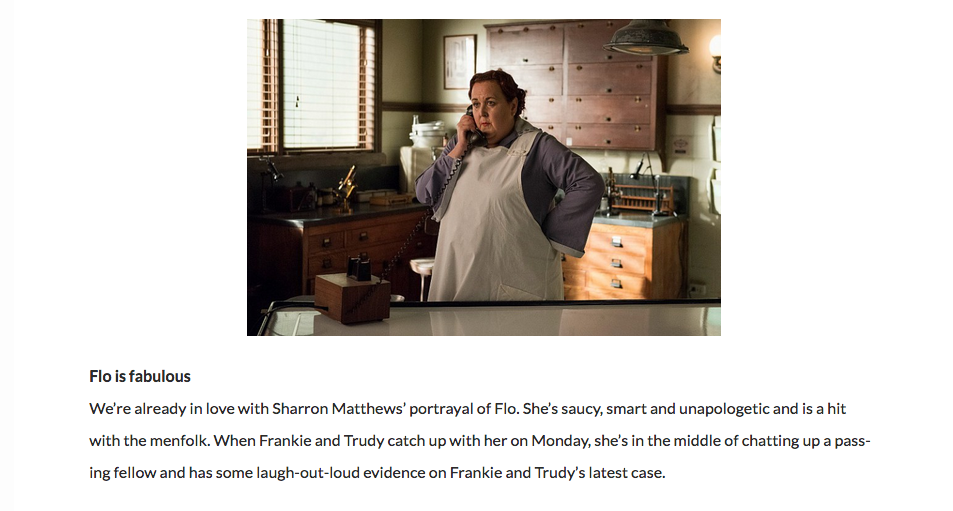 FROM John Doyle of the GLOBE AND MAIL:
"And you just have to meet Flo (Sharron Matthews) the morgue attendant from comedy heaven."
From Bill Brioux:
"…Sharron Matthews (Mean Girls) brings morgue assistant Flo very much to life. The first episode gives each supporting character just enough to do to keep viewers keen for more to come."
VERY EXCITING INDEED!! IF YOU WANNA WATCH EPISODES OF FRANKIE DRAKE MYSTERIES (and I wish you would!) GO HERE!!
OR BUY THE WHOLE SEASON ON ITUNES!! (no pressure….)
And, don't forget, it is on every Monday at 9:00pm on the CBC, people!! : )