---
_____________________________________
Lunchbox and Storybook dates means a double dose of Sharron Matthews
Sharron Matthews, Canada's premiere cabaret artist, is making a whistlestop return to Calgary this month with both a kid-friendly show and an adult-friendly show.
Last year, Matthews wowed Lunchbox Theatre audiences with her autobiographical show Girl Crush, which was about dealing with image issues, bullying and finding her mojo through music and merriment. It earned Matthews two Betty Mitchell Award nominations and an enthusiastic local fan base; in return, she gained a love for our city and theatre community.
This explains why Matthews agreed to return with her internationally acclaimed cabaret show Superstar! as a fundraiser for Lunchbox. She will be performing April 12 and 13 at Lunchbox at 9:30 p.m. Tickets for these shows are $35 and can be reserved at lunchboxtheatre.com.
While she was performing Girl Crush last March, StoryBook Theatre's artistic director JP Thibodeau learned Matthews has a family show called Invincible You, Invincible Me, which also deals with bullying, negative self-image and anxiety, and quickly booked her for his current season.
Invincible You, Invincible Me will run in the Vertigo Studio Theatre April 6-8 and three of the six shows have only a handful of tickets remaining. You can book seats for Invincible You, Invincible Me at storybooktheatre.org.
Internationally, Matthews is known as the Canadian Goddess of Cabaret and has been named best cabaret performer by critics and magazines on both sides of the Atlantic. She has taken her show Superstar! as far afield as Edinburgh, London and South Africa, where she played to standing room only crowds.
"I started working on Superstar! back in 2005. Through the cabarets I had been doing, I had amassed a catalogue of almost 100 songs. I was looking to create a format where I could whittle that down to 50, polish them and then use different ones for different occasions," says Matthews.
"Girl Crush is a real message show. Superstar! is a let yourself go and have fun show."
She admits Superstar! is filled with nostalgia, but quickly adds "not the mothball, smelly kind of nostalgia. The really fun kind. I do all the parts of Bohemian Rhapsody by myself. That kind of thing."
Matthews says that, in the version of Superstar! she will be performing at Lunchbox's fundraiser, she'll be doing a tribute to prom nights and those last-song sets of the evening.
"I do the kind of songs typically played at proms and then I do the set I think they should do which means a lot of Bee Gees."
Though she has done her share of musical theatre, Matthews says there isn't a set of big songs from Broadway shows, but then adds "that doesn't mean Superstar! doesn't have a musical theatre feel to it. I give popular songs a musical theatre feel.
"In a show in Edinburgh, I did my version of the Supreme's Stop in the Name of Love. After the show, a little 83-year-old woman came up and asked what Broadway show that number came from."
Matthews says she will do one of her most requested sets in the Lunchbox show, which is a disco number.
"I talk about falling in love with a DJ in a New York nightclub and then tell our love story using 35 disco numbers. Some of the songs will only have a few lyrics but people will know them instantly."
Matthews says the youth show Invincible You, Invincible Me actually grew out of her cabaret show.
"Five years ago, Allen MacInnis at Young Peoples Theatre in Toronto encouraged me to write a show for children. I was so used to doing adult shows with adult themes I didn't know if I could adapt my style for children.
"Allen said for me just to do what I knew best and take out the cursing, so I created a grown-ups show for kids. It's a very engaged performance. I'm always talking to and with the kids, which means each show is unique to that audience."
Invincible You, Invincible Me has become so popular that Matthews has decided to teach the show to a couple of young artists who can take it to all the schools requesting visits.
"My Invincible You, Invincible Me shows for StoryBook Theatre may be the last ones I do personally. When I'm back in Toronto, I will begin incorporating my new artists into my performances and then let them take the show out on their own."
_________________________________________________________________________________
Frankie Drake Mysteries' Sharron Matthews on why Flo was 'Meant to Be'
|
Frankie Drake Mysteries may be set in 1920s Toronto, but its representation of female characters is far from out-dated. Frankie Drake (Lauren Lee Smith) and Trudy Clarke (Chantel Riley) are both smart, tough, ambitious, complicated women, so it comes as no surprise that the women they choose to work with are just as nuanced.
Enter Flo, played by actress and cabaret star Sharron Matthews, a morgue attendant with a no-holds-barred attitude. "She's sassy, and she's a bit fearless," says Matthews to The TV Junkies when asked how she infuses her cabaret flair into the character.
In fact, it's Matthews' cabaret background that offered real insight into how she could relate to Flo. "I didn't start cabaret in earnest until I was 35 years old," says Matthews. "I already had a full theatre, TV and film career before I dedicated myself to it because I was so passionate about it. With Flo, she didn't start going to medical school until she was in her 40s, because her husband died in the war. So I get someone later in life finding a new passion and dedicating themselves to it fully."
The process of getting the role of Flo wasn't easy for Matthews. When her agent approached her about the part Matthews was in New York City performing her show Girl Crush at 54 Below. When Matthews said she didn't have time, her agent insisted she at least read the part. "Some characters you read and you go, 'I can play that.' Then there are some characters you read and say, 'Oh, that's me,'" she reveals. "I literally put my suitcase in the middle of the smallest hotel room in the world, I put a toaster container on top of it, I leaned my iPhone on it, and did a self-tape."
She was still in New York City when the producers called back asking her to fly to Toronto to read for Flo. Determined to make it work, Matthews' agent recorded a clip from a recent guest role she'd filmed in the series Taken and sent it to the producers. After that, the role was hers. "I think it was meant to be," says Matthews.
As viewers, we're still getting to know Flo, as much of her story this season has been about getting out into the world to join in on the adventure. "It felt like Frankie was drawing Flo out of the morgue and out of mourning," says Matthews. "She decided she had another passion, but that passion also led her to being very singular and alone. Frankie is dragging her into life, she's being pulled into more and more friendships."
In "Out of Focus," Flo had a chance to bond with Mary (Rebecca Liddiard), and offer some frank advice about her personal life while they searched for a missing dead body. It became a defining moment for Flo in the series. "What you learn about Flo, you see through her actions, and through the way she talks to Mary," says Matthews. "We discovered this great comedic partnership. They're very different, but they really fit together. I think they saw that and they wrote a little bit more in the episode for us too."
Matthews says the chemistry between Flo and Mary was something they discovered near the end of shooting Season 1, but it's something she hopes they can explore further if the series is renewed for a second season.
As for this week's episode, "The Pilot", expect to see Flo both in and out of the morgue as she helps Frankie solve a case around an attempted child kidnapping.
What would you like to see more of if Frankie Drake Mysteries gets another season? Are you a fan of Matthews' Flo? Sound off in the comments below.
Frankie Drake Mysteries airs Mondays at 9 p.m. ET on CBC.
___________________________________________________________________________
_______________________________________

_______________________________________________________________________________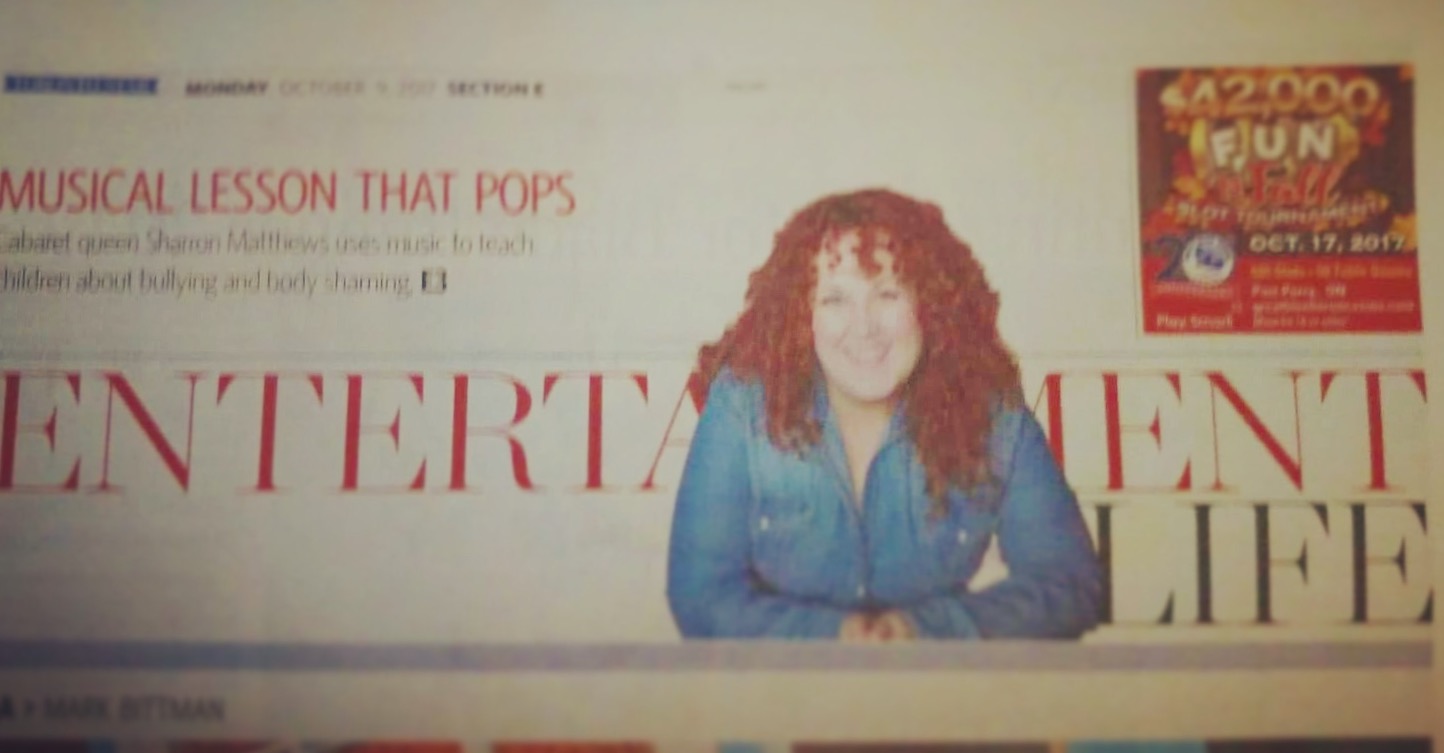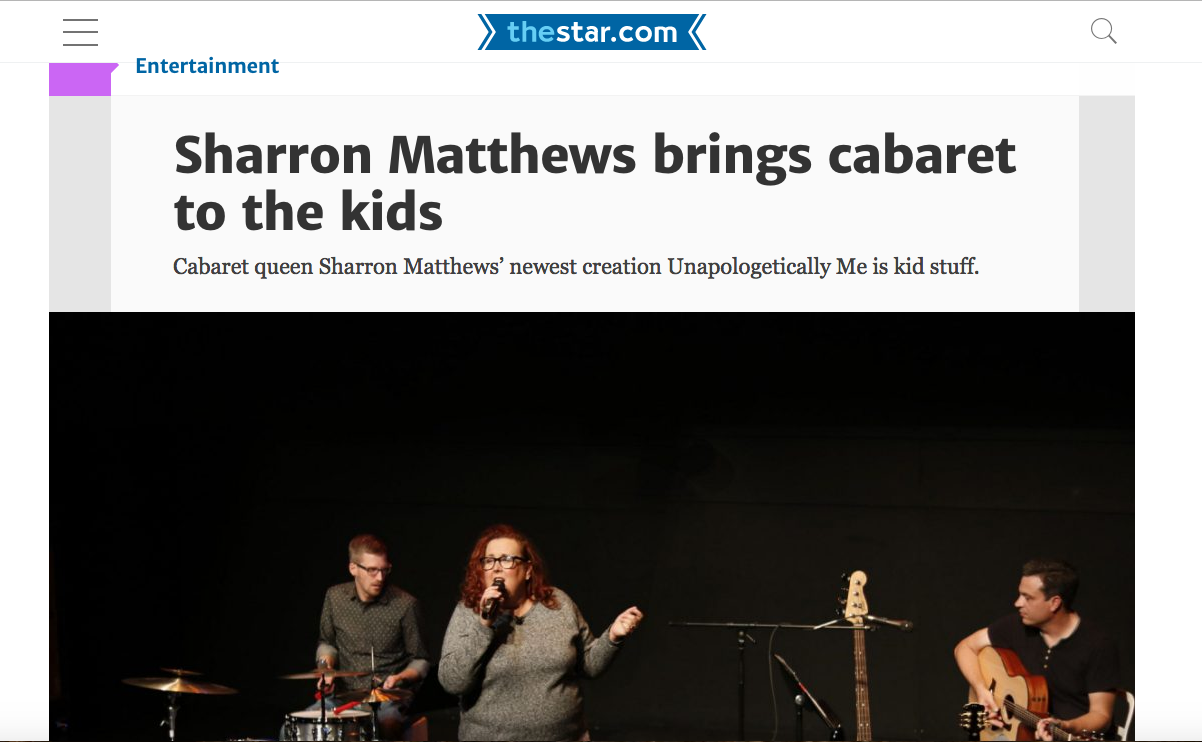 The well-known local actress and musical thespian is currently staging Unapologetically Me: Sharron's Cabaret for Kids, a rocking musical show for kids aged 9 to11, in which she tells part of her own life story in an interactive show that touches on anxiety, body shaming and being yourself.
At Thursday morning's performance, the kids from Withrow Avenue Junior Public School were into it, dancing and singing throughout, especially when they heard some familiar chords.
"Kids are the most challenging audience I've ever performed for, because you can't stop for a second," says Matthews, a pillar of the local cabaret scene and a 20-year veteran of the form. "What kids know is about a year and a half long, and then it all changes, but luckily with 'Uptown Funk' and Taylor Swift, those are evergreen songs for them.
"There has never been (another) audience where as soon as I start Taylor Swift or 'Uptown Funk,' where they go 'What?' and they just start singing, which is exactly what I'm looking for."
Matthews, who is backed by musicians Jason Chesworth on guitar and Jamie Drake on percussion, says that this show has been workshopped for three years and went through many iterations before this finished product.
She was approached by the theatre's artistic director, Allen MacInnis, who was a fan of her more adult-themed cabaret, to try to come up with a show for this audience.
"When he said, 'What about cabaret for kids?' I said, 'I don't know, I just don't know how it's going to mix.' And he said the most important thing you can do is that it's interactive, it's malleable in the moment and that the kids are being heard."
The result is a show where Matthews gets them on side by telling them a story that starts with her first day at school and picking a few students in the audience to get the conversation rolling. She then touches on issues like bullying, body shaming and her own struggle with anxiety. There are some points where she asks for call and responses and, because of that, she knows she just has to go with the flow.
"You have to be ready and that's the challenge with something like this. You have to be open for just about anything. If you're going to ask them to be involved, you have to be open to every kind of involved," she says.
She credits her crack backing band and collaborators, who know from her cues when to slow it down to let a little one be heard, or perhaps vamp away with a drum fill to keep the show moving. That said, there are going to be times when the show gets hijacked by someone who just has to say something.
"For then, you just have to make sure that they feel like they are being heard," she says. "And then get back on track."
The show runs until Oct. 21 here and then moves on to Calgary, and after that she plans to stage it concurrently with some of her other upcoming "grown-up" cabaret tours.
And the truth is, she says, when it comes to cabaret, there really isn't much difference between the old chums and the younger audience.
"The thing is everyone asks me how different it is and the only difference is that I take out the swears," Matthews says. "I don't have kids, so I talk to kids like I talk to an adult, mostly. I think that's what makes it work. I really do just talk to them the way I do to adults — who have been drinking."
_________________________________________________________________________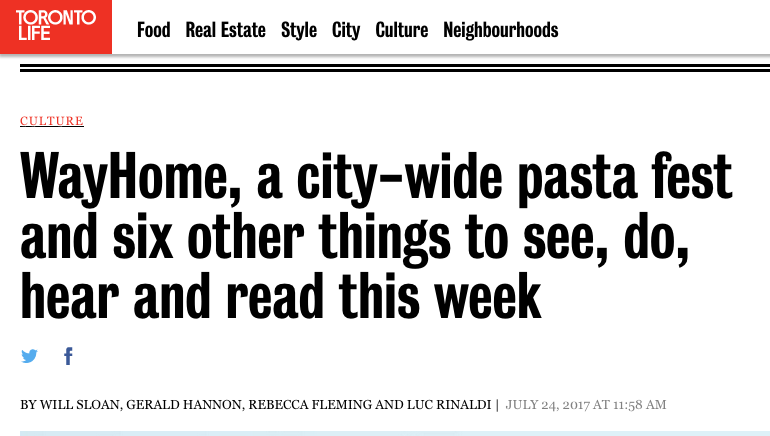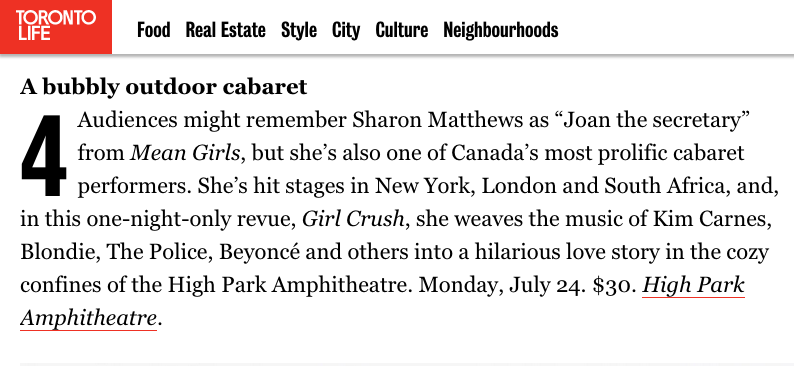 ______________________________
What cabaret performer Sharron Matthews is listening to, reading and looking forward to
What she's listening to: "Because of my cabaret work, I spend a lot of time listening to new popular music. I download the top 20 songs every week and listen to them a couple of times to happen upon something that is inspiring to put into a new piece. But lately I have been wrapped up in a musical theatre cast album. I have listened to Dear Evan Hansen at least 100 times. It has a wonderful score – composers Benj Pasek and Justin Paul not only won the Tony Award for this show but also won the Oscar this year for their work on La La Land – as well as hot-button content and wonderful performers. I dare you not to love it."
What she just read: "So, I travel a lot and I love listening to books on tape. Last year, I was travelling to Sudbury to shoot a horror movie – bucket list item, people, and I played a cop, too, which was magical – and I thought, 'Ya know, I am going to download a scary book that I love, to get me in the mood.' I bought Stephen King's The Stand, my favourite of his novels. (Judge at will, but that dude knows how to tell a story, and I love him.) I have to say, driving the roads of Northern Ontario in the dark and listening to this post-apocalyptic tale scared the bejesus out of me. The story is epic and enthralling."
What she's looking forward to: "Okay, I know it is far off, but I really am looking forward to the arrival of Come From Away to Toronto. I have been trying and trying to see it (both here and in New York) and it just has not panned out. But in February, 2018, it is coming back to the Royal Alex. It's one of my favourite theatres; I did Les Miserables there when I was 21 years old. And now my husband, George Masswohl, will be in it! So, I am kind of glad that I have not seen it yet, because the first time I see it will be with him on the stage. Life works out sometimes."
Sharron Matthews' Girl Crush plays July 24, 8 p.m. $20 to $30. High Park Amphitheatre, 1873 Bloor St. W., 416-368-3110 or canadianstage.com.
Follow Brad Wheeler on Twitter: @BWheelerglobe
_________________________________________
_______________________________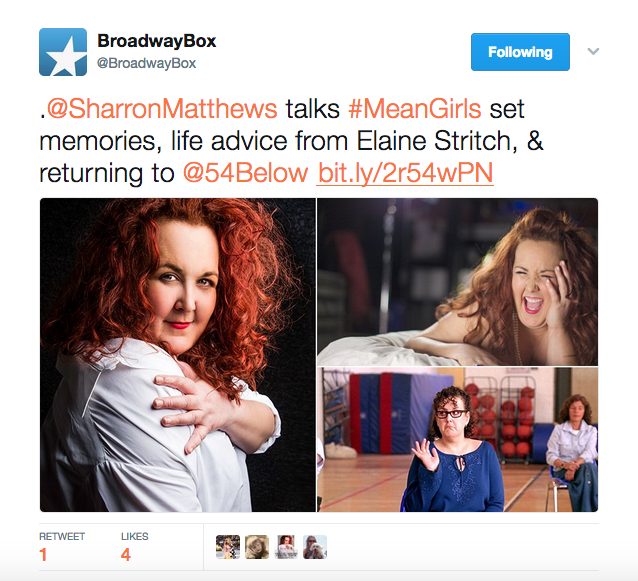 Sharron Matthews Takes On Seven Questions About Mean Girls, Elaine Stritch, & Girl Crush
May 11th, 2017
by Josh Ferri
The award-winning "Redheaded Canadian Goddess of Cabaret", Sharron Matthews (who millennials know as Joan the Secretary from Mean Girls) returns to Feinstein's/54 Below on May 265 with her acclaimed new show Girl Crush.
Scroll on as Sharron talks bringing cabaret to Canada, Mean Girls memories, and badass women who inspire her.
1. What's the most memorable thing Elaine Stritch said to you during the two days you spent together at the Carlyle?
MOST MEMORABLE THING ELAINE SAID TO ME DURING THAT TIME AT THE CARLYLE (In reference to the fact that I wanted to pursue cabaret as my career but I was whining that, at the time, Canada had no cabaret venues, cabaret audiences, or cabaret understanding): "Just f**king do it anyway."
RUNNER UP MOST MEMORABLE THING ELAINE SAID TO ME DURING THAT TIME AT THE CARLYLYE (In reference to her show, which I just just seen in the room at the Carlyle, after which we came up to her hotel room and I sat beside her bed and watched her eat grilled vegetables in her white v-neck t, ankle socks, and oversized glasses): "So, you are going to a musical call back tomorrow? For what? Oh, just tell them that you are staying with me. Tell them Elaine said HI. No, I don't know them but it can't hurt."
2. What makes a great cabaret show? When do you feel like you nailed it?
I believe that a good cabaret is made by well thought out musical choices, true stories to connect them, and a heartfelt and honest connection to audience…AND the ability to roll with the audience that shows up on any given night. They can be so diverse and what they want really changes from one performance to another. You have to be ready to change tact on a dime.
AND I feel like I have nailed it when people smile at me like we have a shared secret…whether it be a song that we both know or a story that is also "their" story. You can see it…it is a very special smile.
3. Who's your girl crush? Who inspires the hell out of you?
My biggest GIRL CRUSH: My big sister, Gwen, No matter what happens in her life (and some challenging stuff has happened) she always finds a reason to smile, laugh, and be positive. I have no idea how she does it but it inspires me to make more uplifting and positive choices.
My biggest GIRL CRUSH RUNNER UP: Um…Beyoncé, of course.
Women like Gaga and Madonna (and the women above) at the very top of their game who work their behinds off to do what they love..they inspire me.
4. Which female voice did you grew up singing along to most?
GOD, I LOVE A GOOD QUESTION! When I was growing up my "everything" was Cher. I loved watching her TV show. A TV show she kept as a solo show after SONNY departed. Yes, mama. I loved her outfits AND I loved all of her songs!! She seemed in charge, sassy and strong and her voice was so different than other voices that were top of the charts at the time…it was deeper and warmer. I bought her 45's and sang along till I knew all the words. She was a V…A…M…P…
5. Most memorable moment on the Mean Girls set?
The day we shot the scene (that has turned into a GIF and MEME that has gone around the world literally millions of times) the hand raise was not in the script or suggested by the director. I know it is not fancy, it is quite simple really, but we had been sitting there forever and when Tina Fey said, "Who here has ever been called a slut?" I just put up my hand. The director yelled, "CUT" and Tina turned back at me…with my hand still in the air…and laughed. The director yelled, "Put a camera on Sharron…Joan the Secretary…" and I felt like more than a million bucks. I love it when stuff like that works out.
And NOW? That shot goes around the world and I make not a cent. Life is funny.
6. What's one moment you hope to see in the upcoming Mean Girls musical?
I still cannot believe that it is being made into a musical…but it actually makes perfect sense, with shows like Legally Blonde doing so well. Overall I hope that the musical keeps the edge that the movie has…that is what the younger generations love about it. AND not to be too self-centered, but I hope that that friggen HAND RAISE makes it. Now, THAT would be amazing.
7. What would you tell young women who want to have a 'girl crush' on themselves?
Don't wait to crush on yourself till you lose weight, do that thing you always wanted to do, cut your hair, till your acne clears up…do it now. Love yourself now. Don't waste any precious time wishing you were anyone else. This is what you got…work with it…and celebrate it!
Don't miss Sharron Matthews in Girl Crush at Feinstein's/54 Below on May 26th.
 ___________________________________________________________________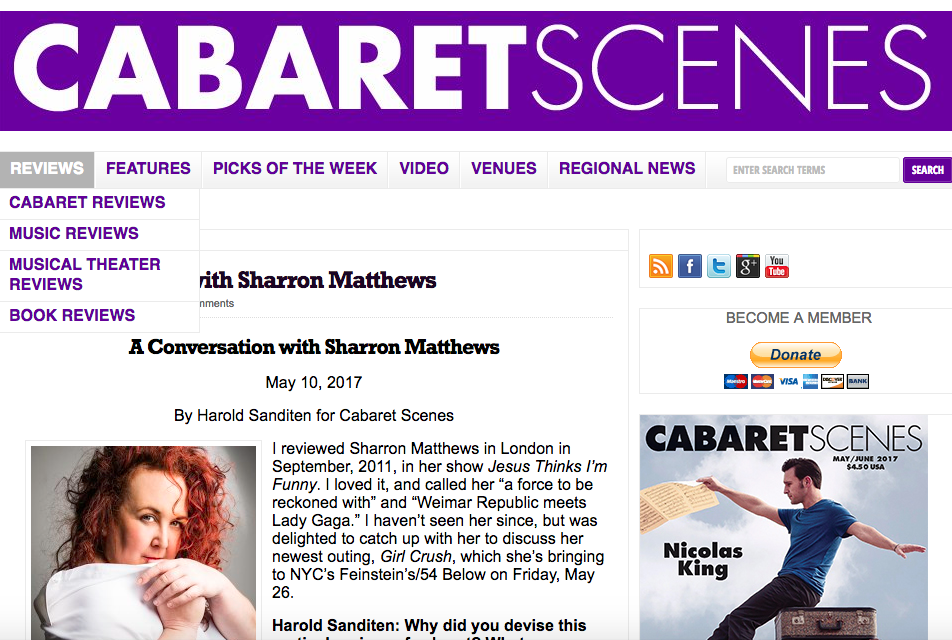 A Conversation with Sharron Matthews
May 10, 2017
By Harold Sanditen for Cabaret Scenes
I reviewed Sharron Matthews in London in September, 2011, in her show Jesus Thinks I'm Funny. I loved it, and called her "a force to be reckoned with" and "Weimar Republic meets Lady Gaga." I haven't seen her since, but was delighted to catch up with her to discuss her newest outing, Girl Crush, which she's bringing to NYC's Feinstein's/54 Below on Friday, May 26.
Harold Sanditen: Why did you devise this particular piece of cabaret? What are you hoping to communicate to your audience?
Sharron Matthews: Two years ago, I realized that in the span of 20 years I had gone from being skinny and VERY unhappy to being happier than I have ever been in my life and PLUS SIZE. I thought,"Why would I waste my precious time worrying about my size when I could be living a fabulous life no matter what size I was?" I wrote an essay—which is like a blog but sounds fancier—about it and over 15,000 people read and responded to it. The songs and the journey started to roll out for me like nothing ever had…this show put ITSELF together. When people walk away, as lordy as this sounds, I hope they are filled with the simple joy of life and music, and also a little more aware of the way they think about their shells.
HS: Why are you bringing this show to New York?  You've performed there four times before. What do you hope to accomplish from this outing?
SM: I love New York. Okay, EVERYONE loves New York—but the audience there is truly like no other. They are savvy, they are diverse, they are cabaret newbies, and they are people who come to cabaret every weekend. I believe, with as little hubris as possible, that this is one of the best shows I have ever put together and I want to put it on a New York stage and see how the audience takes it in. It is always good for cabaret artist to take a show to New York and see how it is received by the masses—if you can entice the masses!
HS: As a self-producing artist, do you find the slog overwhelming at times? What are the biggest obstacles?

SM: Oh my lord and the bunnies, THE SLOG is real. I think—and hope—that I have gotten better at embracing it because you have to embrace it or you will become the saddest person alive. Hiring a good PR person is three times the price of a mortgage payment—and there are no guarantees with them. The biggest obstacle is getting editorial/preview space, and it really makes the difference in filling a house. You can put those articles everywhere! But, there are so many gigs, so many artists, and so little space. And it is getting less and less.
HS: What's the difference between performing at venues across your native Canada and in the U.S.?

SM: I find that U.S. audiences are more willing to take a chance when picking what to see. Filling a house in Canada, where the art form is still not widely understood, can be a challenge, but, when I recently toured the States in 200-500 seat houses, there were audiences filled with people, many who had no idea who I was. But they took a risk with their entertainment dollar. And, thankfully, it turned out for both of us.
HS: What's your greatest joy in performing this piece? 
SM: People of all ages seem to connect to this piece and that in itself is joyful! AND I love the music —Blondie, The Police, Kim Carnes, Stephen Trask, AC/DC, Little Big Town, The Killers—and the connection that the audience has to the rock songs of their youth, and how those songs are now RETRO to younger audience members, Lord, help us.
HS: Who are your greatest musical influences and how do they come to stage with you? 
SM: I have always felt very defined by pop and rock radio from the '70s and '80s. The show that changed my life was Hedwig and the Angry Inch. I saw it at the Jane Street Theatre with John Cameron Mitchell and was inspired beyond belief to get on the road I am now on. I start this show with a song from HIS show. I usually never do straight arrangements of songs, but this was so perfect and I am so grateful that I left it as it is.

HS: What can audiences expect when they're in your presence? 
SM: I love the audience, but don't embarrass them—too much—and I love the songs and love to sing them—sometimes a bit too loud—and I love the story and I love to tell it—not too long; you'll be home by midnight unless we have a drink after, and then I can't promise anything.
HS: What question would you have liked me to ask that I haven't, and what's the answer?
SM: I would have liked you to ask about my accompaniment! For the first time I am doing a show with solo guitar accompaniment! The voice of the guitar just seemed perfect for this show — very simple and emotional. And my guitar player, Kevin Ramessar, is taking the night off from the pit of Beautiful to play with me. HE is ALSO a Canadian living in New York. It is perfect!
HS: Give me one concise sentence as to why audiences should come to this show.
SM: Two words. PARTIAL NUDITY.*
*Disclaimer: THERE WILL BE NO PARTIAL NUDITY.  I am sorry; I could not stop myself.
Sharron Matthews
Girl Crush
Friday, May 26 at 9:30 pm
Feinstein's/54 Below at 254 West 54 Street, NYC
Click here for reservations and more info:  https://54below.com/events/sharron-matthews-girl-crush/
_________________________________________________________________________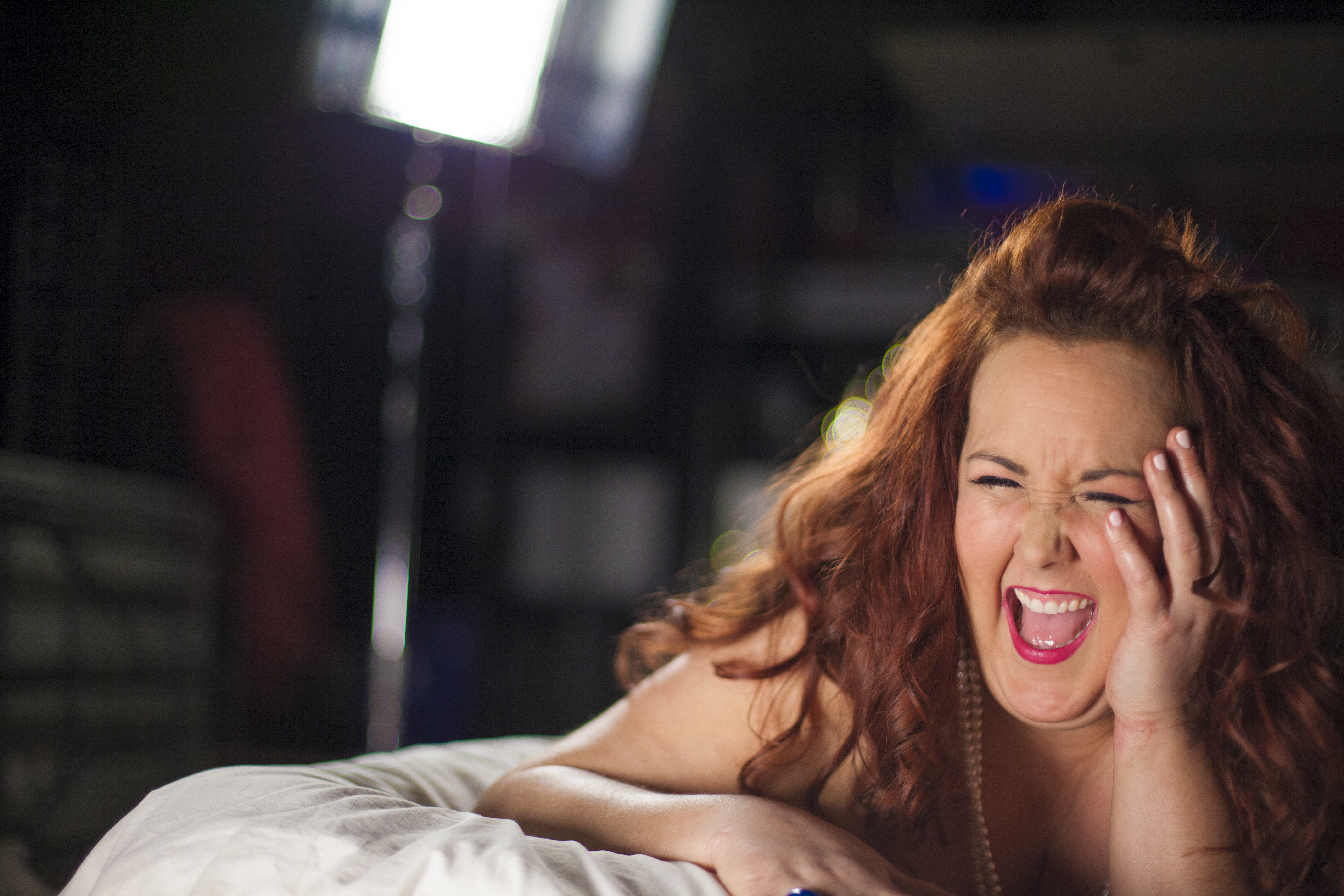 Sharron Matthews to dazzle Lunchbox Theatre with cabaret show Girl Crush
There's good reason Sharron Matthews is so happy these days.
It's not just that she's been knighted Canada's red-headed goddess of cabaret and has wowed audiences around the world with her sparkling wit and powerhouse lungs.
After a lifetime of struggling with image issues, Matthews has finally realized she is her own best friend and a spectacular friend at that.
From March 20 through April 8, Matthews will share her journey to self worth in her new cabaret show Girl Crush, created especially for Lunchbox Theatre.
"If you don't like yourself the way you are, you're wasting your life. Being self conscious and idolizing the impossibly wrong people was a huge determent to my life," says Matthews recalling as a young girl she was "in awe of Farrah Fawcett and those posters of her.
"She was everything I could never have hoped to be. She was a skinny, blond, Hollywood beauty who wore bikinis. My people were born to be farmers. I can comfortably carry two quarts of milk on each side."
Things got worse for Matthews as she started having crushes on high school boys.
"The guy I wanted in high school had one of those perfect girlfriends. It hurt so much to see him with her," she recalls.
"I was bullied mercilessly in school. Instead of obsessing over how I was being treated, I should have taken an example from one of my classmates named Joannie. At 13 she knew she was gay and she was comfortable in her own skin because she took ownership of her skin and I didn't.
"I've finally learned what Joannie knew. Your first choice should always be yourself."
Another reason Matthews is so happy is that Girl Crush is opening in Calgary.
She has wanted to bring one of her cabaret shows to Calgary for a long time, and owes the reality of it finally happening to Mark Bellamy, Lunchbox Theatre's outgoing artistic director.
"Back in 1991, Mark and I were in a production of Hello Dolly at the Limelight Dinner Theatre in Toronto. We were both just kids who became instant friends. Mark eventually moved back to Calgary and made such an incredible name for himself.
"I was on my way to Vancouver with my husband (George Masswohl) to do a show and I made him stop off in Calgary so I could look Mark up. He was working for Calgary Opera after having resigned from Vertigo Theatre.
"I told him how much I wanted to create a show for Calgary and he said if he ever got another theatre he'd try to make it happen."
True to his word, Bellamy contacted Matthews last year and invited her to create a new show and workshop it at Lunchbox Theatre's 2016 Suncor Stage One Festival of New Plays. He even offered to be her creative consultant.
The germ for Girl Crush came from a blog Matthews wrote entitled How to Fall In Love With Myself in a Bathing Suit.
"I got 15,000 hits on that blog and received so many letters and not just from women," she says. "Men wrote to me and told me they've gone through the same processes and the same angst, so I am convinced Girl Crush will appeal to men as well."
The show is a mash up of songs and stories and Matthews promises she is going to turn Lunchbox Theatre into a cabaret for this event.
_________________________________________________________________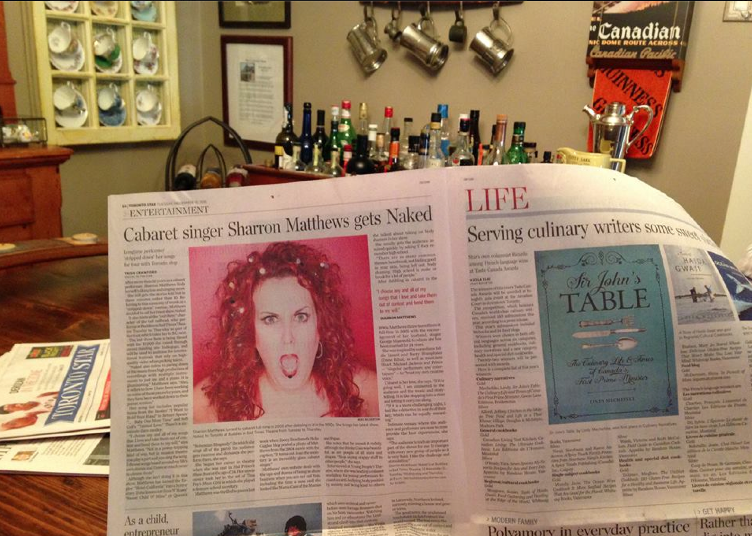 CABARET SINGER SHARRON MATTHEWS GETS NAKED
She still gets the stories told but in three minutes rather than 10. Referring to this economy of words as a "stripped-down" routine, Matthews decided to call her latest show Naked.
It also hints at the "out there" character of the tall redhead, who performs at Buddies in Bad Times Theatre Tuesday to Thursday as part of a tour taking her to B.C. next.
The last show here is being filmed with the $7,000 she raised through crowd funding site Indiegogo and will be used to audition for international festivals that rely on high-quality video when picking talent.
"Naked also refers to paring down of the music from high production of recordings with multiple instruments to just me and a piano. It is illuminating," Matthews says. "Also it refers to how I have been working on some of these pieces for years and they have been worked down to their purest version."
Her song list includes popular tunes from the Beatles' "I Want to Hold Your Hand" to Britney Spears' ". . . Baby One More Time" and Soft Cell's "Tainted Love." There's a six-minute disco medley.
"I choose any and all of my songs that I love and take them out of context and bend them to my will," says Matthews. "Not in a power-tripping kind of way but in musical theatre you play a part and you sing the song. I choose songs based around my life's own stories and I have so much more to choose from."
Although she isn't doing it in this show, Matthews has turned the Eagles' "Hotel California" into a horror story. If she leaves out Guns N' Roses' "Sweet Child O' Mine" or Queen's "Bohemian Rhapsody" (in which she sings all of the parts) the audience gets raucous and demands she perform them, she says.
She began her career in theatre when she was cast in Hal Prince's Show Boat at the age of 24. Her movie career took her to the set of Tina Fey's Mean Girls in which she played a demure school secretary.
Matthews was thrilled to pieces last week when Zooey Deschanel's Hello Giggles blog posted a photo of Matthews from the 2004 movie with the caption, "It turns out Joan the secretary is an incredibly glam cabaret singer."
Matthews' own website deals with the ups and downs of being in show business when you are not rail thin, including the time a man said she looked like Mama Cass of the Mamas and Papas. She notes that he meant it rudely, although she thinks Cass was beautiful, as are people of all sizes and shapes.
"Stop saying crappy stuff to other people," she says.
Interviewed at Young People's Theatre where she was leading a cabaret workshop for young performers focused on anti-bullying, body positivity, anxiety and being kind to others, she talked about taking on body shamers in her show.
She usually gets the audience involved quickly by asking if they remember high school.
"There are so many common themes: heartbreak, not feeling good in your skin, being left out, body shaming. High school is make or break for a lot of people."
After dabbling in cabaret in the 1990s, Matthews threw herself into it full-time in 2005 with the encouragement of her husband, singer George Masswohl, to whom she has been married for 24 years.
She was inspired by comedians Eddie Izzard and Barry Humphries (Dame Edna) as well as musicians Heart, Michael Jackson and Prince — "singular performers and entertainers" — to "trust my own creative voice."
Cabaret is her love, she says. "If it is going well I am connected to the audience and the music and storytelling. It is like stepping into a river and letting it carry me along.
"If it is a more challenging night, I feel like a detective in search of their key, which can be equally rewarding."
Intimate venues where the audience and performer are nose to nose provide the best experiences, she says.
"The audience is such an important part of the shows for me. It changes with every new group of people so it is very fluid. I like the challenge and stimulation."
Sharron Matthews' Naked is at Buddies in Bad Times Theatre Nov. 15, 16 and 17 at 8 p.m. See buddiesinbadtimes.com for tickets.
___________________________________________________________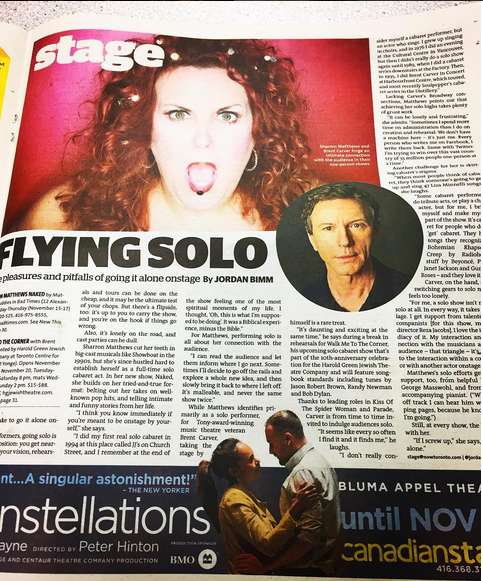 Flying Solo
Veteran performers Brent Carver and Sharron Matthews discuss the pleasures and pitfalls of going it alone onstage
November 8, 2016
11:20 AM
WALK ME TO THE CORNER with Brent Carver. Presented by Harold Green Jewish Theatre Company at Toronto Centre for the Arts (5040 Yonge). Opens November 10 and runs to November 20, Tuesday-Thursday and Saturday 8 pm, mats Wednesday 1 pm, Sunday 2 pm. $15-$88. 1-855-985-2787, hgjewishtheatre.com. See listing.
---
What does it take to go it alone onstage?
For many performers, going solo is an alluring proposition: you get near-total control over your vision, rehearsals and tours can be done on the cheap, and it may be the ultimate test of your chops. But there's a flipside, too: it's up to you to carry the show, and you're on the hook if things go wrong.
Also, it's lonely on the road, and cast parties can be dull.
Sharron Matthews cut her teeth in big-cast musicals like Showboat in the 1990s, but she's since hustled hard to establish herself as a full-time solo cabaret act. In her new show, Naked, she builds on her tried-and-true format: belting out her takes on well-known pop hits, and telling intimate and funny stories from her life.
"I think you know immediately if you're meant to be onstage by yourself," she says.
"I did my first real solo cabaret in 1994 at this place called JJ's on Church Street, and I remember at the end of the show feeling one of the most spiritual moments of my life. I thought, 'Oh, this is what I'm supposed to be doing'. It was a Biblical experience, minus the Bible."
For Matthews, performing solo is all about her connection with the audience.
"I can read the audience and let them inform where I go next. Sometimes I'll decide to go off the rails and explore a whole new idea, and then slowly bring it back to where I left off. It's malleable, and never the same show twice."
While Matthews identifies primarily as a solo performer, for Tony-award-winning music theatre veteran Brent Carver, taking the stage by himself is a rare treat.
"It's daunting and exciting at the same time," he says during a break in rehearsals for Walk Me To The Corner, his upcoming solo cabaret show that's part of the 10th-anniversary celebration for the Harold Green Jewish Theatre Company and will feature songbook standards including tunes by Jason Robert Brown, Randy Newman and Bob Dylan.
Thanks to leading roles in Kiss Of The Spider Woman and Parade, Car­ver is from time to time invited to indulge audiences solo.
"It seems like every so often I find it and it finds me," he laughs.
"I don't really consider myself a cabaret performer, but an actor who sings. I grew up singing in choirs, and in 1976 I did an evening at the Cultural Centre in Vancouver, but then I didn't really do a solo show again until 1989, when I did a cabaret series downstairs at the Factory. Then, in 1995, I did Brent Carver In Concert at Harbourfront Centre, which toured, and most recently Soulpepper's cabaret series in the Distillery."
Lacking Carver's Broadway con­nections, Matthews points out that achieving her solo highs takes plenty of grunt work.
"It can be lonely and frustrating," she admits. "Sometimes I spend more time on administration than I do on creation and rehearsal. We don't have a machine here – it's just me. Every person who writes me on Facebook, I write them back. Same with Twitter. I'm trying to win over this vast country of 35 million people one person at a time."
Another challenge for her is skirting cabaret's stigma.
"When most people think of cabaret, they think someone's going to get up and sing 47 Liza Minnelli songs," she laughs.
"Some cabaret performers do tribute acts, or play a character, but for me, I bring myself and make myself part of the show. It's cabaret for people who don't 'get' cabaret. They hear songs they recognize – Bohemian Rhapsody, Creep by Radiohead, stuff by Beyoncé, Pink, Janet Jackson and Guns n' Roses – and they love it!"
Carver, on the hand, says switching gears to solo never feels too lonely.
"For me, a solo show isn't really solo at all. In every way, it takes a village. I get support from talented accompanists [for this show, musical director Reza Jacobs]. I love the imme­diacy of it. My interaction and connection with the musicians and the audience – that triangle – it's similar to the interaction within a company, or with another actor onstage."
Matthews's solo efforts get crucial support, too, from helpful husband George Masswohl, and from a sharp accompanying pianist. ("When I get off track I can hear him wildly flipping pages, because he knows where I'm going.")
Still, at every show, the buck stops with her.
"If I screw up," she says, "I screw up alone."
___________________________________________________________
___________________________________________________________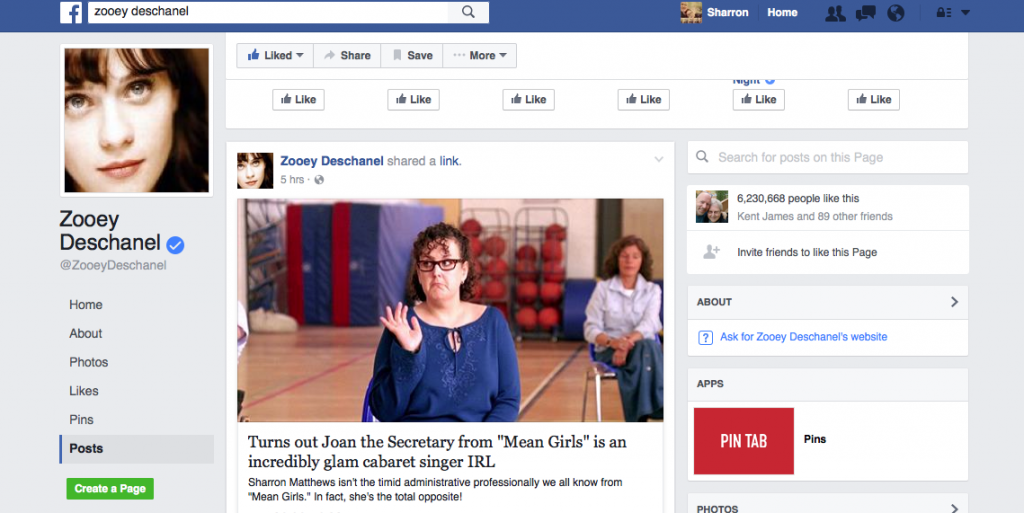 Turns out Joan the Secretary from "Mean Girls" is an incredibly glam cabaret singer IRL
We've totally shared our picks for the best Mean Girls characters before, but our latest discovery will blow your mind. Remember Mr. Duvall's (Tim Meadows) secretary from the 2004 classic film, Joan? Well, she's not the awkwardly timid administrative professional you may have thought she was…she's actually the total opposite IRL. Sharron Matthews is a vibrant performance singer, affectionately known as the "Redheaded Canadian Goddess of Cabaret" with a powerful voice to match. Before Mean Girls, Sharron lit up the stage in popular musicals as Babette, the sexy feather duster in Beauty and the Beast, and Mme. Thenardier, mother to Sutton Foster's Eponine in Les Miserables!
Crazy, right?! Sharron is definitely more glam IRL than she was when playing Joan the Secretary in Mean Girls.
Oh, and Sharron's singing? Yeah, she's pretty freaking amazing. We were completely blown away after watching her singing clips!
She's soooooooooo good!
Did we mention that Sharron has won awards for her cabaret/comedy performances? Her acts have taken her on tours around the world, and she uses her platform to confront issues like body shaming and inequality!
Colin McConnell / GettyWe're so happy to see Sharron using her talent to help inspire others. She definitely just became one of our favorite singers. <3
_________________________________________________________
Musical funny woman found acceptance on the stage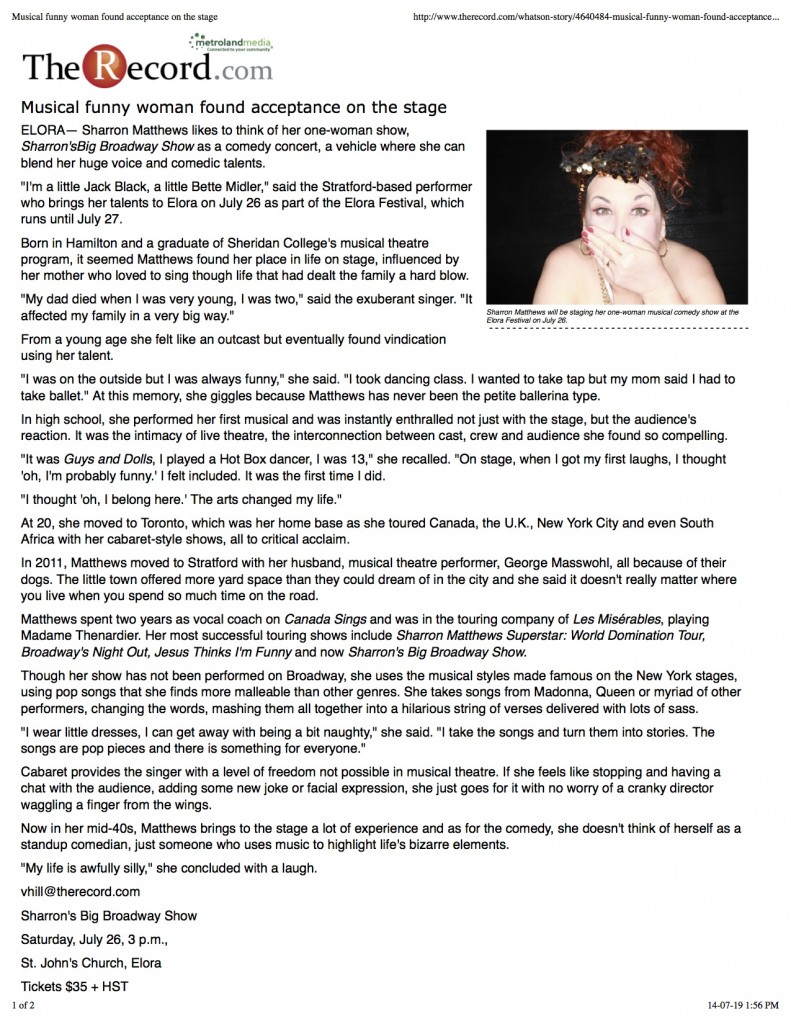 Q&A with Gavin Crawford and Sharron Matthews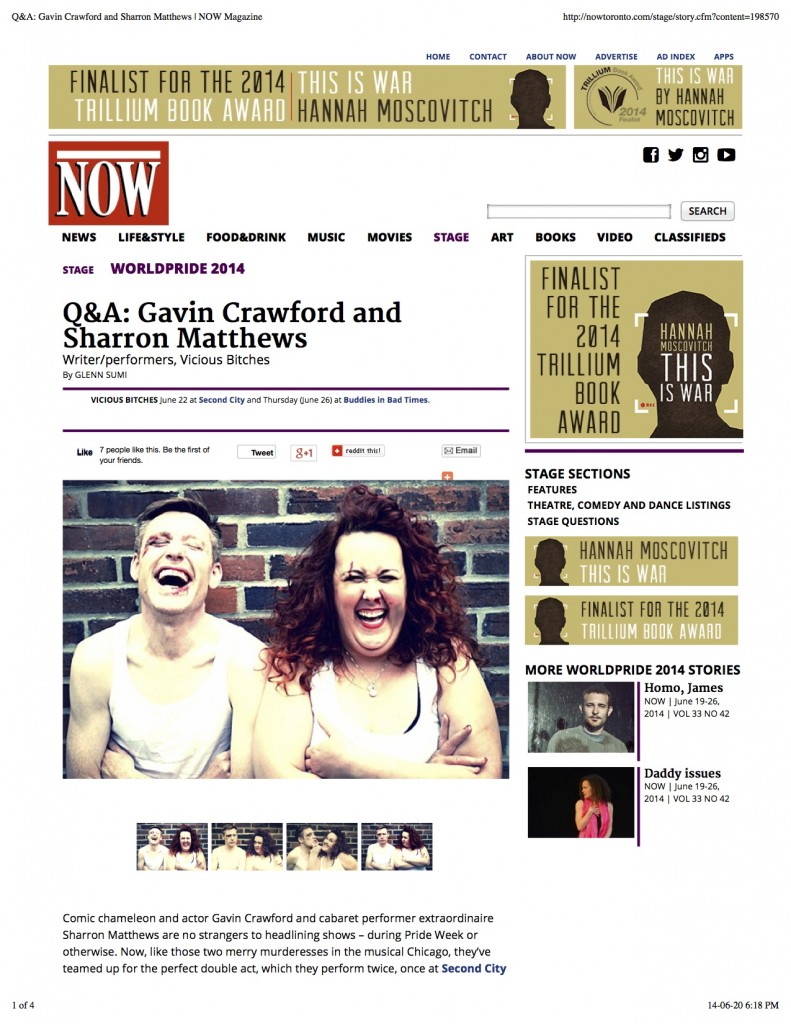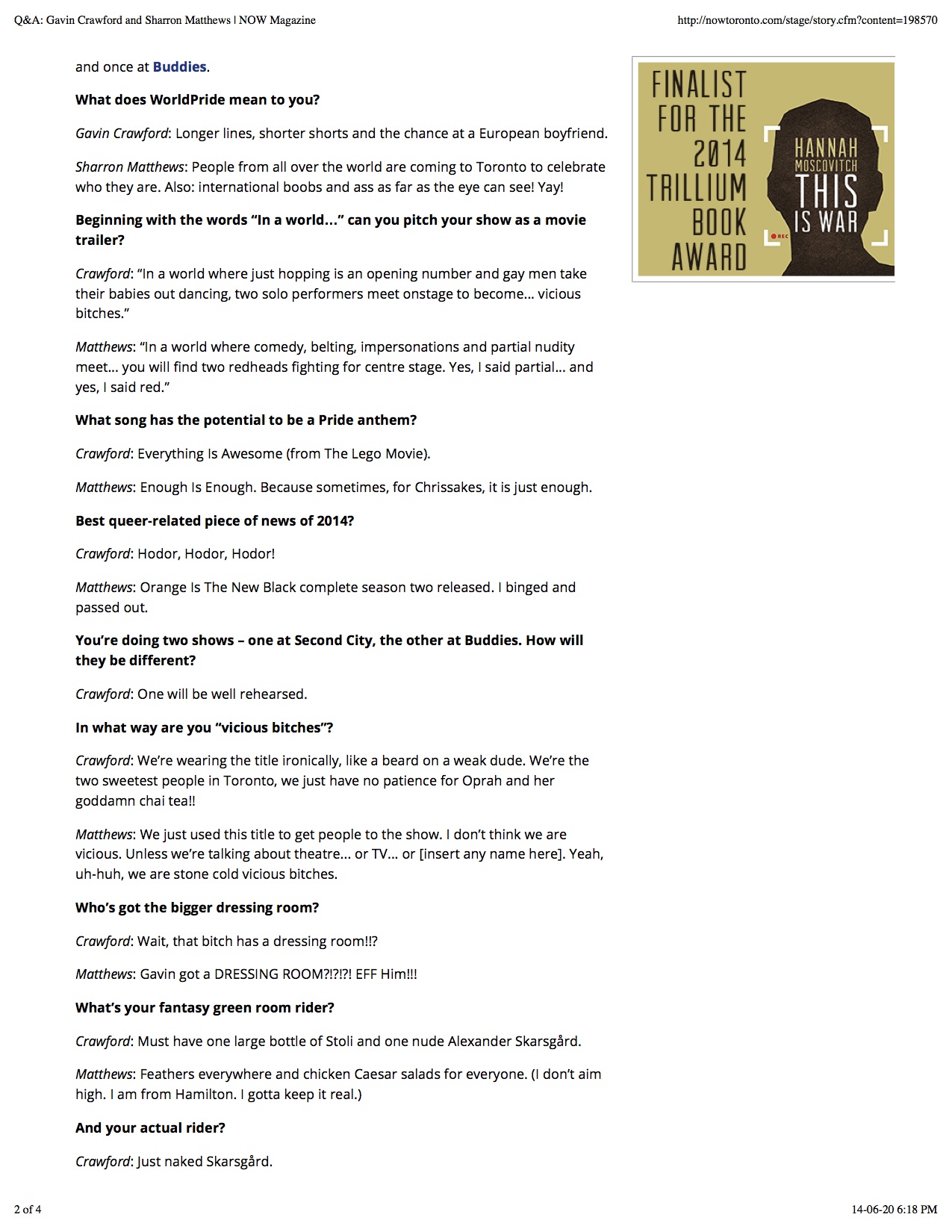 Sharron Assumes the Position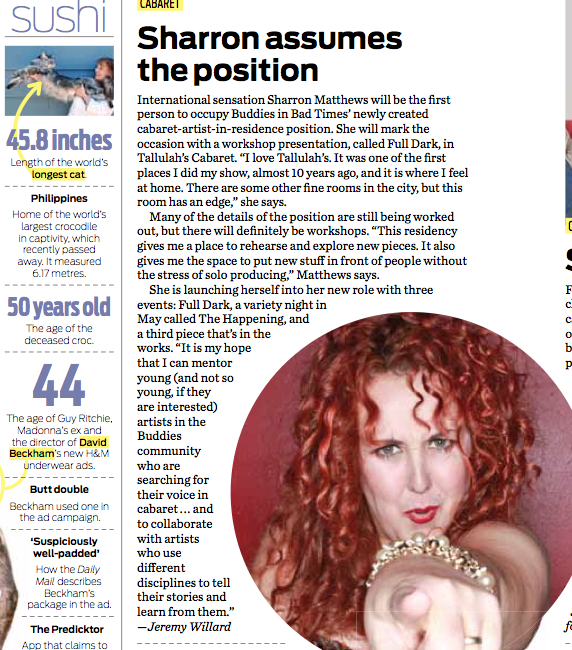 Feb 28th, 2013
International cabaret sensation Sharron Matthews will be the first ever to occupy Buddies newly-created Cabaret-Artist in-Residence position and is marking the occasion with a workshop presentation in Tallulah's Cabaret, called Full Dark.
I love Tallulahs. It was one of the first places I did my show almost ten years ago and it is where I feel at home. It is intimate and everyone is part of the show, no matter where you sit. There are some other fine rooms in the city, but this room has an edge, says Matthews.
Many of the details of this new position are still being worked out, but there will definitely be workshops. Mainly, this residency gives me a place to rehearse and explore new pieces. It also gives me the space to put new stuff in front of people without the stress of solo producing," says Matthews.
Matthews is launching herself into her new role with three events: "Full Dark," a variety night in May called "The Happening" and a third piece that is in the works. It is my hope that I can mentor young (and not so young, if they are interested) artists in the Buddies community who are searching for their voice in cabaret…and to collaborate with artists who use different disciplines to tell their stories and learn from them,  says Matthews.
"Full Dark" is a cabaret night mixing pop music with a story infused with dark humour. [I will] use the lyrics to a different end than actually intended or discover the dark intention that already existed. The songs may have started out nice but that is not the way they will stay, hints Matthews.
Full Dark is March 4 and 5, 8pm at Buddies in Bad Times, 12 Alexander St.
Feb 28th, 2013
Edinburgh Fringe Festival 2012 SPECIAL ANNOUNCEMENT
TNC WOMAN OF THE YEAR 2012 – SHARRON MATTHEWS
The New Current
12-07-19 9:20 AM
The opportunity for TNC to honour some of the most creative and inspirational women performers at Edinburgh Fringe has been two years in the planning.
Even today female performers can sometimes still become sidelined and from stand-up to cabaret female performers offer in interesting and diverse body of shows at every Edinburgh Fringe.
It is time we addressed this imbalance.
2011 saw shows from exceptional female performers like Diane Spencer, Zoe Lyons and Catriona Knox, to name a few, who's shows where 10 out 10 leaving audiences in pieces on the floor.
Yet hands down the stand out show of 2011 was from Canadian Cabaret Superstar Sharron Matthews*.
It goes without saying how one finds oneself wanting to just sit back and watch Matthews do her job, the way she creates this world is so intriguing, but with each song and each joke or playful banter with the audience she grabs you in never allowing you a minute to not be part of her show. Vocally Matthews has a strong, measured, and at times haunting voice that carefully weaves a web from her own arrangements of classic songs that give them a whole new spin that leaves you with the impression you're meant to have and that is awe.
Sharron Matthews shows have a heart, passion, and craftsmanship that adds to the originality of her cabaret. A true Canadian Superstar and a incredible inspiration who can only continue to do spectacular shows as well as fighting for greater support for the arts in her homeland.
---
SheKnowsCanada Article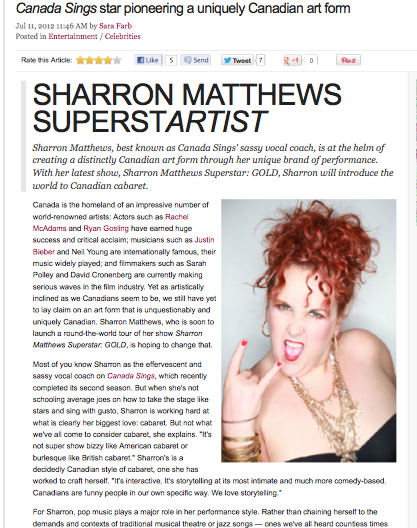 SheKnowsCanada
By Sara Farb
Jul 11, 2012
11:46 am
Sharron Matthews SuperstArtist
Sharron Matthews, best known as Canada Sings' sassy vocal coach, is at the helm of creating a distinctly Canadian art form through her unique brand of performance. With her latest show, Sharron Matthews Superstar: GOLD, Sharron will introduce the world to Canadian cabaret.
Canada is the homeland of an impressive number of world-renowned artists: Actors such as Rachel McAdams and Ryan Gosling have earned huge success and critical acclaim; musicians such as Justin Bieber and Neil Young are internationally famous, their music widely played; and filmmakers such as Sarah Polley and David Cronenberg are currently making serious waves in the film industry. Yet as artistically inclined as we Canadians seem to be, we still have yet to lay claim on an art form that is unquestionably and uniquely Canadian. Sharron Matthews, who is soon to launch a round-the-world tour of her show Sharron Matthews Superstar: GOLD, is hoping to change that.
Most of you know Sharron as the effervescent and sassy vocal coach on Canada Sings, which recently completed its second season. But when she's not schooling average joes on how to take the stage like stars and sing with gusto, Sharron is working hard at what is clearly her biggest love: cabaret. But not what we've all come to consider cabaret, she explains. "It's not super show bizzy like American cabaret or burlesque like British cabaret." Sharron's is a decidedly Canadian style of cabaret, one she has worked to craft herself. "It's interactive. It's storytelling at its most intimate and much more comedy-based. Canadians are funny people in our own specific way. We love storytelling."
For Sharron, pop music plays a major role in her performance style. Rather than chaining herself to the demands and contexts of traditional musical theatre or jazz songs — ones we've all heard countless times and countless ways — Sharron prefers the freedom of pop songs. Her repertoire ranges from the Eagles to Lady Gaga. "I find it more interesting to take pop songs and mould them into what you want them to be. They're more malleable, and it makes for much better stories. Like, 'Hotel California' is actually a scary song when you really listen to it." Sharron's signature is putting together what she calls "songologues," which are sort of like medleys but that tell a clear story. For example, Sharron's cougar songologue tells the tale of a neighbour of hers who took a liking to her young and sexy gardener boy (think Desperate Housewives). She interweaves well-known pop songs that mostly have nothing to do with cougars or one another, and yet the story she tells is clear, engaging and downright hilarious.
Sharron attests that "it is hard to build an audience in Canada," but luckily her role on Canada Sings has gotten her much more exposure. As one of two vocal coaches, Sharron and choreographer Christian Vincent are assigned a group of people raising money for a charity, who have no experience performing whatsoever. Their job is to whip those people into shape and have them singing and dancing like pros in a very short amount of time. The show, both "one of the best jobs [she's] ever had and one of the hardest," has had a huge impact on her. "You can't not be inspired," she says, by a bunch of hardworking, selfless people, completely inexperienced in performing yet shelving their insecurities to accomplish a common good. "It shouldn't work." Based on the show's popularity, though, it clearly works like a charm. And it's not just all hard work and emotional tears at Canada Sings. Sharron says working with stars like Vanilla Ice — "That is one good-looking son of a b****" — and Jann Arden has been a total thrill and so much fun. And it's rather serendipitous that those two stars join Sharron on Canada Sings: She credits Vanilla Ice as being one of the first people to do a mash-up (an amalgamation of two songs Sharron often includes in her shows), and she has always been inspired by Jann as a performer, who at concerts will "tell a hysterical story and then sing the most depressing song. Like a cabaret."
As for her own cabaret, Sharron is excited to commence the tour of GOLD, her most exciting show yet, which will feature golden music hits and stories about gold diggers. As Sharron simply puts it, "You can't get better than gold." After some upcoming dates in Toronto, Sharron goes to Scotland for its world-famous Edinburgh Festival, then London, then New York and finally Cape Town, South Africa. She is looking forward to globe-trotting, but most important, she can't wait to share her proudly-made-in-Canada show with the rest of the world. "We are on a precipice where we can brand our own version of [cabaret]." Sharron is clearly at its peak.
If you're in the Toronto area and want tickets to Sharron's show, call the Buddies in Bad Times box office at 416-975-8555. Follow her on Twitter @sharronmatthews, and check out her website sharronmatthews.com for a full list of dates.
---
XTRA Article
XTRA
Chris Dupuis
July 12, 2012
MESSIANIC SHARRON MATTHEWS Canadian Performer Rises Above the Rest
Sharron Matthews wants you to feel like a superstar. Unless you're Kim Kardashian. "How exactly does someone become a celebrity for making a sex tape?" the Hamilton-born chanteuse fumes. "I watched it, for research pur- poses only. And the only interesting thing about it is that they're both chew-ing gum the entire time."
Matthews won't say whether K-Kard and company get a mention in her cab- aret spectacular, Sharron Matthews Superstar: Gold. But given the subject matter, audiences shouldn't be surprised if the sibling celebutantes feature.
"It's got gold hits and gold diggers," Matthews laughs. "But it's also about people who try to steal your personal gold, those things that make each of us unique."
Self-actualization through storytelling and song is Matthews's trademark. She cut her teeth as an actor for large-scale musical theatre at 20 while still a student at Sheridan College; her first Broadway gig came at 24. Though Matthews says she enjoyed playing to thousands and the commensurate paycheque, she gradually realized it wasn't for her.
"I'd wanted to be on Broadway since I was a child," she says. "But after a while I realized it wasn't who I was. I wanted to create my own material, rather than just interpret other people's. Striking out on my own forced me to find my own voice."
Matthews's show features quirky interpretations of cabaret standards, with sprinklings of Lady Gaga, Justin Timberlake, Queen and Radiohead. The show's Toronto premiere launches a three-month tour, which will take her to Edinburgh and London, UK, followed by Cape Town, South Africa. Though she's warbled many a tune in Great Britain, the Rainbow Nation will be a whole new playing field.
"They said I couldn't be blasphemous or profane, so I sent them a list of words to see what's okay," she says. "I checked to see whether I can say 'shit' or 'bitch.' I'm hopeful for 'fuck,' and I'd like to throw out 'cocksucker' if I can."
Though Matthews still finds herself in bigger houses occasionally, it's that small-space intimacy she's shooting for regardless of venue size. When she launched her monthly Sharron's Party cabaret series at the Gladstone Hotel in 2005, she developed what became a career-long habit: greeting audience members individually pre-show.
"I was so nervous when I started working on my own, and talking to people on a casual level before the show was a way to combat that," she says. "The first few minutes of any performance is always about trying to win the audience over. But if they feel a connection before you hit the stage, you've already got them in your corner." Since she folded Sharron's Party in 2010, in favour of less frequent though more complex shows, she's adopted the Lloyd Webber-esque moniker Sharron Matthews Superstar.
Could this be a sign of a messiah complex?
"I'm a spiritual person and I believe in the goodness of my fellow mankind, but I'm not trying to save the world," she laughs. "I'm trying to take over. It's not a messiah complex. It's a Madonna complex."
---
NOW Magazine Article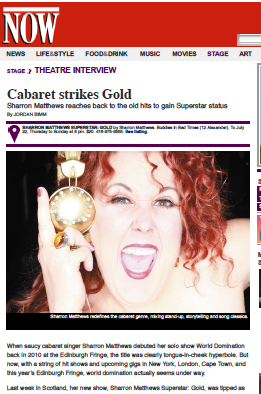 Cabaret strikes Gold
Sharron Matthews reaches back to the old hits to gain Superstar status
By Jordan Bimm
NOW Magazine July 19th-26th, 2012
SHARRON MATTHEWS SUPERSTAR: GOLD by Sharron Matthews. Buddies in Bad Times (12 Alexander). To July 22, Thursday to Sunday at 8 pm. $20. 416-975-8555.
Sharron Matthews redefines the cabaret genre, mixing stand-up, storytelling and song classics.
When saucy cabaret singer Sharron Matthews debuted her solo show World Domination back in 2010 at the Edinburgh Fringe, the title was clearly tongue-in-cheek hyperbole. But now, with a string of hit shows and upcoming gigs in New York, London, Cape Town, and this year's Edinburgh Fringe, world domination actually seems under way.
Last week in Scotland, her new show, Sharron Matthews Superstar: Gold, was tipped as one of 50 to see (out of over 2,000 shows vying for attention) by local tastemaker weekly The Scotsman.
"I had a little cry," admits Matthews – who's also a vocal coach on CTV's Canada Sings – after learning the news. "To go from playing the smallest venue to Edinburgh in 2010 – from begging people to come see my show – to now playing the best venue, and making the top 50, is amazing and really gratifying."
Her upcoming four-night stand at Buddies gives Toronto audiences a sneak peek at Gold, which stays true to her signature blend of storytelling, stand-up, and super- charged cabaret-style cover songs, and gives her the chance to work out kinks before she takes it on the road.
"Buddies is where I'll perfect the show," says Matthews on the phone. "My tried and true fans will be there, so it's the perfect place to fine-tune things".
Gold finds Matthews's observational humour reflecting on people she deems "gold diggers" and "gold stealers" while belting out about 20 "gold hits," all shameless covers of guilty-pleasure pop.
To keep things fresh, she's added a few new songs to her repertoire, but part of the point of Gold is to resurrect old songs fans have been requesting from past shows. "When I sat down to put it together, I was going over some emails I got after Edinburgh last year. People kept requesting three songs from my last show [Radiohead's Creep, The Eagles' Hotel California, and Queen's Bohemian Rhapsody], so I thought, 'These are my solid gold hits! I've got to bring them back!'"
A pioneer of cabaret in Canada since the early 1990s, Matthews has worked hard to make the often difficult-to-pin-down genre more accessible and mainstream.
"Starting out, I quickly realized people didn't want to come out to see something called 'cabaret,' because they thought they were going to see a crazy, androgynous German or some New Yorker in sequins. I did my first show in a talk show format, because that was something people were comfortable with. I also made sure to sing songs that everyone knows."
In the decades since, alongside a smattering of roles in big-budget musicals and feature films, Matthews has earned a reputation for her seemingly limitless onstage energy and confidence – a reputation that's inspired a daring "satisfaction guaranteed."
"If you don't like my show, I'll eat a bug," she deadpans. "If you don't get at least one or two gut laughs out of it, see me after the show and I'll eat a bug to cover your 20 bucks. That seems fair to me."
---
CBC Article
Hamilton native a hit at Edinburgh festival
By Samantha Craggs, CBC News
Posted: Aug 14, 2012 8:40
It wasn't always easy for Sharron Matthews growing up in Hamilton. But instead of running from it, she's turned it into a cabaret act.
In Sharron Matthews Superstar: Gold, the comedian and songstress tells sometimes painful stories of bullying and teasing, adding the music and humour that has made her one of the top acts at the prestigious Edinburgh Festival Fringe this month.
Performing to sold-out crowds, Matthews tells stories that may be specific to her experiences growing up on the Mountain. But the feeling is universal, she said.
From speaking to audience members, she's learned that "almost everyone, even the prettiest girl and prettiest boy, has had a bullying problem at some point."
Matthews is a stand out this month in a festival with hundreds of acts. Most shows draw only a handful of spectators. Matthews, thanks to positive reviews and word of mouth, has been playing to standing-room-only crowds.
While some of the stories are funny, others are painful. In one performance on YouTube, she describes someone posing on the phone as the boy she liked to say he was interested in her.
When she got to school on Monday, she learned the person on the phone was an imposter playing a joke on her. She ends the story by launching into a modified version of "Creep" by Radiohead.
Her father died when she was two. That led in part to a need for attention that set her up for teasing, she said.
Out of the past
"When people see you are in desperate need for approval and to be included, kids see that as a red flag sometimes and exploit that," she said in an interview from Scotland via Skype.
"There were a lot of people who would take my vulnerability for granted."
But the insecurity is behind her now. As an adult, Matthews has an enviable resume. She stars in the Global TV series Canada Sings. She has appeared in films such as Mean Girls, Cinderella Man, Take the Lead and Hairspray.
On stage, she has played Madame Thenardier in a North American tour of Les Miserables, and performed in Beauty and the Beast, Joseph and the Amazing Technocolor Dreamcoat and the Wizard of Oz.
This fall, Matthews will take her show to South Africa and London, England.
Her success brings joy to Bill Cook, her drama teacher at Hill Park Secondary School. Cook, a Stoney Creek resident who retired in 1995, remembers when she first walked into his classroom.
"She walked in for the first show and said 'I'm going to be the lead,'" Cook said.
She was first cast in the school production of Guys and Dolls. She went on to play the Wicked Witch in The Wiz and Miss Hannigan in Annie, among other performances. "She was up there among the cheerleaders and she couldn't have cared less," Cook said. "She just had a way of wrapping you around her little finger when she was onstage."
These days, Matthews is proud of her Hamilton roots. At every performance, she is introduced as Sharron Matthews from Hamilton. "I couldn't be prouder," she said.
Her advice to Hamiltonians?
"Keep having art in your high schools," she said.
And "I hope Hamilton is encouraging of their young people when it comes to doing things that seem a little different."
---
Fab article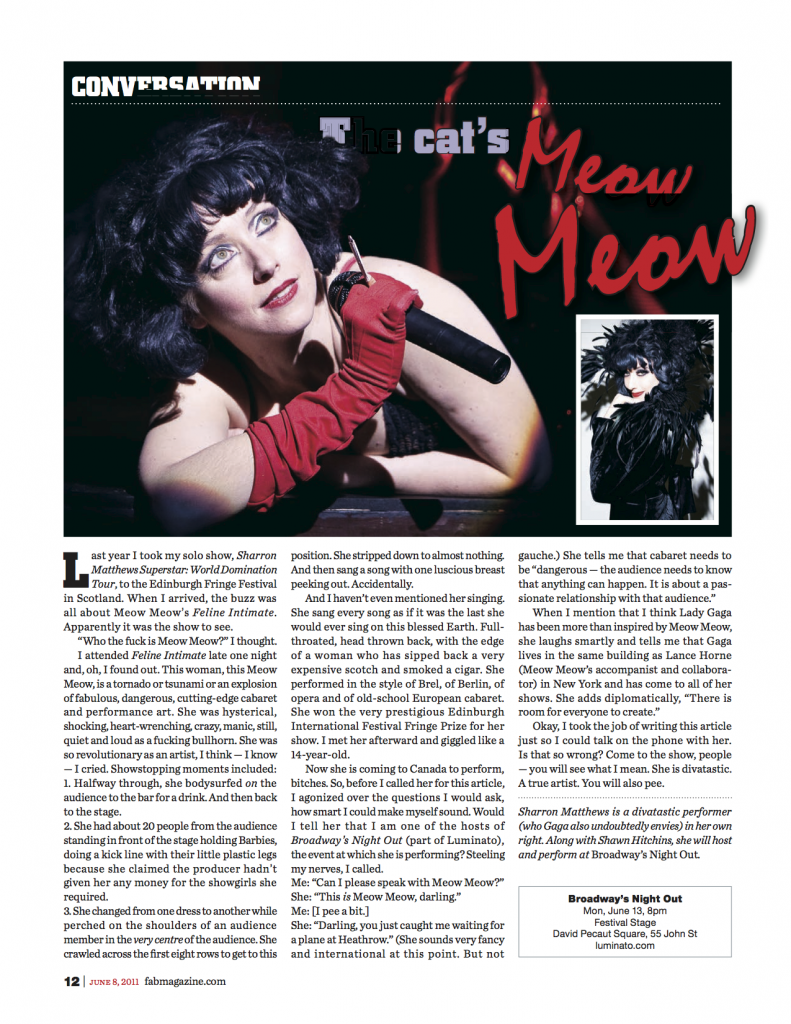 FAB Magazine
June 3, 2011
Written by Sharron Matthews
Last year, I took my solo show, Sharron Matthews Superstar: World Domination Tour, to the Edinburgh Fringe Festival in Scotland.
When I arrived, the buzz in Edinburgh was that Meow Meow's show, "Feline Intimate", was the show to see at the festival in 2010.
"Who the fuck is Meow Meow?", I thought.
I attended her show late one night and, oh, I found out.
This woman, this Meow Meow, is a tornado or tsunami (and/or an explosion of some sort ) of fabulous, dangerous, cutting edge cabaret and performance art.
She was hysterical, shocking, heart-wrenching, crazy, manic, still, quiet and loud as a fucking bullhorn…basically ALL the things and emotions, people.
She was so revolutionary as an artist, I think (I know) I cried.
Here are a few moments that stopped her killer show:
1. Halfway through the show she body surfed ON the audience to the bar for a drink…AND BACK to the stage!
2. She had about 20 people from the audience standing in front of the stage holding Barbies doing a kick line with their little plastic legs because she said the producer hadn't given her any money for the showgirls she required.
3. Meow Meow changed from one dress to another while perched on the shoulders of an audience member in the VERY CENTER of the audience. She crawled across the first 8 rows to get to this position. She stripped down to almost nothing. And then sang a song with one luscious breast peeking out. Accidentally.
AND I haven't even mentioned her singing.
She sang every song as if it was the last she would ever sing on this blessed earth. Full throated, head thrown back, with the edge of one who has sipped back a very expensive scotch and smoked a cigar. She performed in style of Brel, of Berlin, of opera and of old school European cabaret.
She won the very prestigious Edinburgh International Festival Fringe Prize in 2010 for her show.
I met her after the show and giggled like a 14 year old.
And she is coming to Canada to perform, bitches.
So, before I called her for this article, I agonized over the questions I would ask, how smart I could try and make myself sound. Would I tell her that I am one of the hosts of "Broadway's Night Out", the event she is performing in on June 13th (part of Luminato at Metro Square)….lord.
I called.
Me: "Can I please speak with Meow Meow?"
She: "This IS Meow Meow, Darling."
Me: (I pee a bit.)
She: "Darling, you just caught me waiting for a plane at Heathrow"
(She sounds very fancy and international at this point. But not gauche.)
We talked for a half an hour about Cabaret… "Dangerous, the audience needs to know that anything can happen", "It is about a passionate relationship with that audience" We talked about Lady Gaga… Because after I saw Meow Meow's show it hit me that Gaga had MORE than been inspired by her. When I mentioned this to her, she laughed smartly and told me that Gaga lived in her accompanist and collaborator Lance Horne's building in New York and had come to all of her shows. "There is room for everyone to create.", She said diplomatically.
We talked about a lot more.
Okay, I took the job of writing this article so I could talk on the phone with her…is that so wrong?
Come to the show, people, you will see what I mean.
She is divatastic.
A true artist.
You will also pee.
---
Theatre: Home for the Holidays with Horton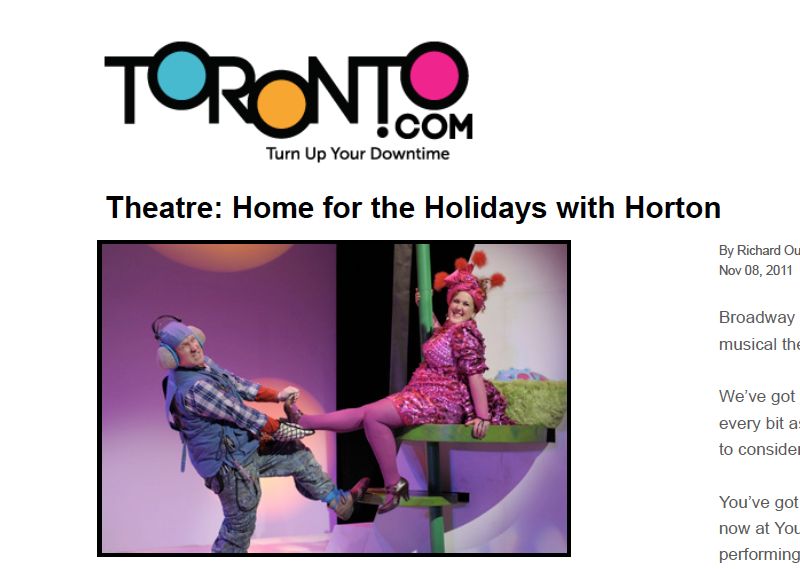 The Toronto Star
November 8th 2011
Richard Ouzounian
Sharron Matthews and George Masswohl horsing around on the set of Seussical at Young People's Theatre. DANIEL ALEXANDER PHOTO
Broadway may have Idina Menzel and Taye Diggs as their musical theatre married couple, but so what?
We've got Sharron Matthews and George Masswohl, who are every bit as talented and a lot more cuddly, which is something to consider, now that the nights are getting longer and colder. You've got an excellent opportunity to see them in action right now at Young People's Theatre, where they're currently performing in Seussical through Dec. 30.
The show is based on the beloved work of Dr. Seuss and combined several of his best-known stories to make a musical with a score by the Ragtime team of Lynn Ahrens and Stephen Flaherty.
The work was originally developed under the banner of Garth Drabinsky's Livent in its final year and it reportedly received a spectacular workshop with a book by Eric Idle and a knockout turn by Andrea Martin as The Cat in the Hat.
But Livent soon dissolved, Idle was bumped off the project and Martin decided the atmosphere was growing too fraught for her, so she departed, to be replaced by the mime, David Shiner.
By the time it opened on Broadway late in 2000, the show had switched directors, choreographers and designers, never a good sign. The reviews were terrible and even Rosie O'Donnell's cheerleading (and eventual performance as The Cat In The Hat) didn't save the day and the show closed quickly.
Years have gone by since then, however and theatres devoted to young audiences have discovered that a lighter, less overblown Seussical is just the thing for their audiences.
YPT had a big success with a 2006 version of the show and now they're bringing in back with the same leading man, er, elephant, but this time his wife is along to share in the fun.
Masswohl is once again the lovable Horton (he who hears a who) and Matthews is the flashy Mayzie La Bird (she with the dazzling tail). It's a chance for them to make beautiful music together, which they always enjoy doing, especially at YPT and over the holiday season, something they've had the chance to do on several occasions now.
"It's a great experience," offers the big-hearted Matthews, "being with people you love at this particular time of year and I always love working with George."
"We leave each other alone, mostly," agrees Masswohl, "and it works out smoothly most of the time." "EXCEPT," begins Matthews in her train-stopping voice, "when my beloved husband turns to me in rehearsal and says 'I think I have something to tell you and I don't want you to get mad.'"
"I didn't say that," objects Masswohl. "Oh, well actually, I did. But it was just about a note where you were a tiny bit off pitch."
"And I was," laughs Matthews, "so I fixed it." The couple has been together 19 years and it's easy to see that, both from their breezy camaraderie and their sensible attitude about working together. "We don't bring our work home," says Masswohl. "No need to at all," agrees Matthews. "Work is work, home is home."
"Besides," Masswohl reminds her, "There's nothing to bitch about."
"It's a great work experience," Matthews concurs. "And besides, when we get home, we've got more important stuff to talk about: dogs, bills, mortgages."
"Let's stick with the dogs," advises Masswohl. Matthews is one of this country's most talented cabaret performers and she's been extremely busy this past year, appearing on Global TV's Canada Sings, as well as taking her unique musical entertainments to New York, London and Edinburgh.
"I'm going back to Edinburgh again next summer," she vows. "I absolutely love it there and I think they like me too." She's being modest since she's played there the last two years to 90 per cent business and rave reviews.
Back home, her gigs have usually been one or two night affairs to a devoted following, but she assures her fans that she's looking at "a longer run where I can settle down in a theatre and let people know that I'm there."
Her husband never has any trouble attracting first-rate musical theatre roles around the country, but he's putting all that on the back burner for a while in 2012 to work on what he describes as "a baritone trio. You know we've had the Canadian Tenors, but what about us baritones?" So he joined together with Lawrence Cotton and Curtis Sullivan to form a group called Bravura which started spreading their wings in 2011 and are planning bigger things for next year.
But right now, it's time for a matinee of Seussical and the two of them can't wait to hit the stage. "It's very joyous working at this theatre at this time of year," says Matthews. "And being with each other," adds Masswohl.
---
Here are the two articles that Sharron had published in Scotland during the Edinburgh Fringe:
Insider's insight: Canada's cabaret
comedy diva Sharron Matthews
Source: The List (Issue 686)
Date: 10 August 2011
Written by: Sharron Matthews
The high – and low – notes of life on the 2011 Edinburgh Fringe
You know my fave place to take a nap in Edinburgh? The hill right beside the Half Price Hut on Princes Street: it is soft, it is shaded by trees and if you place yourself properly, no one can see you sobbing into your phone on a million dollar phone call to Canada … on a cell phone … from Princes Street Gardens … in EDINBURGH!
When you are a new, international performer at the Fringe, like I was just last year, and no one knows you, you have got to fill those seats. Being the performer, producer and promoter, this gal (me) had to come up with a plan.
After battling my jet lag (I know, boo hoo for me, right?), I tried my wares in the Fringe ticket
line-up for three hours on my first day. It was not going well. Not well at all – like super bad. I stuffed my sweaty-handed flyers in my bag and took off in a funk. I walked and walked (Edinburgh is freakin' hilly) and ended up on the aforementioned hill, questioning my existence, my reasons for coming to the Fringe, the clothes that I packed (sundresses and open-toed shoes) … and then I pulled out my recently purchased cell phone and called my husband in Canada, and just cried and complained … and cried … and whined.
All the tourists were staring at me.
So what, people? Have you never seen a grown woman in a sundress (with sport socks, trainers and a hoodie) have a good cry in public?
And then I turned my head … there it was … the Half Price Hut. Like a beacon. Like a
mirage. Like a place for me to figure out how to sell my freakin' show.
The people in this line-up, they wanted to be won over, they wanted the show before the
show, they wanted to pretend not to look at you, they wanted you to make them love you and they wanted it all for half price. Those minxes: they're like a slutty boyfriend who you know will put out eventually, but just needs to be convinced that it's worth the bother to take off their clothes.
Let it be said that I sold many a ticket there. I sang all of 'Bohemian Rhapsody' for one dude.
This year, I want to sell all my tickets for full price. Greedy, I know. But I'll maybe go and
have a skanky cheat with the Half Price Hut a couple of times for old time's sake.
Sharron Matthews Superstar: Jesus Thinks I'm Funny, Space Cabaret @ 54, 0845 557
6309, until 27 Aug (not 21), 8.05pm, £12.50 (£10.50).
Preview > All of life is here in cabaret, old chum
All of life is here in cabaret, old chum
By Sharron Matthews
Published: 6/8/2011
Source: The Scotsman
Wherever it's listed in the programme, Sharron Matthews thinks the genre has something for everyone (whether or not you want nudity).
LAST year I brought my show to the Edinburgh Fringe for the first time, and made a vow to see as much cabaret as I could. For a Canadian gal who had been exposed only to North American cabaret, Edinburgh was an International Cabaret Candy Store – I was freaking excited.
During the first four cabarets I attended I saw eight naked people singing. An average of two naked people to a cabaret.
They didn't start naked, they got naked as they sang and performed their cabarets. I raced back to the student flat I was renting (it smelled like the feet of 20-year-old boy) and looked up the definition for cabaret on the Google.
Cabaret, noun – entertainment held in a nightclub or restaurant while the audience eats or drinks at tables, it said. Nowhere, nowhere did the online dictionary say that the performers remove their clothes. I passed out, came to – and then I breathed a sigh of relief. I thought I had missed a naked memo.
That, my friends, was the first lesson I learned at the Edinburgh Fringe: seeing a cabaret means you might see someone's private parts while they sing a Judy Garland song and/or while they are lip-syncing to Kylie Minogue (and aren't, surprisingly, a drag queen). In Canada, seeing a cabaret means you might possibly, and quite accidentally, hear a jazz song. Not as dangerous as the nakedness, I know.
My brand of cabaret continues to evolve in Canada, but right now I would say we are the less sequined, earthier, yet still fabulous sister of New York cabaret. Pop songs, classic rock, R&B, funk, metal, punk, all reinterpreted. Intimate, interactive, bawdy, racy and story-driven. We are still largely undefined, which I think is thrilling.
After seeing a tonne of cabarets I learned lesson No 2: Everyone, all over the world, holds a different definition of cabaret. Meow Meow = Gothic and Old School Fabulous. Alan Cumming = New School New York. Camille O'Sullivan = Beatnik Goddess and Rock Star.
After that first day of full frontal cabaret nudity, (which I am not against, just surprised by all the nether regions) I quickly changed the branding of my show to a comedy cabaret, hoping people would understand that I would not be displaying my naked bits. (Not that they aren't fabulous and worth a look.)
Meanwhile, because I am not a well-known artist here, I decided to sign up to perform at as many cabaret/variety shows as I could, to get bums on seats (and then out of seats as quickly as possible.) I love the variety cabaret! You can see so many artists, and if you don't like someone, it is over blessedly quick. See Lach's Antihoot, Gorgeous George Cabaret, Edinburgh Tonight.
Here are some of my highlights of doing cabaret last year.
Highlight 1: Watching a host come on stage to introduce their show in an outfit that I couldn't quite figure out – and then realizing that it was a replica of a vagina, and that her head was… well, I am sure you get the picture.
Highlight 2: I ended up doing a number of these variety shows with the same entertainers. One was a comedian, who had a sitcom in the US and is quite well known there. I was putting on some lipstick in the dingy kitchen of a church where the variety show was taking place and I heard crying behind me. When I turned around it was this famous-in-the-US comedian.
I asked her if I could help her out and she just exploded. "I assumed that the people who brought me here would be promoting me! That I wouldn't have to do all of these gigs! I have ten people in my audiences! And they don't get me here, they don't laugh! They just sit there and look at me. And I burst a blood vessel crying last night. And the worst thing is… do you know what it is? I didn't know my show needed an name! I would've called it 'Sold Out' or some thing!"
And then she asked if she could borrow some of my MAC Wonderwoman lipstick.
Lesson No 3: just because you are a fancy comedian from the US (or anywhere else), don't assume that you will be a hit. There are almost 3,000 shows, we all gotta work it, lady.
This year, for the first time, there is a cabaret section in the Fringe programme. The Fringe office contacted a number of artists, including myself, to ask what we thought of the idea. Would I advertise myself in it?
That was a tough decision. I want to hang with my cabaret brethren, but after a lot of (overly dramatic) soul-searching, I decided to put myself in the comedy section this year, as did many other artists who I would consider cabaret artists.
Look back to lesson two and remind yourself that cabaret means so many different things to so many different people. It can be confusing. Also, sadly, that word "cabaret" can scare people away. Last year, while flyering the Fringe line-up, I heard a lot of "That's not what I'm looking for" when I asked ticket buyers if they wanted to see a cabaret, but then if I put the word "comedy" in front they would listen – even though it would still be the same show. I didn't change it, just changed the way I sold it. But I am, and will always be, a cabaret artist.
Who am I Iooking forward to this year, you might ask? Evelyn Evelyn, the world's first conjoined twin musical duo (starring Amanda Palmer of the Dresden Dolls and Jason Webley); Pistol and Jack, listed (in the comedy section) as cabaret mash-up artists, and Eat Your Heart Out, because it looks naughty, and after last year I would be sad if I didn't get to see a bit of naughty flesh. I do quite enjoy it really, in my own Canadian way.
Finally, remember Lesson No 4: There are no freakin' rules. See all the cabaret you can! Who knows what amazing artists you might discover? And you just might see some skin, people.
---
Broadway World Interview:
Broadway World
June 2, 2010
article written by Kelly Cameron
BWW Interviews Sharron Matthews
Sharron Matthews is getting ready to take over the world CABARET STYLE! Well-known in Canada as one of the country's greatest Cabaret artists, Sharron has been wowing Toronto audiences with her unique Cabaret evenings and amazing vocal styling for years, and now she is taking her show on the road for her World Domination tour! Sharron landed in NYC on Monday and plays her first gigs at Joe's Pub this weekend!
New York Magazine has raved that "you never know what you'll find next at Joe's Pub, but you can count on the fact that it will be very very good." Those of us in Canada already know that a night out at one of Sharron's Cabaret's is a fantastically good time, and now New Yorkers will have the chance to experience her unique style, humour and amazing voice first-hand.
Sharron received tons of support from Broadway veterans such as Sutton Foster and Louise Pitre in order to secure the gig at Joe's Pub, and once she is done in NYC she is off to the world's LARGEST arts festival The Edinburgh Festival in Scotland from August 16th to the 28th.
While getting settled in NYC, Sharron was kind enough to speak to BWW about her upcoming show, as well as about what she plans to do while she visits the Great White Way.
You have officially landed in NYC – what was the first thing you did when you hit the Great White Way?
Honestly, I went searching for food and ended up at one of my fave family burger joints at Broadway and 76th – Nicks!!! No fries though. After that I headed up to Birdland.
Any plans to see any shows while you are here? If so, what's on your list?
I am ALL cabaret ALL THE TIME while I'm in NYC. I have plans to be at The Metropolitan Room, Jim Caruso's Cast Party, Joe's Pub – I will be out all night every night so I must pace myself. I would love to see Everyday Rapture if I can find the time, and the Addams Family since I'm fascinated by it. That show goes back to my 70's TV watching!
You are going to be playing your first ever gig at Joe's Pub, a very popular spot for Broadway stars and lovers of Broadway in general. What can the people of NYC expect if they come out to see you?
They will hear fabulous and interesting arrangements of old and new songs by artists like Radiohead, Queen, Styx, Britney Spears and Nirvana. You can be uber pleased if you are the first one to figure out what the song is! You don't have to know the song in order to get my story. In between the songs I might talk about my obsession with all that is pop culture – my love for Madonna and Shirley Bassey at the same time – my obsession with Charlie's Angels – and how a young man named Ed Wills saved me from total High School Dance humiliation and what the movie Helter Skelter means to me. Literally, a mixed bag of awesomeness with something for everyone!
Is your show going to be tweaked at all for an American audience?
Not really! I am just going to make sure that if there is a Canadian reference it's made clear – although to be fair, I don't even know where Nunavut is, or how to spell it! I believe that my show appeals to a broad audience, that has been my plan from the beginning.
Since you are in NYC – could we find out a bit more about you and how you feel about the city? What are the top 5 things on your list of things to see/do?
Well, I love love love NYC! From my very first visit in 1994 when I saw Miss Saigon and had the good fortune of seeing Billy Porter do one of his first cabarets I have been hooked. I can walk 100 blocks and it seems like nothing because there is so much to see and do here. I love to just walk around this city. And Times Square! Love Times Square. I have been here one day and everyone I have met in the Cabaret community has been so welcoming and helpful, it really is wonderful.
There are some things I must ALWAYS do when I come to NYC though and I don't want to miss those things. It all starts with food, and I'm not going to apologize for that:
1. China Regency across from Carnegie Hall has the best spring rolls in the world…
2. Ray's Original Pizza has the best cheese slice in the world!
3. After my show at Joe's Pub on Sunday night I will get everyone who is there to come with me to my favourite place (IN THE WORLD) … Marie's Crisis Café in the Village. It's the best piano bar in the basement of a brownstone, you never know who you will see there.
4. I will go to the music store Colony and look through all the music
5. I will go and visit the Penguins at the Central Park Zoo. I really love that zoo! A Canadian composer/lyricist team just wrote a fabulous musical about those penguins, so that can all tie into an afternoon in Central Park.
Finally, to celebrate your time on the Great White Way, top 5 Dream Broadway roles? Past or Present…
1. Dot in Sunday in the Park
2. Judas in Jesus Christ Superstar
3. Queenie in Andrew Lippa's Wild Party
4. Mama Rose in Gypsy
5. The Leading Player in Pippin
---
NiteLife Exchange article
.: NiteLife Exchange
June, 2010
article written by Daryl Glenn
BWW Interviews Sharron Matthews
Although the NY Cabaret community may not yet be aware of Sharron Matthews, she intends to fix that right quickly! This terrifically warm, funny and talented lady has just landed in our fair town on the second stop of her Madonna-inspired World Domination Tour, and I had the good fortune to share an hour with her upstairs at the Iguana Café, as preparations for the evening's entertainment (2010 MAC Award-winning variety show Wednesday Nights at Iguana) were swirling all around us.
Ms. Matthews hit the ground with both feet running, appearing in a number of different venues all leading up to the main event, a two day stint at famous Joe?s Pub at The Public Theater this coming Saturday and Sunday. As we spoke, she had already warbled at Birdland on Monday evening, traded barbs with Seth Rudetsky and Tony Nominee Kate Finneran on the radio that morning and still had to run downtown to participate in Porno Bingo at Pieces Gay bar on Christopher Street, before returning to Iguana!
"I have a horrible potty mouth," she warns me (and usually her audiences) right from the start, and what she does is not what is considered traditional cabaret. In reality, before she established her long-running once monthly program (five years, first at the Gladstone Hotel and then at the much larger Buddies in Badtimes Theatre), most folks in Toronto hardly knew what cabaret was. To combat this, she produced an evening that pulled together elements that were familiar (a late night talk show format, special guests, more contemporary songs and even a buffet!) that became an immediate hit. She believes "Cabaret is intimate performance," and it doesn't much matter what style of music is being presented. She likes to cater to all different sensibilities, personally gravitates toward classic rock and roll and is, in fact, suffering a bit of a headache from indulging in a few too many obligatory head-rolls while belting out Queen's "Bohemian Rhapsody" at Birdland. This Toronto Diva, often referred to as the "Queen of the mash-ups" for her propensity to blend a number of divergent tunes into one, has been thoroughly enchanted by the warmth with which she has been greeted by everyone in the New York cabaret community and is particularly impressed by the size and caliber of the musicians who participate in the many open-mic nights around town. When she popped in to check out the room at Joe's Pub, the staff could not possibly have been more accommodating, she tells me.
Apart from being the reigning Canadian Cabaret Queen, Matthews is also a well known member of the thriving film business in Toronto. She has had roles in the motion pictures Mean Girls, Cinderella Man and Hairspray, among others, appearing alongside the likes of Tina Fey, Russell Crowe and John Waters (who flashed her in the film version of his hit Broadway musical). She also had the pleasure of sharing the screen (and dressing room) with lovely Tony Award winner Kristin Chenoweth while filming television's The Music Man, who she applauds not only for her down-to-earth relations with the cast and crew, but also her public stance against a recent notorious article concerning gay actors playing straight in Newsweek Magazine. In addition to all of this, she has had the time and good fortune to appear in the North American tour of Les Miz with Colm Wilkinson and the Toronto stint of Hal Prince's Showboat with Elaine Stritch. Born in Hamilton, Ontario ("the Buffalo of Canada!"), she resided in the "suburbs" for fourteen years with her actor husband, before they took a fabulous downtown Toronto loft to be closer to their work. There she found great inspiration in being right in the middle of the hustle and bustle of the big city, realizing that it caused her to "write more, become more brave" and see that "more was possible." Although the framework for her current show is set, it often changes nightly depending upon the mood of the day, drawing from a base of over 35 songs. But no matter where she is or what happens to come out, whether it be Toronto, New York City, Edinburgh or London (all stops of her World Domination Tour), she promises, "If people come, I guarantee they'll pee their pants!"
---
Toronto Star article
.: Toronto Star
March 16, 2010
article written by Richard Ouzounian
Watch out, Edinburgh. The Canadians are coming
It looks like two of this city's leading ladies will be deserting Hogtown this summer for the lowlands of Scotland.
Both Kristen Thomson and Sharron Matthews have been invited to take part in this summer's Edinburgh Festival.
Thomson will be at the Festival proper, performing her Canada-wide success I, Claudia in the legendary Assembly Hall from Aug. 6 through 31.
After that, a month-long tour of England is to follow, with a run in the West End of London as the planned-for final destination.
This is the same Crow's Theatre production, directed by Chris Abraham, that was such a triumphant part of Young Centre's season last year and has been earning rave reviews from audiences and critics alike since it debuted at Tarragon Theatre in 2001.
When I first reviewed the show, I called Thomson's portrait of a young girl coping with the aftermath of her parents' divorce "blissfully funny and unexpectedly touching," and it remains that nearly a decade later.
While Thomson is shaking up the venerable festival with her work, Matthews will be doing the same thing at the more rough and ready Fringe.
Her multifaceted cabaret performance that has been delighting Toronto audiences for years will be at The Space@Surgeon's Hall, Nicolson St. from Aug. 16 to 28.
Her Scottish appearance will be part of what Matthews — with her typical gift for understatement — is calling her "World Domination Tour," beginning with her debut at Joe's Pub at the New York Public Theatre on Lafayette St. on June 5 and 6.
If you'd like to see what we're sending abroad these days (and would like to help her raise some money for travel expenses, since the Canada Council has denied her any help), drop by Buddies in Bad Times on April 16 and 17 to share in the fun.
---
The Record article
.: by Colin Hunter
The Record Staff
Comic Matthews gets the last laugh
A true showbiz diva might have stormed offstage in disgust.
The microphone was on the fritz, audience members were strolling in late and the lighting cues were off — more than enough reasons for a prima donna songstress to throw a hissy fit.
Sharron Matthews is a diva, yes, but not that kind of diva.
When her mic went haywire during her sultry opening number Monday night she just sang an impromptu lyric — "Something's wrong with my (bleepity-bleeping) microphone" — and grabbed a backup mic without missing a beat.
As latecomers tiptoed to their seats in the Waterloo Entertainment Centre, Matthews again improvised, mocking them with exaggerated eye rolls and sarcastic glances at her watch (or the spot on her wrist where a watch would be).
Call her a pseudiva — a starlet who's got all the talent but none of the 'tude. Anything, it seemed, was fair fodder for a gag. Her performance Monday, dubbed Sharron's Halloween Party, was the first of four gigs at the Waterloo Entertainment Centre over the next two months, culminating in a New Year's Eve gala.
Her comic cabaret-style shows have become cult favourites at clubs around Toronto, partly because they gently mock cabaret-style shows.
Matthews has a world-class singing voice — honed in such lavish Toronto productions as Les Miserables and Beauty and the Beast — but she has no qualms about using it to perform Devo's Whip It or Let's Get Physical by Olivia Newton-John.
The result is a show that is equal parts standup comedy, vocal concert, talk show and controlled chaos.
Using a medley of reinterpreted '80s pop ballads, Matthews regaled the audience with true tales of adolescent traumas like high school dances and her first kiss. Fittingly, she calls such medleys "songologues."
Accompanied by pianist Steve Thomas, who deftly kept up with the singer's improvised tangents, Matthews showcased a vocal range that shifts from opera to pop in nothing flat.
Matthews' showbiz resume boasts an impressive list of stage and screen performances, including movie roles alongside Russell Crowe (Cinderella Man) and Antonio Banderas (Take The Lead), but she clearly hasn't let it go to her head.
That was obvious even before the opening curtain. For starters, there wasn't really an opening curtain at all — instead, Matthews mingled the crowd before showtime, doling out hugs and learning everyone's names before taking the stage.
In an impressive display of recall, she often addressed audience members by name during the show, picking out "volunteers" for interactive moments.
Matthews also acted as a kind of MC for the night, introducing and interviewing a pair of guest performers — Broadway actor Julie Martell and Stratford favourite Bruce Dow.
Both added touches of seriousness to the evening, demonstrating vocal versatility that their roles in larger ensemble productions don't often allow them to showcase.
Matthews lightened the mood again with her glowing, if a little too honest, assessment of Dow's performance:
"When he hit that high note all my hair stood up and I peed a little bit."
When it was time for a show-closing audience singalong (to Kenny Loggins' Footloose, of all things), Sharron's Halloween Party felt like just that — a party. And a killer party at that.
---
Xtra
.: article written by David Bateman
Toronto / Thursday, December 04, 2008
'Make me fabulous!'
Cabaret / Sharron the love of musical theatre
After attending a few of the musical parties Sharron Matthews has thrown over the years it is difficult to know how to respond when she looks at you during an interview and says, "Make me sound fabulous and not like an asshole." It's this kind of comic humility and mild self-effacement, with a dash of exaggerated emotion, that makes her the kind of performer who can only sound but fabulous. Trained at Sheridan College in the musical theatre program and currently completing a semester as pop music instructor, Matthews began her cabaret, Sharron's Party, at the Gladstone Hotel two years ago. Last June she moved to Buddies in Bad Times where she held her first Sharron's Big Gay Party. On Fri, Dec 12 and 13 her Tallulah's Christmas show promises to titillate and thrill with a string of naughty carols and fabulous guests that include Sarah Strange, Teresa Pavlineck, Ian Simpson and opera luminary Jean Stilwell. Last June's Big Gay Party really didn't look much different from any of the other shows that are consistently "festive, fabulous and naughty." Matthews has cultivated a powerful fondness for the gays over the span of her 20-year career. She considers her strongest relationships ("after my husband" of course) to be with gay men and has deep feelings about the community that just seems "to get the humour, the music" that she loves to showcase. Expect amazing singing. A fall show at Tallulah's had Brent Carver singing "Ten Cents a Dance" and an astoundingly beautiful theatrical rendition of Leonard Cohen's "Take This Waltz." Matthews interviews her guests onstage and manages to get juicy tidbits from one and all. While interviewing Carver she recalled her stint as Dora MC last year and described how he leapt from his seat and began to dance along as she entertained and MCed. Nominated for her performance as the wicked witch in The Wizard of Oz she came onstage after losing out to another performer and quipped, "Anyone interested in buying a used witch's costume?" She handpicks her cabaret guests: Some are unknown burgeoning singers ripe from an audience participation event; some are the greats of Canadian theatre. Jeigh Madjus, a promising newcomer to the musical theatre scene, with a history of cruise ship entertainment, did a wonderful impromptu rendition of "Do Re Mi" one night and became a featured performer a few weeks later when he wowed guests with complex pop and theatrical numbers. On more than one occasion shows have included some of the contestants from the reality show How Do You Solve a Problem like Maria? Matthews speaks candidly of her love/hate relationship with the reality program as well as the recent The Sound of Music production itself. "Captain von Trapp and Maria reminded me of someone and I couldn't figure it out," she says. "And then it hit me! Céline Dion and René Angélil… Dirty." She also did her own campy version of "Do Re Mi." Matthews feels she celebrates her "disgruntledness" with the Broadway megahit. "We all think we could do better." The Maria contest winner and current star, Elicia MacKenzie, won Matthews over with her reality show rendition of "You Needed Me" for its honesty of expression — something that lends itself well to the role of the ingenuous alpine nun. Matthews is unafraid to critique superstars far and wide with a brash, loving intensity that is never cruel but always comically scathing. Meryl Streep's bubbly yet bewildering performance in Mamma Mia was treated hilariously in a recent show. "She can come to my show and tell me I stink," says Matthews. "At least I can say Meryl Streep came to my show." During one performance her signature "song-alogue" featured autobiographical memories of a childhood attachment to Michael Jackson. Her medley of Jackson favourites from "Thriller" to "Billie Jean" showcased her ability to mix witty self-written monologues with interpretations of popular songs, turning them into layered anthem-like tributes to some of the most memorable moments in 20th-century music history. With the support of pianist Wayne Gwillam (recently at the Shaw Festival and about to join The Sound of Music in 2009) and gorgeous gowns from Fashion Crimes, she is a delicious diva to be reckoned with. Don't miss her upcoming Christmas party. If you're feeling weary and in need of a little sweetness and bitchiness mixed into one fabulous Yuletide spectacle then this is the seasonal show for you.
Sharron's Christmas Party.
$20. 8pm. Fri, Dec 12 & 13.
Tallulah's Cabaret.
12 Alexander St.
(416) 975-8555.
---
Toronto Star
.: Toronto Star
Aug 19, 2006
article wrttien by Rita Zekas
Let size zeroes eat cake
Hubba, hubba.
When we attended Sharron's Party, Sharron Matthews' cabaret show at the Gladstone Hotelseveral months ago, we remarked on how sexy she looked in her dominatrix meets Donatella ensemble: a black pencil skirt topped by a black pin-striped corset.
"It's the waist cincher," she demurred.
The outfit came from Fashion Crimes at 322 1/2 Queen West, which we'd always associated with clothes for stick figures. We'd shopped for accessories there — like the faux fur floor pillow the size of King Kong we hauled home in a body bag.
Matthews is not gargantuan but she is curvy. Fashion Crimes designer/owner Pam Chorley had always cut for her own body, which is like a swizzle stick. Not anymore. Chorley's designs now accommodate up to size 16.
In addition, her sales staff comes in assorted body types, so you aren't intimidated by someone in size zero telling you disdainfully to try Chubbettes R Us on the next block.
Fashion Crimes is like a fun ride at an amusement park crossed with a bordello. The Star photographer is afraid to come in; Store Gazing is heady with marabou.
"Every time I come into this shop, it takes me half an hour to take everything in," Matthews says. "I'm over stimulated."
She is shopping for something to wear to her Aug. 28th cabaret show, whose drop-in guests include Thom Allison and Bitter Girls Alison Lawrence and Mary Francis Moore.
Fashion Crimes has been a fixture on Queen West for almost 25 years. It relocated to its present space just over two years ago after a fire gutted the old location across the street.
"This location was established as a kid's store (Misdemeanours)," explains Chorley. "I design and manufacture everything. We do pattern making and can make anybody look their best. It's not all on the rack; we can custom make in a day or two. If you need it tonight, it can be hemmed or a neckline dropped. We also have a prom registry so we don't sell the same dress to the same prom. We can fit (everyone) from newborn to when you no longer have a pulse."
Matthews emerges from behind the curtain of the dressing room in a white patterned dress with black crinoline underneath that makes her look like a funky shepherdess. "I love the dress — then they give you the gloves, the crinoline," she says.
She looks amazing in a drapey, '30s bias cut dress that Jean Harlow would have plotzed over had she worn black.
"I've never been to a store that has so many choices," Matthews swears. "Every dress I take in, I'm terrified won't fit me and 9 times out of 10, it does."
She describes her look as "bohemian chic, especially since I started shopping at Fashion Crimes. These girls dress to celebrate every day."
We spot Teresa Pavlinek, star of The Jane Show on CBC, poking through the racks. She's also a Fashion Criminal.
"When I was searching for wardrobe (for past shows), I had Fairview Mall," she jokes.
Matthews does two costume changes during her cabaret act.
"I feel like I'm the super hero of dressing. Everything I put on in Fashion Crimes makes me feel like a woman — so sexy. The audience can tell; it changes your attitude. My husband (actor George Masswohl, whose credits include lead role in Sweeney Todd at CanStage) says that when I put on my cabaret clothes, I become fearless. I don't feel I need to be skinny."
Matthews has been doing the cabaret circuit and open mike nights from Vancouver to the U.S. She attended Sheridan College for theatre and is the quintessential Canadian hyphenate: singer-dancer-actor.
"I started tap dancing at age 5," she recalls. "I was too intimidated by ballet because all the girls were so teeny. I always wanted to perform — I never felt like it was a choice."
Her first show was 22 years ago at age 15 in Hamilton.
"I started cabaret when I did Show Boat at the Ford Centre 12 years ago. I played Lottie, one of the girls who took Captain Andy (Robert Morse) to Palmerston House on New Year's Eve. My costume was cut to the navel, with six underskirts and a 12 foot ostrich feather boa."
She recalls whining to Elaine Stritch, who played Captain Andy's wife, about how hard it was trying to get cabaret mounted in Toronto.
"She said, `Boo, hoo, hoo. You'll just have to keep trying.'"
Matthews played Madame Thenardier in Les Miserables in Toronto and in the North American tour; Babette in Beauty & the Beast; and The Narrator in two runs of Joseph and His Amazing Technicolor Dreamcoat. Her film works includes the role of Joan, the secretary in Mean Girls, which starred Lindsay Lohan.
"I've always been a character actor rather than the ingénue," she says. She appeared in Cinderella Man with Russell Crowe; Kojak with Ving Rhames; Take the Lead with Antonio Banderas; and recently had scenes in Camille with its star Sienna Miller.
"I'm a paramedic," she explains. "I spent five hours in an elevator with Sienna Miller, who is no bigger than a peanut."
Miller might have had a tryst with her co-star James Franco after all. Heard (not from Matthews) that Franco was licking her leg at the film's wrap party. Then again, could be Miller had spilled ice cream on it.
Matthews has eight days of singing and dancing on Hairspray, starring John Travolta. "There are 150 of us, all character people. I have a scene with John Travolta and the Tracy Turnblad girl. I play Mr. Pinky's cashier."
Which means she'll need more dancing shoes. Matthews confesses that she loves to shop. And her weakness is shoes.
"Shopping is the only thing that makes me feel better when I'm blue — especially when it's a bargain," she explains. "You can get big or small, but your feet never change size. If I feel fat, I buy shoes. I lost 65 pounds over the last four years. I'd quit smoking and was touring with Les Miz and I packed on the pounds. Buying these cabaret clothes gives me an excuse to buy shoes for every show.
"I have 12 pairs of evening shoes. I love four-inch heels. For years, I didn't think I could wear high shoes but Thom Allison said, `You know you mean business when you put on five inch heels.' I dress for him."
And for Paul Burwell, her accompanist. And he for her.
"My leopard skin outfit brought water to Paul's eyes. He gets T-shirts made with things like 'Sharron's bitch.' "
Matthews shops Winners and Le Chateau. "I've never been in a fancy store. I am not a label whore. This is my favourite shirt: I got it at GAP for $8. If I had a lot of money I would buy all my shoes at B2."
Working in Canada means doing cabaret one day and the next day, being on set on Cinderella Man with Ron Howard.
"I was a Church Lady," she recalls. "I did five days and ended up on the cutting room floor. You can hear my Brooklyn accent float by in one scene."
Meanwhile, it's come to the cabaret, old chum.
"My dream for a cabaret show is to look like Carrie in Sex and the City but my version. Sarah Jessica Parker (who plays Carrie) also has curly hair. I did The Music Man with Matthew Broderick (Parker's husband). She was seven month's pregnant in a red teeny top with overalls and six-inch high heel shoes."
Store Gazing succumbed to a pair of pointy-toed leopard ankle boots at Fashion Crimes. Since it was in the line of duty, we plan to try to expense them.
— Rita Zekas, The Toronto Star
---
Toronto Star article
.: Toronto Star
Dec. 1, 2005
article wrttien by Richard Ouzounian, Theatre Critic
Cabaret is a `labour of love'
There's going to be a lot of parties happening this month, but it's a safe bet that none will be quite like the one Sharron Matthews is planning to throw.
The star of many of Toronto's best-known musicals (Les Miserables, Beauty and the Beast, Show Boat) is switching to cabaret mode and offering a pair of distinctive experiences Dec. 4 and 18 at Tallulah's Cabaret at  Buddies in Bad Times Theatre with Sharron's Holiday Party.
"I tried to figure out what would be different than just coming to see someone in a club" said Matthews on a recent break from rehearsals. "So I decided to make it like The Dinah Shore Show. There's some interviews, prizes, a sing-along and maybe even a few more novelties. David Rogers and David Warrack are going to come by one night and they plan to play Stump The Musical Singer, which should be a hoot."
Matthews has also lined up such local notables as Blythe Wilson, Bruce Dow and Avery Saltzman, so there's bound to be plenty of talent around.
Matthews will rightfully be the main attraction. Known for her versatility in drama as well as comedy, she says that she approaches each song in a cabaret,"as if I were playing a different character each time around. That means it's like I was doing 30 different plays in a night."
It was the lack of variety that caused Matthews to become a bit disenchanted with the theatre after her series of long runs, but once she started appearing in shows with limited engagements, she confesses that "I've grown to love musical theatre again."
But while Matthews admits "there's something about cabaret that makes me feel this what I really should be doing," the economic realities of it "mean that it's a real labour of love."
She was encouraged in her belief by a pep talk from one of the giants in the field — Elaine Stritch.
Matthews had worked with her on Show Boat, but hadn't seen her in nearly a decade. Earlier this year, she went to N.Y. to audition for a show and found herself watching Stritch at the Carlyle Hotel.
Afterwards, Matthews went backstage. "I was trying hard not to feel typically Canadian. I didn't want to get in the way. But I told her how awesome she was, trying all the while not to gush."
Stritch's assistant knew Matthews and prodded her to tell Stritch about her own experience doing cabaret.
"I told her about my experiments doing it here, but how there aren't really any rooms in Toronto for people who specialize in cabaret and that I'd tried it and I hadn't been exactly triumphant."
"She went silent. Then she looked at me and said `Well, with all you've done, I guess you've got to just f—ing keep trying.' She has a way with words, Elaine."
"But afterwards, I couldn't sleep. Excited, daunted, scared, but I knew I had to try it."
This series of evenings is the result of Stritch's intervention and Matthews' determination.
"I know there's an audience out there. When we did Jason Robert Brown's Songs For A New World, the college kids absolutely came out of the woodwork as well as the more traditional musical theatre audiences.
"People will come to cabaret. They just have to get used to the idea that something is happening on stage that's unique, live, unpredictable. Something they couldn't experience by sitting home and playing a CD."
The distinctive Matthews laugh rings out. "Hey, I'm even going to help to seat them when they get to the theatre. I want them to know there's something special happening here."
— Richard Ouzounian, The Toronto Star
---
Hamilton Spectator articles
.: Hamilton Spectator  
March 8, 2005
article written by Gary Smith
Singers give polish to forgotten gems
Want to pretend you're in New York?
Maybe in the fabled Oak Room of the classy old Algonquin Hotel, watching some sophisticated caberet show?
You don't need to spend next month's mortgage. As little as 20 bucks will get you in. Two 10s will buy a ringside seat in the Studio at Theatre Aquarius. That's where Sharron Matthews and George Masswohl are singing their hearts this week.
What You Don't Know, a terrific little cabaret show that had its genesis at Tallulah's Cabaret in Toronto, is delirious entertainment. Masswohl and Matthews, Hamilton-born entertainers who've played Stratford and New York, have come home with a mavellous love song to musical theatre.
In the course of 90 minutes or so, this captivating duo sings the socks off songs from mostly failed Broadway shows. and believe me, the songs are quite brilliant, even if the shows they punctuated failed to make the grade.
.: Hamilton Spectator  
June 25, 2003
article written by  Gary Smith
George and Sharron take T.O. 
This Hamilton-born couple gave Toronto terrific theatre music last week. So why do we have to go down the QEW to catch these stars?
I hate to write to write a column telling you what you missed, but in this case it's necessary.
Hamilton-born performers George Masswohl and Sharron Matthews played a two-night gig in Toronto last week in Tallulah's Cafe at Buddies in Bad Times. And frankly, it was terrific.
If you didn't take my advice and catch one of their sold-out shows, you missed out on one of Toronto's more interesting evenings of musical theatre.
Matthews, a graduate of Bill Cooke's Hillpark Theatre program, is a stunning performer who has played locally in the Theatre Aquarius production of Joseph And The Amazing Technicolour Dreamcoat.
Her hubby, Masswohl, who did lots of Hamilton area theatre in his youth, had a big success in the Aquarius drama Of Mice and Men before moving on to leading roles at Stratford and a recent star turn in Stephen Sondheim's Sweeney Todd.
Singly these performers are exciting. Together they are dynamite.
Their Toronto gig, What You Don't Know Shows That You Haven't Played T.O., is quite simply a blockbuster. It's filled with magnificent moments from failed Broadway musicals, such as the exotic New York stunner Sideshow and that eccentric failure A Class Act.
From brilliantly conceived songs such as Come Look At The Freaks and The Next Best Thing To Love, created for such ambitious but troubled shows, Matthews and Masswohl fashion a medley of musical theatre genius.
By liberating such songs from their emotional and physical context, they allow them to float free in the imagination. And quite frankly, it's wonderful to sit back in a cabaret theatre and feel reasonably assured you're not going to hear anything that sounds remotely like Annie or Oliver.
There are so many interesting musicals beyond the stale and familiar that never see the light of day in Toronto or Hamilton that you despair for the commercial greed that keeps recycling the same few.
To hear even some of the songs from William Finn's brilliant A New Brain, or Michael John LaChiusa's Hello, Again is to understand that there is a new musical theatre that exists beyond the trite and ordinary.
Masswohl and Matthews feign a delightfully easy stage presence that reflects their personal chemistry.Neither needed the intrusive microphones that at times interfered with the generous subtleties of their vocal histrionics. Each of these performers has power to spare. and there were moments when the show required a tightening of pace, a less folksy, here we are guys, plan of attack. But these are niggling criticisms for what was a daring and risk-taking evening of theatre.
Masswohl and Matthews even managed to make duds like Alone In The Universe from the ick-making Seussical and the title tune from The Wild Party, a frenetic musical moment at best, still zing with imagination.
Now the deal is What You Don't Know would fit so neatly into the Studio Space at Theatre Aquarius and provide local musical theatre fans with a terrific program of showstoppers from shows that often stopped before they really got started.
I don't know who we have to encourage to bring this beguiling evening to Hamilton, but I don't see why Toronto should be the only place to benefit from Masswohl and Matthews. don't we have the right to hear these local theatre star sing the socks off some terrific theatre music without having to leave town?
Maybe we need to lobby Theatre Aquarius to bring this act home? What do you think, gang?
.:  Hamilton Spectator  
October 2000
article written by Gary Smit
Outrageous in leather
Sharron revels in a romp on the seedy side with disco dollies and drag queens
Sharron Matthews is getting out her black leather. The Hamilton-born singer with the big voice, is currently on stage in the musical version of the Craig Russell cult film Outrageous.
Playing a leather dyke in a grungy gay bar, Matthews is having the time of her life.
After roles in Hal Prince's version of Showboat, not to mention the musicalized Les Miserables, she's happily set loose in a raunchy, rambunctious romp. It's a musical that takes her to the heart of Toronto's seedier side.
Disco dollies, drage queens and leather dykes inhabit this culture of passion and pain. Yet Outrageous, for all its raunch, is basically a love story, non-sexual in nature.
Growing up on Hamilton Mountain, Matthews admits she was sexually naive.
"I had no idea about drag queens and stuff. I went with my mom to the hairdresser's every week, somewhere on the Mountain. And I met all these great guys. Some of them quite gorgeous. I wondered why they didn't have girlfriends. It took me long time to catch on."
Like a number of young performers Matthews began her theatre experience in high school, Hill Park to be exact. With drama teacher Bill Cook to guide her, she fell in love with the Broadway musical.
"He did a big one every year. And believe me he was very good. He used to beg, borrow or steal, trying to get the money to put a show on. He loved theatre so much, he made me love it too. And in a high school world, where the arts didn't count for too much, he made me feel I belonged. I guess you just have to find your own niche. Theatre was that for me. Thank goodness there are a few teachers who understand that. Bill always said, 'Embrace who you are. Just be yourself.' You can't know what that meant to an awkward, young teen."
From Hill Park, Matthews found her way to Sheridan College where she perfected her art. Amazingly, she went straight from the Oakville school to her first professional job, a stint in Hello, Dolly! at The Limelight Dinner Theatre in Toronto.
"Believe me it was tough. The Limelight was hardly the apex of bigtime theatre. People used to light up during the show and blow smoke in your face. But I learned a lot there. It was baptism by fire."
Matthews, married to fellow Hamilton actor George Masswohl, says she has no idea why so much talent comes from Steel City.
"Maybe it's becaue people are so supportive of young performers there."
Her own journey, from the Limelight to major roles in Les Miserables, Showboat and Beauty And The Beast, was pretty swift.
"I've been lucky to work with people who've been generous with their wisdom. And I think I have hope for the future. But like most performers I live from day to day. It's right now that's important to me, not something down the road."
Right now for Matthews, is the Toronto production of Brad Fraser's Outrageous.
"I think it's going to be a very big musical. Well, that's what I hope. The book captures the feel of the film, and the music, techno-disco in style, frames the piece. As you might expect, given it's dramatic proportions, it'sa musical of emotional highs and lows."
Matthews sees it as a return to musicals about personalities, not scenery.
"Don't get me wrong, I loved doing all those big Broadway shows, but in a way they're like clockwork. There's little room for deviation. If you saw Les Miz here, you saw the same show you'd see in Tokyo. Everything moves to a very ordered plan. These shows are about ensemble, rather than individuals. Outrageous goes beyond that, back to a Broadway that allowed its performers to take centre stage."
For Matthews, Outrageous remains remarkably faithful to Richard Benner's 1977 film, as well as Margaret Gibson's stories in The Butterfly Ward, which inspired the whole thing.
"It's raucous, but it's also very sweet. the story of a troubled schizophrenic girl and drag queen hairdresser is amazingly moving. It's a story about changing, about knowing who you are. I've worked with drag stars like Bitch Diva, and in some ways, what they do is a particular form of art. It's isn't just about a man wanting to be a woman. It's a very specific form of performance. Women, after all, don't dress the way someone like Craig Russell did on stage. It's a heightened form of reality."
Matthews thinks it's a mistake to connect Russell too closely with the musical Outrageous.
"He was an actor playing that role, it wasn't about his life after all. Certain parallels do however apply. Russell wasn't treated as a performer. He was treated as a freak. He couldn't break away from that image, and it's probably what destroyed him in the end. A lot of these boys go through such hardships. It they're gay they feel rejected. And sometimes they feel they're not manly enough, whatever that means.
"It's not just about being gay. there's a definite order here and drag queens are often treated like dirt. I'm not a gay man, so I can't make any real judgements. Although sometimes I feel like one. We won't tell George that will we. He need never know."
A big laugh erupts from Matthews' throat.
"Oh, by the way," she adds, "I'm coming back to Hamilton for Joseph And The Technicolor Dreamcoat at Aquarius in December. Now, there's a stretch. From the leatherbar to the Old Testament."
.:Hamilton Spectator 
article written by Stewart Brown
Happy among Les Miserables
When Sharron Matthews was five years old, her mother took her to Hamlton Place to see song-and-dance man Lionel Blair in one of the English pantomines he headed every Christmas.
"I went up on stage with other kids and Lionel centered me out. He sat me on his knee and talked to me in front of the audience." Matthews recalls.
"I remember looking into the wings and seeing all these dancers with their painted faces and thinking: 'This is the coolest thing I could ever want'".
Sharron Matthews — whi is Madame Thénardier, the innkeeper's wife in Les Misérables these days — would return to the stage at Hamilton Place, mostly in summer musicals as a performing teenager.
But it's on the stages of Toronto and North America where she's made her professional mark, in musicals large and small.
Large —such as two versions of Les Misérables, including the current Toronto run with Colm Wilkinson; two years in the Harold Prince revival of Show Boat at North York's Ford Centre, and Beauty And The Best at the Princess of Wales Theatre where she played the vivacious duster, Babette.
And small — such as a much applauded Toronto production of Falsettos at the Tarragon Theatre in which Matthews portrayed a lesbian gourmet cook, and The House of Martin Guerre by the Canadian Stage Company, in which she played the confidante of a woman whose "husband" returns from the wars drastically changed.
The result is that Matthews, 30 next month, is one of those live-theatre rarities — a professional actress who — knock wood, as is her habit — keeps busy most of the year.
This week the Hamilton native talked about her career in a reception room off the lobby of the Princess of Wales Theatre, where the only North American touring company of Les Misérables — with Wilkons repeating hi London and Boradway role of Jean Valjean and a handful of Canadians, including Matthews, in featured roles — continues to Nov. 29.
As the innkeeping team, Matthews and American J.P. Dougherty as her husband dominate the musical's comedy spotlight, regaling the audience with the boisterous and bawdy novelty song, Master of the House.
A few hours before an evening performance, Matthews was dressed informally in blue jeans, short white top, revealing a bare midriff, and long-sleeved orange/rust shirt. She sat barefoot, cross-legged, sipping from a bottle of water, beneath a framed colour photograph of Diana, the late princess for whom the theatre is named.
Matthews reckons her penchat for comedy and character acting has a lot to do with her frequent employment.
"Everybody wants to be the ingenue in the beginning, the pretty girl singing the pretty song. But comedy is what I do best and I've been very lucky."
It's been that way since early on. Growing up in the "Birdland" area of Hamilton Mountain, where the streets are called Tanager and Bobolink and Titmouse, she cut her acting teeth in musicals at Hill Park secondary school — Guys And Dolls, The Wiz, Grease and Annie — staged by drama teacher Bill Cook.
"The stage had ruts and the backstage was covered in graffiti and I remember, like, eggs being stuck to the ceiling! But Bill Cook managed to a musical on there every single year. He made theatre so exciting."
There'd been dance lessons ("Ballet was hateful, but I really like tap.") And more musicals downtown at Hamilton Place, where another teacher, David Dayler, assembled promising area teens for what would turn into hi New Faces program.
It was there, in 1984, that Matthews first worked with a chunky actor named George Masswohl; 10 years later, the two would be married.
Matthews still keeps close Hamilton ties. One of her two sisters, Gwen Filice, is a secretary at Westdale secondary school. Her mother, Margaret Humphrey, works just up Longwood Road at Canco. A second sister, Kim Vitanze, is a housemom.
For Matthews, musical theatre studies at Sheridan College beckoned for three years, followed by dues-paying jobs in smaller Toronto venues. Hello Dolly, at the Limelight Dinner Theatre, got Matthews her Actor's Equity card.
The first mega-muscial break came when she joined Les Miz as a swing performer, backing up all ensemble roles, in 1991.
"That was still my best experience on stage, in terms of pure youth and exuberance. The entire exeprience of riding the subway to the Royal Alex Theatre, of coming out and singing that music, seeing all those people ???? I did was exciting, from going into the dressing room, to them giving me a robe!"
Matthews says all bifg musicals were different.
"It's like going to a different high school every few years. The place, the layout, the management, the director, the interactions are all different. I count them all as life experiences."
In Show Boat, Matthews played a good-time Chicago girl named Lottie, who with her girlfriend, Dottie, squired Robert Morse's Cap'n Andy on New Year's Eve."
"Robert Morse has more fun on stage than any person I know. He's a vaudeville performer. His timing is amazing. and sometimes he can find it in himself to get the dramatic stuff come across too. But mostly what he's worried about is whether he's going to get the laugh or not.
"Elaine Stritch, who played his wife, took cast members out in groups of eight to her favourite restaurants. She'd hire a limo, plus her own, which she got every night. she's talk about Cole Porter and Cy Coleman and Julie Stein, but she was never pretentious about it."
After two years in Show Boat, Matthews wanted a rest, and she planned to holiday in California while hubby Masswohl, who'd joined the show late in its North York run, continued with it in Los Angeles.
But Beauty And The Beast, which was recasting in Toronto, wanted Matthews to the man broom called Babette.
"I turned them down three times before they gave me an offer I couldn't refuse. All I could think of was putting on my resumé: Sharron Matthews. Fork. Or Spatula." And I didn't know how I felt about that."
It turns out she enjoyed the run.
"It's by far the most glamorous role I've ever had, mostly for the costume.
"I even hit high-C every night. I have no idea how. I should be a soprano but I'm more like mezzo-alto with some high notes. In Les Miz, though, I'm just basically screaming!"
Matthews planned to spend this summer relaxing on Prince Edward Island, writing material for her own one-woman show while Masswohl — who was at Theatre Aquarius in Rock And Rol last season — worked in Johnny and Melinda and Anne of Green Gables at the Charlottetown Festival.
But Les Miz came calling. She joined the company seven weeks before the show opened in Toronto, playing Mobile, Tampa, and Oklahoma City before St. Paul, where Wilkinson was worked into the muscal.
"Colm raises the stakes in the show tenfold," Matthews says. "He's not a man who backs off. His energy is so unbelievable. He's so committed to the piece, so committed to what he is doing."
She's not sure what will happen beyond the Toronto run. She can continue with the North American tour, doing 13 one-week stands but doesn't have to make up her mind until a few weeks before the Royal Alexander closing.
For the truth is, mega-musical fame and employment are a two-sided proposition.
"It's amazing," Matthews notes, "especially with both George and I doing it.
"You can't get this money anywhere else, especially with what I'm doing now; an American tour in my hometown, so that I'm getting a per-diem allowance.
"I mean, we have a car, a Honda Accord. At one point, we had two cars, but then I thought 'Who are we? We don't need two cars!" So we got rid of the Jeep.
"We're planning to buy a house. We have some beautiful antiques that I know some of my friends can't afford. I dob't want to wear it like a badge, but I do like looking around the place.
"But there are drawbacks. I'm married, but don't get to see my husband as much as I like."
Matthews and Masswohl, in fact, hadn't worked together om teenage shows at Hamilton Place until they shared three weeks in Show Boat and, the 1997 Toronto run of The _____ of Martin Guerre.
"But," says Matthews, "I'd rather be with George and be apart for a little bit of time than be totally without him."
Boredom also colours the long-run scene.
"After a year in a show, you really have to check your soul. You have to say; "'OK, am I doing this show because I am enjoying myself? Or am I disliking my job and only doing it for the money? I don't think enough people ask themselves that."
Matthews has her own personal trick to maintain interest in a show eight times a week.
"I really try to make something new for myself to work on every night. For example, I want the audience to see the difference between who Madame Thénardier is the little child, who she is with patrons at the ____, and who she is with Thénaedier.
"Or I make sure I hit all my consonants but don't tell anybody else. I just want to put the stakes up.
"And the thing is, if I go out and don't have a great show, I try not to beat myself up about it."
---
View article
.: View
March 10, 2005
article written by Kerry Corrigan
What You Don't Know is that this is a pretty nice night out at the theatre
Apparently there are a whole bunch of musicals produced every year that we never hear of — shows that close early, making little splash, or no splash at all. some may have deserved to end their runs as soon as they did; others probably could have found an audience eventually, and may yet some day.
Sharron Matthews and George Masswohl felt that there was enough good music in these lesser known musicals to craft a grab-bag of songs for an evening's entertainment, and they were right.
What You Don't Know, in a short, week-long run in the Stage Write series at Aquarius, is an infectious collection of unreleased songs, each painting a visual picture.
"Exploring the nether regions of musical theatre," the duo, accompanied onstage on a baby grand by Music Director John Hughes, posses the strong voices absolutely essential to deliver the ballads and comedic tunes.
From the opening number "Freaks," from the play of the same name, the duet were confident and polished, melding their voices beautifully. The next song, "Two of a Kind," described them perfectly.
Masswohl and Mattthews are a married couple who met in 1985 working on the first season of Hamilton's New Faces, which was a local endeavour that introduced young kids to the demands of professional theatre.
They're both familiar to Aquarius audiences. She was the Narrator of Joseph and the Amazing Technicolor Dreamcoat; he was Captain von Trapp in The Sound of Music, as well as Lennie in Of Mice and Men.
They bridge the songs with playful repartee that borders on a mutual appreciation society, often sounding more scripted than off-the-cuff. Still, burns and Allen weren't built in a day, and odds are that if these two keep it up, the banter will become more easy-going and less ingratiating.
Matthews' signature is her breezy, sparkling approach, which works well in this setting. Masswohl, meanwhile, has matured into a formidable, leading man type and, with that rich voice, his limits are boundless. they each add the pizazz needed to present these mostly unknown works.
The one exception to the "little-known" criteria is a selection from Wicked, the prequel to The Wizard of Oz which is making so much noise in T.O. right now. (The only number from the whole evening that I recognized was the wonderful "Alone in the Universe," having been lucky enough to catch a smashing production of Suessical at Waterdown High School last weekend.)
Other than those, plays like The Wild Party and She Loves Me might only be recognizable to Broadway aficionados. But songs like "I hate Musicals"—"if I wanted helicopters, I'd go to an airport"—and "Ilona"," while not familiar, still stuck in the mind.
Having only snippets of shows can get a little frustrating; one of Matthews's best songs, from a show called Is There Life After Highschool?, made one want to know more about the character.
They don't aim their mark too high, just at a congenial night cabaret-style entertainment that suits the venue. And maybe it will prod one of the local musical theatre groups to take a chance on a new work, rather than re-treading the tried and true ad infinitum.