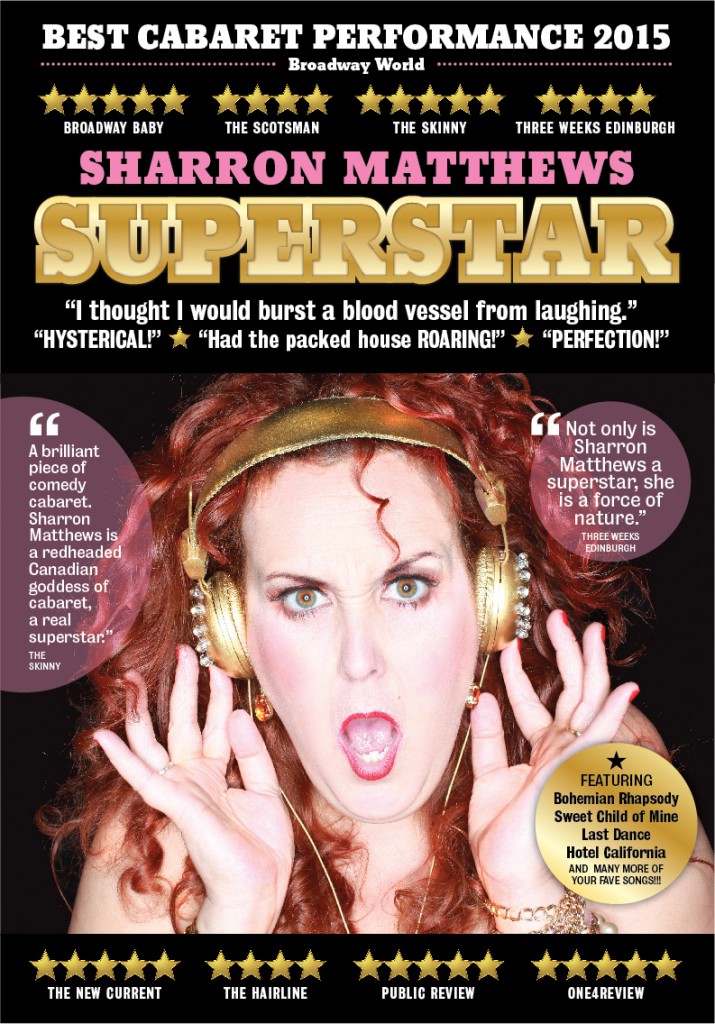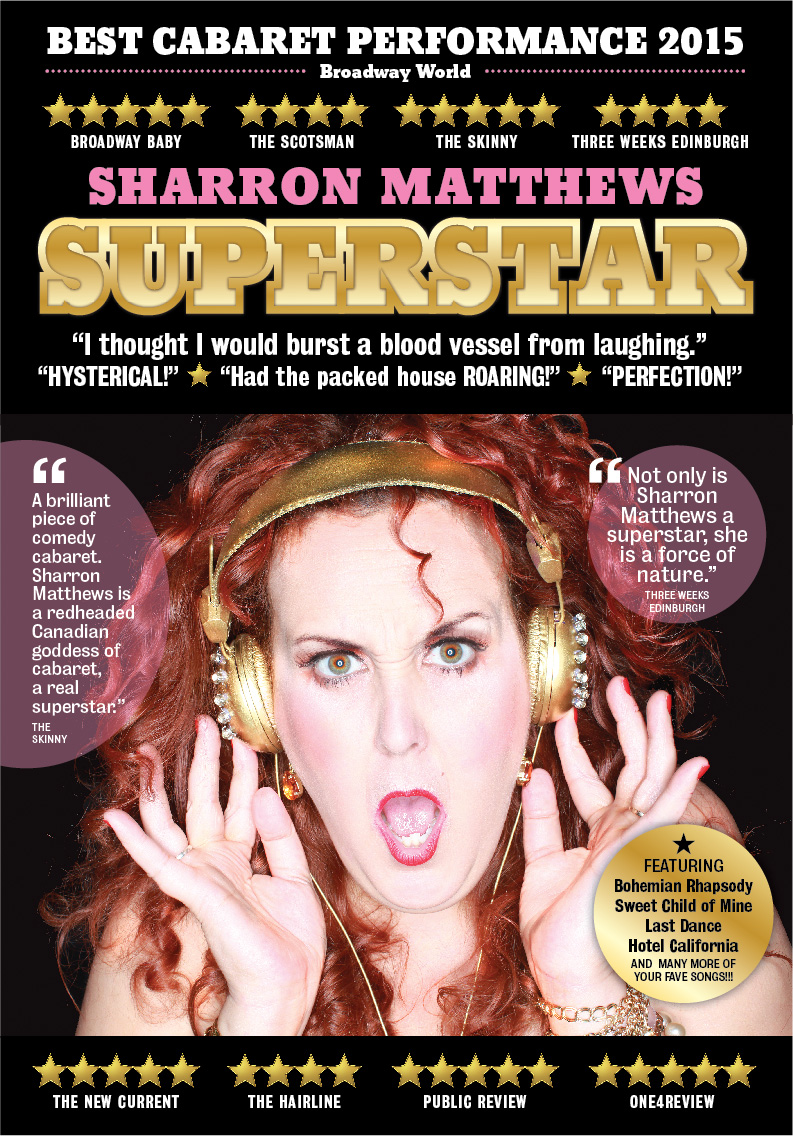 This "Canadian Goddess of Cabaret" has taken her HIT comedic, tour-de-force concert 'Sharron Matthews SUPERSTAR' around the WORLD…across Canada, to NYC, London, Scotland, to South Africa and home again…thrilling both audiences and reviewers alike.
"Sharron Matthews SUPERSTAR: World Domination Tour 2010" at Joes's Pub in the Public Theatre that was named "#1 Cabaret in New York City in 2010"!
"Sharron Matthews SUPERSTAR: Jesus Thinks I'm Funny" was named "Best of the Fest" at the 2011 Edinburgh Fringe Festival by The Scotsman Newspaper.
"Sharron Matthews SUPERSTAR: GOLD" had Sharron named, "Woman of the Year 2012" by The New Current, the UK's largest online student newspaper.
Sharron Matthews has picked the very BEST songs, stories, mash ups, medleys and songologues from these celebrated tours, creating a thrilling show that delivers jaw-dropping vocals, pop-culture punches and hit-melody mash ups in a one-of-a-kind concert experience that defies age and gender barriers.
With a "voice that could stop traffic", Sharron serves up her signature irreverent wit with solid gold music by artists such as Lady Gaga, Kiss, Styx, the Bee Gees, Guns 'N' Roses, Radiohead, Beyonce, Queen and so many more in an evening you will not soon forget. Aptly described as the love child of Jack Black and Bette Midler, Sharron has had starring roles in 'Les Miserables', 'Mean Girls' the movie and Global TV's hit show 'Canada Sings!'.
"Sharron Matthews SUPERSTAR" features 50 revolving musical pieces from the shows that Sharron has toured and refined in front of audiences of all ages. There are 5 totally different versions of "Sharron Matthews SUPERSTAR" available for touring.
"One of those shows that sums up the art of Performance, with a capital 'P'. Sharron is 100% Performer with a capital 'P'" -Funny Women – London, UK

"Named one of the TOP CABARETS of the 2012 Fringe." THE SCOTSMAN- Edinburgh, Scotland

"Brilliant comic timing and phenomenal vocals, showcased in particular during a genuinely heartfelt rendition of Radiohead's 'Creep', showed Sharron to be more than just a dazzling disco diva. Fabulously flamboyant and full of energy, this side-splitting show is pure 'Gold'." – Three Weeks Edinburgh 5 STARS *****

"Sharron Matthews is Perfection" – The Toronto Star