REVIEW:
CBC's Frankie Drake Mysteries is fabulously fun Canadian content
John Doyle – The Globe and Mail
7 hours ago November 6, 2017
Attention Murdoch Mysteries fans, there's a new detective on CBC and this one is better dressed and more adept with the cutting wit. Oh, it's all still set in the Toronto of the past so there's that comfort factor if you like the cozy period-piece shows. But this new detective is all wisecracks and fab outfits. No Murdoch melancholy here.
She's Frankie Drake, central character in Frankie Drake Mysteries (Monday, CBC 9 p.m.) and she's played with glorious oomph by Lauren Lee Smith. Frankie strides around Toronto of the 1920s with her private-eye sidekicks and, you know, specializes in crimes such as a string of pearls gone missing from a hotel room safe.
On the evidence of the first few episodes, it's a hoot and as silly as all get-out, but thanks to its charm and the frocks, skirts, suits and, well, the gorgeous furniture, it's frightfully good entertainment. Everyone involved goes in for manic cheeriness and swagger that's as bewitching as Frankie's fabulous red hair, which she tosses with exquisite skill and timing.
Frankie is a figure out of some Jimmy Cagney movie that your grandparents enjoyed and is nobody's fool. The daughter of a man of dubious reputation, she has an innate understanding of the criminal mindset.
The series does have connections with Murdoch Mysteries. It is produced by Shaftesbury, which also produces Murdoch, and veteran writers on that show are involved. As with Murdoch, it offers rich opportunities for Canadian actors to do some old-school, over-the-top melodramatic work. But here it's done with more of a wink and mischievous nod to the viewer.
It is set in 1920s Toronto, a time of flappers and jazz, and a time when women were enjoying an unusual level of freedom from traditional roles. Thus we enter the world of Drake Private Detectives, an all-female detective agency that Frankie runs with her sidekick, Trudy Clarke (Chantel Riley). They have help, of course, from various fringe characters, including "Morality Officer" Mary Shaw, played with characteristic pep and moxie by Rebecca Liddiard. See, Mary isn't allowed to be a full-fledged police officer. Women can't do that, but she's a cop in her bones and determined.
There is also an almightily zippy and delightful performance from Wendy Crewson in some episodes, playing a role that connects her directly to Frankie, but you'll have to watch to find out the details. Safe to say, there's some delicious sass and snark going on.
And you just have to meet Flo (Sharron Matthews) the morgue attendant from comedy heaven.


Some close attention is paid to the real Toronto of the 1920s, in all its squalor, stiffness and dashes of sizzle. In the first episode, Ernest Hemingway, who worked at The Toronto Star, moseys into Frankie's office.
Admirable diligence is done in the looks and style of the period, too, without it being ostentatiously a style-opera. Is there a crossover with Murdoch? Yes, but that's not being given away here in this review. The show is, after all, a mystery series.
The 1920s setting has rich potential for any series. In some ways, the period it resembled is the 1960s – jazz was the equivalent of rock music, there was prosperity and inflammatory politics was everywhere. Mostly, as Frankie Drake Mysteries rightly suggests, it was notable for the shifting role of women. There is vast scope for strong female characters and this series plays gracefully with that.
The show breezes along and won't cause anybody to have deep thoughts. Nor will it put anybody to sleep. The sense of lightness and convivial wit is constant.
It is a pleasure to see a new Canadian series that aims directly for entertainment value and hits the target. It struts, as Frankie does, and it is entitled – the concept and content are carried off with great poise. Long may it run
REVIEW:
REVIEW: Frankie Drake Mysteries
Written by Bill Brioux, (https://brioux.tv/author/bill/)November 6th, 2017
Wendy Crewson chews the scenery to bits in Monday night's opening episode of Frankie Drake Mysteries.
Trust a TV veteran to get the tone just right.
Crewson guests as a gold digger with a secret that links her to the main character, flirty, flapper-era detective Frankie Drake (played by Lauren Lee Smith). The series premieres at 9 p.m. ET/PT on CBC, right after Murdoch. Both shows hail from Shaftesbury, with the new series created by two writer-producers from the former: Carol Hay and Michelle
Ricci. Cal Coons, who helped launch Murdoch 11 seasons ago as that series' original showrunner, fills that same role on the new series. Shaftesbury CEO Christina Jennings is executive producer. Leslie Hope — who played Jack Bauer's wife so shockingly killed off at the end of 24's first season — directs two episodes.
Set in 1921, Frankie runs Toronto's first female detective agency. She makes methodical, by-the-book Murdoch look so last century.
Frankie Drake Mysteries is not deadly serious like PBS's Sherlock. It works best when it is played broad in every sense of the word. There's plenty of bounce in Episode One, with a jaunty jazz score accelerating the action.
And that's how it should be. Breezy comedies, light dramas and football have historically all worked well on Monday nights. Audiences come home and still have a whole week of work to face. As the old saying goes, they want to put their feet up and turn their brain off.
Even in this age of TV anyplace, anytime, CBC erred, in my opinion, by programming Alias Grace after Murdoch the first six weeks of the season.
That series was too dark, too grim, too HBO for Mondays. Sure, people PVR and stream later in the week, but two-thirds of the viewing audience still sticks to the schedule.
Offering Frankie Drake Mysteries after Murdoch Mysteries is the smarter programming move. Let your No. 1 drama lead into a series with enough similarities in content and tone that many viewers will want to stick around.
Vancouver native Smith, who co-starred in The Listener and has a long list of credits including C.S.I. and Mutant X, is well cast as Frankie. She has that smarty-pants, kick-ass vibe going for her, a confidence you'd need as a pioneering detective. She also has the drama chops when they're needed, and adds an eccentric sauciness.
Her wardrobe is even less predictable. In many scenes, Frankie looks like she just emerged from a shopping spree at Holt Renfrew. Her mid-length red hair seems more '30s or '70s than '20s. Occasionally we see her in a bell-shaped cloche hat from the '20s or astride a vintage motorcycle but otherwise Frankie seems to set her own style. This seems to fit with the same CBC mandate that kept the young adventurers on Company X in duds more contemporary than wartime. To lure a younger audience, networks seem to feel that it is more important to be relatable than historically accurate –and maybe they're right.
Other characters seem more in step (and costume) with the times. Frankie's trusty sidekick at the agency is Trudy, played by Toronto's Chantel Riley. With her kiss curls and stylish hats, Trudy helps ground the series more in the flapper era. Versatile Riley, who came out of nowhere to dazzle for four years on Broadway on The Lion King, is a
radiant presence.
Rebecca Liddiard (Alias Grace, Slasher) steals scenes and adds cheaplaffs as jumpy police morality officer Mary Shaw a
nd Sharon Matthews (Mean Girls) brings morgue assistant Flo very much to life. T

he first episode gives each supporting character just enough to do to keep viewers keen for more to come.
Just as Crewson aced her guest starring turn (along with a bearded Derek McGrath in the opener), future episodes will showcase other dependable Canadian actors and actresses. Look for Lucas Bryant (Haven), Charlotte Sullivan (Rookie Blue), Laura Vandervoort (Bitten) and Grace Lynn Kung (Carmilla) in the weeks to come. There'll even be a familiar face or two — aged somewhat — from a series set 15 years earlier: Murdoch Mysteries.
REVIEW:

FROM TV, EH?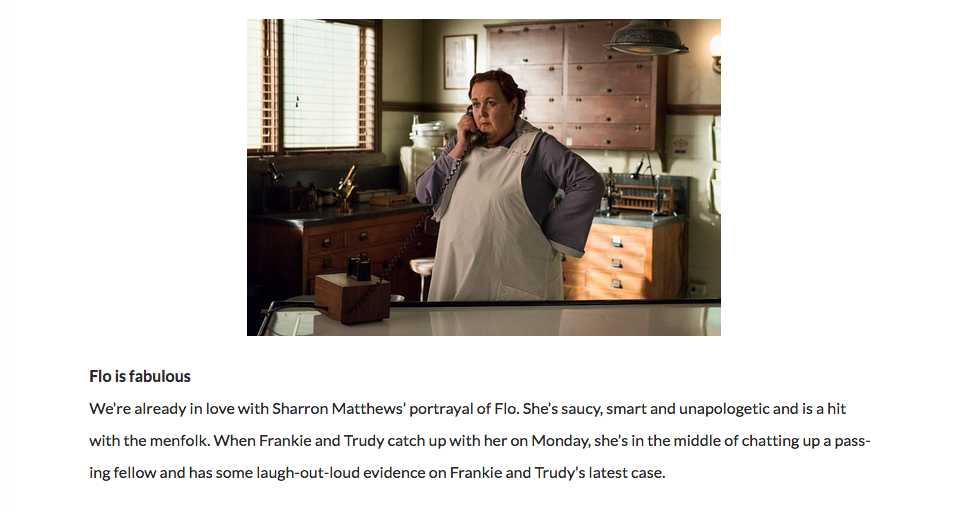 Featured, Frankie Drake
Preview: Frankie Drake Mysteries sprints into Episode 2
November 10, 2017 Greg David
Last Monday, we got our first look at Frankie Drake Mysteries on CBC. In a word: we loved it.
It really is the perfect companion to Murdoch Mysteries though lighter in tone and featuring— count 'em—four kick-butt ladies doing the crime solving.
Last week's "Mother of Pearl," was spent giving us a bit of Frankie's backstory, so we were hoping to get some info on Flo, Trudy and Mary in Monday's new instalment. Here's what the CBC has revealed about the storyline for "Ladies in Red," written by Cal Coons and directed by Ruba Nadda:
Frankie and Trudy are hired by a factory owner to root out communists at his plant, but
things soon take an explosive turn.
And here are some additional tidbits after watching a screener.
Flo is fabulous




We're already in love with Sharron Matthews' portrayal of Flo. She's saucy, smart and




unapologetic and is a hit with the menfolk. When Frankie and Trudy catch up with her on Monday, she's in the middle of chatting up a passing fellow and has some laugh-out-loud evidence on Frankie and Trudy's latest case

.
It's the 1920s so…
… Frankie and Trudy carry guns. That's a major change from fellow Monday night partner Det. William Murdoch, though at least the coppers at Station No. 4 get to carry billy clubs. Good thing too, because Frankie's major case involves the Bolsheviks, going undercover and a truly explosive scene. As for Mary, she's very interested in science and has an inquisitive mind; perhaps she's inherited that from her father, whom we have yet to meet. Any guesses as to who he may be?
Frankie rides a motorbike
Reason No. 25 why we're enamoured in this show already.
Paul Amos and Karen Robinson guest star
Amos, who starred on Lost Girl and appeared on Murdoch Mysteries, drops by as Mr. Richard Scanlon, a factory manager. Robinson, who is so great as Ronnie on Schitt's Creek, plays Trudy's mother Mildred Clarke.
Franke Drake Mysteries airs Mondays at 9 p.m. on CBC.
Images courtesy of CBC.
Read more at http://www.tv-eh.com/page/3/#31OZ0E1xIs1o67BB.99
REVIEW:
Review: Unapologetically Me: Sharron's Cabaret For Kids (Young People's Theatre)

Sharron's Cabaret is fun and lively with an engaging message, on stage in Toronto
The Sharron in the title is Sharron Matthews and she does a great cabaret around the theme of being yourself. She's an amazing singer, always a good thing in a cabaret. More than that though, she was so comfortable with the kids in the audience; she was like a really cool aunt who says things your parents don't say and is funny but tells you important stuff.
At the beginning of the show she introduced herself to two kids in the front row, Elliot and Amelia. It was lovely, she shook their hands and said "Hi, I'm Sharron". Through the show she would refer to them "You know what I mean, Elliot?", "Have you ever felt like that, Amelia?"
She asked the kids things like what being a grown-up meant to them, and then moved through the audience getting answers.
She also involved the boys in the back — there are always 'those kids in the back', a little rambunctious, a lot of energy. She was great with them.
One of the most touching, to me, parts of the show was a story she told about her first day of kindergarten. She wore all her favourite clothes — mis-matched maybe, but colourful and she loved them — and was so happy when she walked into the classroom. It didn't last though. There were two little girls wearing proper little girl outfits who laughed at her and called her a clown.
She talked about the feeling she had in her belly and how her heart raced and it was hard to breathe and it was ANXIETY. For the rest of the show when she talked about anxiety she would sing the word.
After the show when I asked Max what part was his favourite he sang "ANXIETY". I asked why and he said he didn't know. Max's been experiencing some anxiety lately, so I think there was maybe something comforting or affirming in hearing Matthews sing about it.
At the end — although we didn't know it was the end — She started singing and one of the boys in the back stood up and started dancing. Matthews went up the aisle and danced with him. He stepped out into the aisle and he followed her down to the stage. He wasn't necessarily the best 10 year-old dancer I've ever seen but his stage presence, his confidence, was fabulous.
After a couple of minutes she invited the rest of the kids down to dance. The show ended with a stage full of dancing kids and Matthews singing. It was wonderful.
I really enjoyed the show. The kids in the audience seemed to enjoy it. Max enjoyed it. Matthews is a great singer and storyteller and knows how to engage her audience.
I'd say the suggested age range of 9 – 11 is about right. You're probably ok with six months either side but not much more than that.
Details:
__________________________________________
REVIEW:
BWW Review: Sharron Matthews Was ON THE LOOSE at the Stratford Summer Music Festival. And We Loved it.
by Lauren Gienow Jul. 30, 2017  
On Friday evening, as part of the Stratford Summer Music Festival's cabaret series at Revival House, the incomparable SharRon Matthews hit the stage for delightful and moving show that had the audience captivated from start to finish.
Matthews-who has been touring her show, GIRL CRUSH throughout the summer, and will continue to do so in the fall, appeared more than happy to stop by a hometown venue to offer a unique 'one time only' cabaret performance entitled SHARRON ON THE LOOSE. This show offered musical selections ranging from Lady Gaga to The Beatles to Annie Lennox to U2. She also included songs from popular musicals SHOW BOAT and recent Tony winner DEAR EVAN HANSEN. Accompaniment was provided by Steve Thomas, who was also responsible for some of the unique orchestrations of well-known songs.
The marriage of Matthews' powerful singing voice and the unique space (Revival House is a renovated church that is now a restaurant/event venue) allowed for a truly magical evening. The fine acoustics of the space were particularly noticeable when Matthews led the audience in a sing-along of "Can't Help Lovin' That Man" from SHOW BOAT. At the start of the show, she promised the audience that they would leave that evening, feeling like she and they were in a relationship. I'd say she delivered.
This show was framed with the theme of "love". Matthews used song choices and personal stories to describe different kinds of love-from a young crush, to love of fame or money, to a parent's love of a child, to a 'crazy' obsessive love, and finally, to a healthy dose of self-love. Although the song choices were incredibly diverse, one thing that each song had in common was interesting lyrics. Matthews has a way of singing a song that makes the audience feel as if they are hearing the lyrics for the first time. This rang particularly true for numbers like "Brandy" (Elliott Lurie), "Stop! In The Name of Love" (Holland-Dozier-Holland) and "Every Breath You Take" (The Police).
Matthews' ability to be playfully teasing an audience member one minute, and then be belting a moving musical number through tears the next, is further evidence of her pure, unadulterated talent. She commands a room and bares her soul, all while keeping you laughing. We're not worthy!
This fabulous cabaret is just another example of all the right notes that the Stratford Summer Music Festival is hitting this season. Founder, and Artistic Director, John Miller deserves a round of applause.
For more information about Sharron Matthews and to find out when she performs next, check out her website: www.sharronmatthews.com
For a list of upcoming events and performances for the Stratford Summer Music Festival, be sure to check this site: www.stratfordsummermusic.ca
________________________________________________________________
REVIEW:
Review: Girl Crush (Musical Stage Company/CanStage)
One-person show takes to the Toronto stage with hopeful and funny messages
Just in case Shakespeare isn't your jam (we won't judge), Toronto's High Park Amphitheatre provided a quick break from the Bard this week for local funny lady Sharron Matthews and her cabaret show Girl Crush. Co-produced by The Musical Stage Company and Canadian Stage, Sharron spends a delightful hour with us dishing out personal stories interwoven with melodic covers of old favourite tunes about heartbreak and insecurity.
Although she is most well-known as Joan the Secretary, the unsung heroine of classic film Mean Girls, Ms. Matthews is an enchanting talent in her own right. I wasn't entirely sure that a cabaret, an inherently intimate form of performance, would work in the expanse of an outdoor amphitheatre, but the performer's overflowing personality and cheeky charm made it work.
Matthews' timing and delivery on jokes are precise, and her singing voice is crystalline and awesome in the classical sense of the word. The show as a concept could work even if she happened to be a less talented singer, but Matthews does nothing halfway. By the time she got to her encore, I was regretting not bringing a lighter to wave back and forth in the air.
The show bleeds with that sort of infectious, candid hilarity. Her arrangements of hit songs are also particularly well-thought-out. A few changes to the lyrics of Jesse's Girl and the song goes from pining over "a woman like that" to addressing the admiration and envy in interpersonal, female relationships. And frankly, you haven't lived until you have heard an acoustic jazz cover of Dirty Deeds Done Dirt Cheap.
A lot of the show's songs and references do date it somewhat. As a child of the 1990s myself, it occasionally took a bit of extra effort for me to keep up with her jokes and anecdotes. Nonetheless, Matthews doesn't talk down to her audience, and it was actually quite intriguing to hear personal stories that gave greater context to the songs I've grown up hearing, or hearing about. When Matthews began dishing on tales about real-life mean girls, though, generational gaps became a non-issue. The theme of her show could be summed up in a single line she utters towards the ending: "This is how I am, and it's @#$%ing awesome".
This message and her songs are her ultimate answer to the uncertainty that plague the teenage and young adult years of so many of us. As an anxious 20-something woman still in the thick of such insecurities myself, there's something beautiful about hearing an affirmation like that from a 40-something woman playing to a packed amphitheatre. It's almost as if a message of hope is being projected back in time, cutting through the fear and doubt inside of us. For that above all else, I must thank Ms. Matthews for conceiving and staging this show.
Girl Crush is (or was!) a one-night-only performance at the High Park Amphitheater. However, Ms. Matthews does tour this show, so keep an eye on her website for the next time she performs it.
………………………………………………………………………………………………………………….
REVIEW:

"Girl Crush an Intensely Personal Cabaret" 4 STARS (out of 4)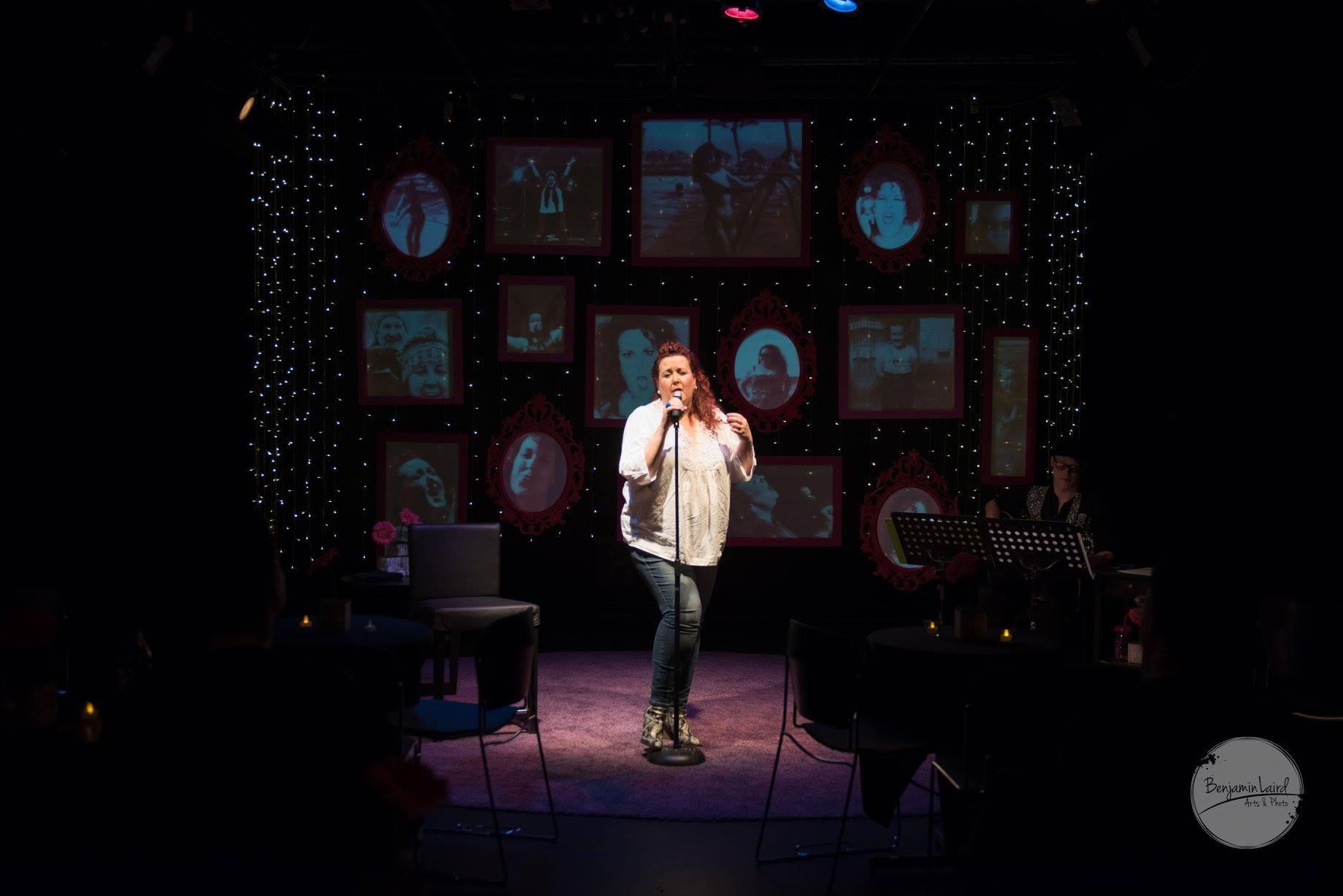 Written by Louis B Hobson for the Calagary Herald
Girl Crush, the cabaret Sharron Matthews created for Lunchbox Theatre, is as achingly personal as it is immensely entertaining.
Matthews, who has been called Canada's gift to the world of cabaret, has wowed audiences in the United Kingdom, across Canada, in South Africa and in New York but for years she has wanted to bring her cabaret to Calgary.
That dream came true two years ago when Lunchbox's out-going artistic director Mark Bellamy invited Matthews to be part of the 2015 Suncor Stage One Festival of New Works.
With his guidance, Matthews created a cabaret for Lunchbox, and what a show it is.
It's part stand-up comedy, part musical mash up and a very large part autobiographical.
To introduce herself, Matthews opens with Wig in a Box, that confessional anthem from the musical Hedwig and the Angry Inch.
As with all 14 songs in the show, Matthews instantly makes Wig in a Box her own.
It's about how she was initially more confident on stage than off.
Those wigs let her be someone else and someone she could make people love.
It's her way of letting us into the tragedy of her youth as an awkward duckling.
When she sings Kim Carnes' Bette Davis eyes it's about how intoxicated she was as a child with sexy screen sirens, especially Farrah Fawcett Majors.
Her patter with the audience during this song was a way to find out how many people were on the same page with her references and, to her delight, the audience gladly answered her questions.
Matthews talks about not liking herself because she was ashamed of her body image, so when she sings Charlene's 1977 hit Never Been To Me the lyrics become so poignant.
She could travel the world but never get away from her feelings of insecurity.
She has a hilarious routine centred around The Police's Roxanne when her older sister tells her that her newly acquired anthem is about a prostitute.
Her revenge is to bump and grind her way through Blondie's Call Me.
Nothing I can say will let you know how deeply affecting her version of Jessie's Girl becomes.
It's obvious Matthews loves an audience and certainly knows how to work one.
By the time she gets to Girl from the Gutter, Matthews is everyone's best friend and we want her to get even with those four mean girls who tormented her so mercilessly in Grade 4.
Matthews had the audience laughing raucously until she got midway through her routine about bathing suits and then she tugged at the heartstrings.
We didn't feel sorry for her.
We identified with her and were tearing up as much for ourselves as we were for her.
This is a show about a performer opening her photo album and sharing photos and stories with us, and that's precisely what J.P. Thibodeau's set allows her to do.
The back wall is a collage of picture frames allowing Matthews to show us pictures of her old screen idols, those mean girls, her own elementary school photos and her two bathing suit photos.
There is a downside to Girl Crush.
It ends far too quickly.
Sure, Matthews does one encore, but it's not nearly enough seeing that in just 50 minutes she becomes an old friend not just a dynamite cabaret star.
As soon as Girl Crush ends its run at Lunchbox Theatre on April 8, she has to pack her bags and head for Feinstein's/54 Below in New York.
Be assured, New York is just the first stop on a tour that will take Girl Crush around the world.
GIRL CRUSH
Created and performed by Sharron Matthews
At Lunchbox Theatre until April 8
FOUR STARS
__________________________________________________________________
REVIEW:

GIRL CRUSH AT LUNCHBOX THEATRE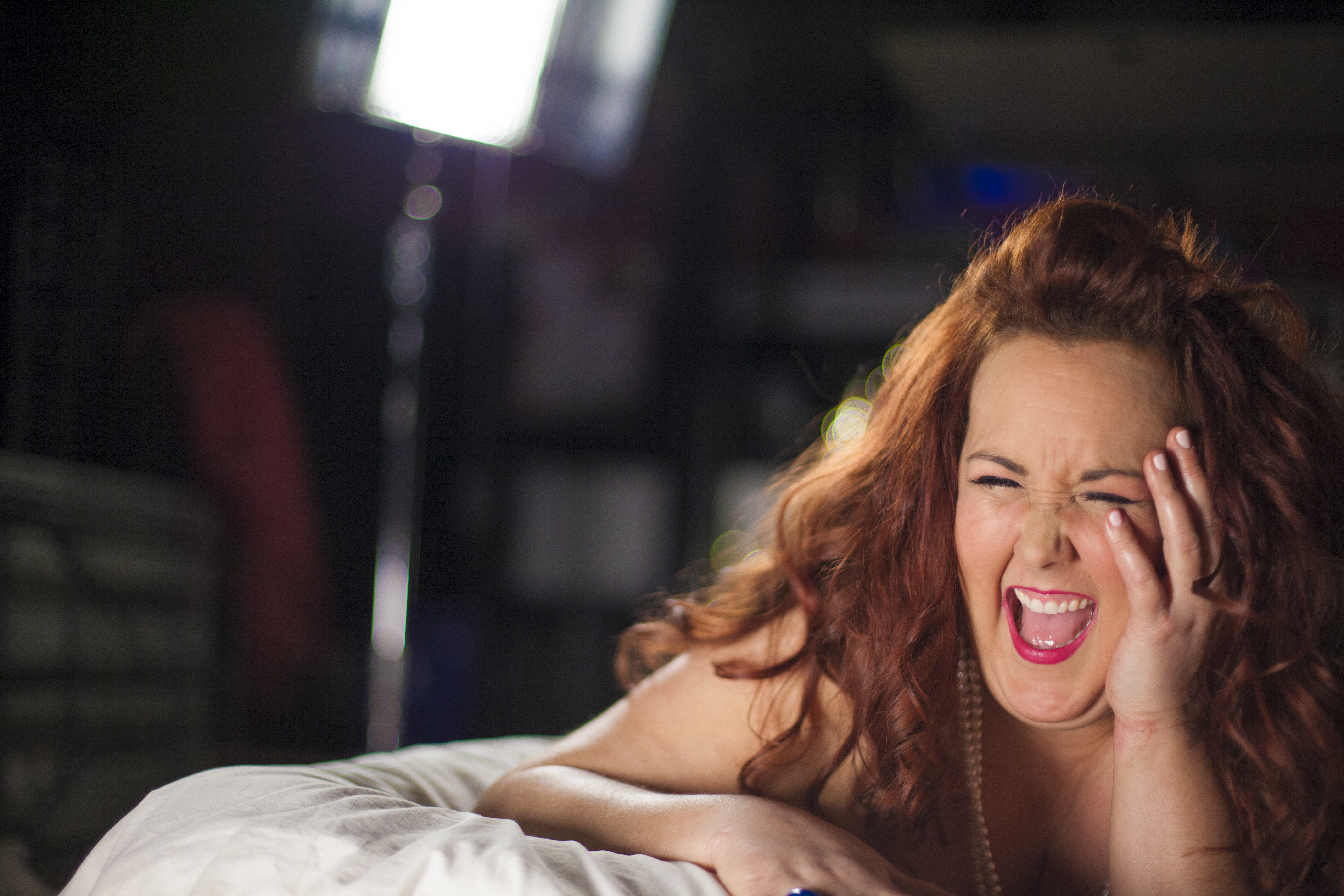 March 29th, 2017 ONSTAGE.COM
Vicki Trask
OnStage Calgary Critic
I have a feeling that "Girl Crush" is a show I was meant to see. If I were to give you my initial reactions as I walked out of the Lunchbox Theatre it would be a serious of expletives in wonderment at this woman. It's a one hour cabaret performance by the incredibly charming Sharron Matthews that made me laugh, cry, and beg for more. The only bad thing about this production was that it ended too soon. With music performed by Calgary-based artist Vincent Bundick, Sharron tells stories of her childhood, her life up until now, singing classic songs with her own flair, and just entertaining her audience by being herself. Regardless of how scripted her performance may or may not have been, her transitions were entertaining and she gave such a spontaneous feel. It felt like we were the first people in the world to hear her stories – despite some of those tales being about other presentations of "Girl Crush".
I loved how the Lunchbox Theatre was set up with cocktail tables and tea lights, creating an intimate nightclub setting for Sharron to play in. And she just commanded the stage. My favourite thing was that she was wholly, unapologetically herself; hilarious, emotional, and totally engaging.
That's it: I loved it. Tons of 80s references but universally relatable; smart, confident, and a host of other adjectives that tell you I was astounded and inspired by this woman. What's more, she encouraged all emerging artists to pursue their own creative endeavors. I cannot tell you how significant that is in the ever changing performing arts market.
The last thing I have to say is thank you, Sharron for creating this show. Beyond all the gushing, I enjoyed the stories you told, and the honest nature of your presentation. Simply put: I have a girl crush on Sharron Matthews.
___________________________________________________________________
Review: 

for Sharron in "Sharron Matthews NAKED at 54 Below in NYC

 ______________________________________________________________
Review:
for Sharron in "Closer Than Ever"
" Sharron Matthews is a powerhouse singer and hilarious on "Miss Bird" and her duet with the excellent bass player Paul Clifford in "Back on Bass." – North Country Public Radio
"Of the many different numbers, my favourite happened midway through the first of the two acts. Miss Byrd, about a realtor whose life outside of the office is one she keeps to herself, highlights my favourite performer of the quartet, Sharron Matthews (judging by the applause at the end of the show, I wasn't alone in that sentiment)." – Kingston Whig
______________________________________________________________
Review: Sharron and George's Super Fun Christmas Sing-A-Long (Buddies In Bad Times Theatre)
By Gian Verano
Super Fun Christmas Sing-A-Long is a Toronto Holiday Tradition with Legs — and Booze
What's Christmas without a few good carols?
Taking the stage for a third year in a row, married couple Sharron Matthews and George Masswohl belt out all the holiday classics in their perennially popular spectacular, Sharron and George's Super Fun Christmas Sing-A-Long.
It's a fun night of surprise guests, hilarious banter, and of course, Christmas classics like Rudolph the Red Nose Reindeer, O Holy Night, and my personal favourite, All I Want for Christmas Is You – complete with Sharron's spot on Mariah Carey impression.
And if you're like me and a little bit shy about singing in public, it's a good thing that Buddies also has a fully licensed bar where you can order up a little bit of liquid courage. It's a smaller venue, so you'll be able to clearly hear how good, bad or tone- deaf the people around you are.
But none of that mattered, since at the end of the day, it was all about getting to relax with a group of people who are filled with as much holiday cheer as you are.
Now, I've been to many sing-a-longs in my day, and in my experience, it's the hosts that make or break the production.
Funny, personable and razor sharp, Sharron and George took command of the stage that evening and delivered a banter that was at the same time natural and clever. This wasn't Shakespeare, Shaw or Ibsen – subject matter that took itself very seriously – it was just a group of friends on stage having a great time, and putting in their sincerest efforts to ensure the same audience of their audience members.
Speaking of guests, the evening featured a cavalcade of performers who each brought something magical to the stage.
Since the web page for this event had the word 'secret' in all-caps for 'special SECRET guests, I won't ruin the surprise by dropping any names, but let me just say that the guests appearances featured a hauntingly beautiful traditional Swedish carol, down south storytelling, a laugh-out-loud drag show, as well as a human impression Jingle Cats. That's right – the popular 90's phenomenon of cats meowing out Christmas classics.
This was a night not to be missed. If you're looking for a fun way to get into the holiday spirit next year, be sure to make Sharron and George's Super Fun Christmas Sing-A-Long part of your annual Christmas traditions.
I honestly could not have chosen a better production as my last review of 2014.
___________________________________________________________________
REVIEW: Sharron Matthews : FULL DARK (at the 35th Annual Rhubarb Festival)
by Lynn Slotkin on February 20, 2015
in The Passionate Playgoer
At Buddies in Bad Times Theatre, Toronto, Ont.
And then there's Sharron Matthews' show Full Dark. Sharron Matthews is a celebrated cabaret singer in Toronto and the world. This show goes into the darker side of her life; loosing her beloved father to a terrible accident; discovering the Grimm's Fairy Tales, finding danger on the streets when she was a young girl, having a serious problem with anxiety. It's all there in her songs and music.
Before the show starts she comes out in her dressing gown and introduces herself to every person in that audience. She walks up the aisles of the theatre, introduces herself to every single person there; shakes their hand, gives a funny line. She's funny, cheeky, irreverent and totally professional. When that show starts with her three piece band playing, she goes from songs about loss of love, insecurity, darkness of the soul and coming out the other side. She has such a keen ear to her music and what works and how songs should be fitted together. If you have never seen Sharron Matthews in person, go. She is the real deal. The Rhubarb Festival continues at Buddies in Bad Times Theatre until Feb. 22.
___________________________________________________________________
RAVE Reviews for "Sharron Matthews Superstar: GOLD 2012
"She proved once again that she may be the most exciting thing to have happened
in cabaret since Bette Midler at the Continental Baths."
— NiteLifeExchange/NYC
"Sharron Matthews is the 'Statue of Liberty' of cabaret and comedy! The roguish and rompish singer/
comedienne has no equal in her native Canada or invading America as she did at Flute Bar this week. Think of Rosie O'Donnell, Phyllis Diller – and going back to Broadway superstar history, Beatrice Lillie – with fabulous voice to boot and you have Sharron Matthews!"
— Ward Morehouse III, Black Tie Magazine/NYC
THE SCOTSMAN
"A voice as big, beautiful, and varied as her native Canada."
"I thought she'd burst a blood vessel – or that I would, from laughing."
—  The Scotsman 4 Stars **** named "HOT SHOW"
THE SCOTSMAN
GOLD named one of the TOP CABARETS of the 2012 Fringe.
Broadway Baby
"By the time the show is over, it seems like it has just begun. Matthews' ability to banter and get familiar with her audience makes them feel like they only just got to know her. One thing is certain, Sharron is pure Gold."
—  Broadway Baby 5 Stars *****
The New Current
"It would be hard to find the slightest of faults in this show delivered with class, originality, and passion, Sharron Matthews is a breath of fresh-air and produces a show that has the packed house roaring."
—  The New Current 5 Stars *****
Also named one of the 50 Tops Shows of Edinburgh Fringe.
The Curtain Up Show
"Sharron Matthews is a refreshing, bold, extremely talented and naturally comedic performer. It is encouraging to see a cabaret show being performed with raw, natural, witty, dynamic talent. Sharron Matthews truly is the Superstar!"
—  The Curtain Up Show 6 STARS ******
Scotsgay
"Her voice is superior too and the choice of music certainly shows her range. Performing classic songs and adding a unique twist, or occasionally throwing out the original tune and rebuilding a song from scratch – there are many stand-out moments. Personal favourites included beautiful new arrangements of 'Sweet Child of Mine' and 'Love Stoned'. And I adored what she did with the hitherto innocent sound of 'Hotel California'."
—  Scotsgay 4 Stars ****
One4Review
"Once again, Sharron Matthews delights in an all-too-quick hour of top-class comedy cabaret. She welcomes every audience member as they come in, instantly putting people at ease and you just know you're going to enjoy the next hour. Her rapport with the audience is a joy and she has us eating out of the palm of her hands."
—  One4Review 5 Stars *****
__________________________________________________________________
Reviews for Jesus Thinks I'm Funny Tour, Scotland and London 2011
"Best of the Fest"
— The Scotsman
"She owns the stage and everyone who dares look her way"
—  The Scotsman, **** 4 STARS
"A brilliant piece of comedy cabaret. Sharron Matthews is a redheaded Canadian goddess of cabaret, a real superstar."
— The Skinny, ***** 5 STARS
"Jesus Thinks I'm Funny is like watching a ballsy, chaotic, hilariously foul-mouthed version of Glee."
— Hairline, **** 4 STARS
"Not only is Sharron Matthews a superstar, she is a force of nature."
— Three Weeks Edinburgh, **** 4 STARS
"Sharron Matthews is a force to be reckoned with.Weimar Republic meets Lady Gaga!"
— Cabaret Scenes, London, England.
And she got the Holy Grail of the Edinburgh Fringe…the Cover of the Scotsman Newspaper!!!

---
Reviews for Canada Sings 2011!
Here are some of the review bullets about Sharron's work on Canada Sings from Debra Yeo's Reality Check column in the Toronto Star.
"I hereby declare Sharron the Queen of the Mashup, because she always chooses such great songs and blends them so well together."
"I have to bow down to Sharron and choreographer Christian Vincent. They'd be the first to tell you it was all the cops' hard work and dedication that did the trick. And no doubt, it was, but Sharron and Christian worked some magic here, coming up with a really fun, unexpected song mashup"
"Somehow, though, when Sharron Matthews and Christian Vincent were finished with them, they had transformed into sexy divas in sequins and cool gents in suits and fedoras, and they were delightful."
---
"If this gal isn't at the very least in the running for Outstanding Female Vocalist, or Outstanding Female Debut (because she could indeed find herself eligible for both), one can only wonder precisely what both the nominating committee and the voting board were thinking. Rarely in the last forty years of the art form, has someone blown into town as a virtual unknown, been booked into one of the most prestigious rooms the city has to offer and then proceed to put forth an evening comparable only to the work of a very young Bette Midler at the Continental Baths. And whether or not a nomination is in the cards for her this season, she needs no help from anyone to emerge at all turns as simply dazzling."
— Andrew Martin, Nite Life Exchange
---
For Sharron Matthews Superstar: The World Domination Tour 2010
"She is a pinch of Ethel Merman and Bette Midler. Her show is deliciously campy and her interpretation of a song is unique and wonderful. Sharron Matthews's personality and talent really shines as she sails through some of the contemporary hits of the 80's…Sharron is one of those rare performers that comes along once in a while and gets notices in a downtown club and builds a loyal following a la Bette Midler."
—  Magda Katz, Broadway After Dark
"Not only was this show a complete and utter triumph on all counts, but serves as testament to the fact that a chanteuse as riveting and brilliant as Matthews proved on this night should wholeheartedly be welcomed to New York and elsewhere with unabashedly open arms."
—  Andrew Martin, Nite Life Exchange
"How f**king good are you!?!"
— Kate Copstick, The Scotsman
"Matthews sings with attitude and humour in a show that has more musical surprises and mood swings than a foul-mouthed episode of 'Glee'. World Domination beckons."
— Three Weeks Edinburgh
"Sharron is a born entertainer and this is obvious from the off, not only is she very funny but she has a cracking voice and you can't help be mesmerized when she belts out hits from legends like Shirley Bassey to Radiohead. As a comedy show its very good but I refuse to review this just on comedy alone, this is cabaret and as that it's excellent. Brace yourself world Sharron Matthews is taking over. ***** 5 STARS!"
— Comedy Reviewer
"This cabaret performer from Canada rocked theSpace at Surgeons Hall last night with her powerful performance and winning personality. Highly Recommended. ***** 5 STARS"
— Broadway Baby
"Without question a truly magnificent performer with a great deal of heart and a voice so controlled, sweet and powerful you will leave her show on a high. If your question is whether Sharron Matthews is a superstar, quite frankly yes! ***** 5 STARS"
— The New Current
"Sharron Matthews truly is a superstar and a performer as personable and instantly likeable is something rare both at The Fringe and beyond. ***** 5 STARS"
Public Review
"So here's the thing. Sharron Matthews transforms cabaret into musical/dramatic crack. You can't get enough. Unbe-f**king-lievable."
Glenn Sumi, NOW Magazine and CTV
---
What are they saying about Sharron's Party?….
"Capable of selling any song like it is prime downtown real estate"
—John Coulourne, Toronto Sun

"Live-wire who electrifies the cabaret scene "
—Richard Ouzonian, Toronto Star
"The Hottest Ticket in Town"
—Shinan Govani, National Post
"Effervescent"
—  Jon Kaplan, Now Magazine
"No demure wallflower, Matthews is out there and in your face. She can rivet you with her great pipes and then touch you with the tenderness of her interpretations. And then make you laugh until you pee."
—  Jon Kaplan, Now Magazine [read the rest here]
"Showbiz-cult happening"
—Richard Ouzounain, The Toronto Star
"Call her a pseudiva — a starlet who's got all the talent but none of the 'tude…. Matthews has a world class singing voice….. A killer party!"
—Colin Hunter, Waterloo Record
"Sharron Matthews is like a champagne cocktail….one with extra fizz."
—Gary Smith, Hamilton Spectator
"It was a divinely fabulous evening of song and hilarious storytelling… Once is never enough when it comes to Sharron Matthews' Cabaret."
—Amanda Campbell, Twisi Theatre Blog
"They loved her… she is a joy to have in any theatre… I loved her, as a person and an artist.. .she was incredible."
—Melvin Ford, Operations Manager, Kings Playhouse
---
Sharron's reviews from Songs for a New World….
"Sharron Matthews is perfection."
—  Richard Ouzounain, The Toronto Star
"The sublime Sharron Matthews."
—  Now magazine
"Takes the stage like a leopard to the jungle"
—  John Coulbourne, Toronto Sun
"Matthews accusatory romp through neglected Mrs. Claus' psyche in "Nick" is well worth the admission price alone."
—  Serafin, Extra Magazine (Songs for a New World)
"Genuine showstoppers….count most of the songs performed by Matthews"
—  John Coulbourn, Toronto Sun
"Matthews is a stunning performer "
—  Gary Smith, Hamilton Spectator, (What You Don't Know)
---
Sharron's reviews from The Wizard of Oz…..
"Sharron Matthews Wicked Witch of the West… grandly theatrical and unhinged (in a good way)!"
—  Kamal Al-Solaylee, The Globe and Mail
"Sharron Matthews is the coolest of witches"
—  Richard Ouzounian, The Toronto Star
"Fine performances throughout, notably Sharron Matthews' campy and vocally exquisite Wicked Witch."
—  David Bateman, XTRA
"Sharron Matthews is a treat as the Wicked Witch."
—  Christopher Hole, Eye Weekly
"Sharron Matthews is also a standout, a Wicked Witch who's more like one of those strict teachers we all tried to avoid."
—  Jon Kaplan, Now Magazine
---
For Sharron in Sky Gilbert's Premiere of Happy…
"The Saucy Sharron Matthews!"
—  J. Kelly Nestruck, The Globe and Mail
"The inimitable Sharron Matthews"
—  Christopher Hoile, Eye Magazine
"Matthews makes use of her prodigious comic inventions"
—  Richard Ouzuonian, The Star