Art. Yes, it will take all your money and always be a struggle. Questions?
Oh…the new year… oh, the new start…oh, the excitement…oh, the crippling self judgement…oh… oh… oh…
No matter how you try…no matter how hard you struggle to stay in the moment and let yourself be, a couple things happen…if you are an artist…no matter where you are at…no matter how your year has gone…you might feel that your career is… inexplicably over.
AND THIS puts into gear a grand scan of your life so far…to access (judge) where you are at….how far you have come…how far you have to go…
are you doing it right?…
have you done it right so far?…
are your plans for the future right!?!?
It is literally exhausting…mentally and spiritually.
After a big year…2015 was a very big, awesome, busy, frustrating, gutting, thrilling and creatively confusing, yet affirming year….
Yes…all those things…
After this big year…I realized a couple of days ago I WAS NOT IN POSSESSION of the PERSPECTIVE that I needed (due to lack of SLEEP AND REST)  to start the process of looking over the year and seeing where I was at. It would have been a shit show if I started THAT in the state I was in. So, I did the only thing this grand daughter of the best chamber maid world could do to distract myself…
1. I divided my gowns  and show dresses into different garment bags based on season, fabric and size…and when I wore them…and then I labeled the garment bags. This will appeal to the sense of order in some and disgust others…whatever…I gotta do what I gotta do.
2. I went through all my old mail. Yes…I have fucking old mail. Season brochures… bank statements… Readers Digests (a gift) still in the brown wrappers…
3. Tidied up the basement…ya, know…just in case company comes and wants to go into my unfinished basement… who knows? OR someone might break in and want to run a load of laundry. As one does.
Okay, Matthews…it is time to sit down.
So…I sat down at my computer to work… but before I could totally focus on the jobs at hand…I wanted to address this thing that I have been mulling over in my mind the last couple of weeks. There was a post from a well respected playwright on the old FACEBOOK that I could not get out of my mind. He basically called out to the internet…as we all are wont to do from time to time…about his frustration of having successful productions mounted of his work in the past year, and having the feeling that he was still struggling. He didn't specifically say if the struggle was spiritual, monetary or business wise…or all of the above. I took it…and I apologize if I an incorrect…to be all of the above. And I got it…I felt it…and I went back to organizing…but that post has stayed in the forefront of my mind.
Just the day before his post I had been, as I mentioned, doing a big new years tidy…and I went through book shelves…the bookshelves that I LOVE by the way…I love looking at all my shit…getting all of George's and my old scores in order, relegating all the really old ones down to a second location in the basement (VIRGO)…and I was tiding up my own shelf of my charts, rep books, and cabaret scores….
And looked at my row of scores and… I just had a moment…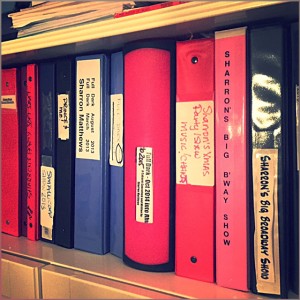 Not counting the over 50 versions of "Sharron's Party" I wrote and produced over 4 years, I have had 10 different, specific themed cabarets produced, toured or presented over the last 10 years all around the world and across Canada…and I continue to develop (with the support of Buddies in Bad Times, the Young Peoples Theatre, BMO and private donors) two new cabarets  this year.
I sat down and had a think…and real look backwards…the look backwards I had be avoiding that now actually took me way farther back than I had been planning…from 2005…god damn, my very first "Sharron's Party" in December 2005… to now.
As I sat there thinking…. I remembered a family member of George's taking me out for Indian food one night in Scotland my first year at the Edinburgh Fringe. I sat there in this tiny restaurant (good food) off Nicholson Street and I was at-the-end-of- my-rope-tired from the Edfringe run. I was questioning ALL my choices… because though the trip and show was a commercial success and I had raised a great deal of money so I could do it (which was in itself one of the biggest chores of my career) I was going back home to virtually NO money. I was so grateful he paid I almost cried. He was (and is) a business man…and he told me that any business that is worth it's salt takes at least 10 solid years to build. I was at year 5. I didn't know whether to cry or be happy that I MIGHT be half way there.
Well, this was ten years…what had I built?
The beginning years (yes, years…more than 2…less than 5….ish) I made  virtually nothing in cabaret, while George covered our life costs working at the festivals and across Canada. Yes, I made money off of those shows at Buddies, and the Gladstone but it ALL went straight back into the business. All.
And it still does.
Now…I get fees for touring my shows, and when I produce and co-produce shows in Toronto and abroad I receive and/or budget a cut of the door receipts as payment (it is not bad in TO…with the support of theatres, PR people, designers and photographers who have backed my work for years…and abroad…well, that costs a million dollars people…so it is NOT a big payday), and after 10 years of writing grants for cabaret, in the last three years I have (GRATEFULLY AND THANKFULLY) begun to receive funding for something that wasn't really considered a fundable art form when I began…and that is very exciting and I have (again, gratefully)  had a handful of private donors who have supported my cabarets and development…BUT the fees, the door receipts, donations and the grants (of course) all go back into the business of art….of financing creation times, touring costs, living expenses…still. All. And it always will.
Yup, as I sat at my desk staring at the scores that hold all my arrangements…songologues…mash ups…my life stories, counting my blessings and clocking my challenges…I do not see that changing.
Unless, I become Beyoncé…which one can never lose the dream of.
Yes, it will always be a struggle. Spiritually, monetarily, and business wise. Now, before we all kill ourselves or look into another career, let us acknowledge, some years will be and are better than others…some years hold gifts beyond measure! Your work is on point, the creation is just flowing, an interesting project or collaboration is proposed, you receive funding from the gov't or interest in your work from somewhere you didn't expect…and some years you can't find the fucking button that makes the treadmill slow the FUCK DOWN or get one fucking person to answer the goddamned phone!! But, if we are very lucky, the years are a mix of both.
It is a sad but true fact that hard work does not always equal commercial or what is considered critical success…on the other hand the hard work itself may be a success to you…and what the FUCK is success anyhow? That last thought may not seem make sense…I read it a bunch of times…but it really says what I am trying to say…onward…
If we continue on…We still might (probably will)  find ourselves selling and/or pitching our work to people we thought got us already…yes, we will.  We will open a THIN envelope from a gov't funding body…and picture the weeks we spent in hiding, in the same pants and t-shirt, writing that effing grant…"we are sorry to inform you that your application has been declined". We might maybe find out that we won an award or received an accolade unexpectedly. We will find ourselves sitting in a chair somewhere doubting ALL THE WORK WE HAVE EVER DONE. We will decide to continue onward, anyhow. We will find ourselves on a stage in front of an audience that reminds us why we do what we do. We will find ourselves on stage in front of an audience that makes us question ever walking onstage at all. We will talk to people who will tell us we are awesome. We will talk to people who say, "You know what you need to do?"
SideBAR: Last year an entertainer I know and love (who is so fucking talented…like beyond talented) reached out  to me on the second day of a three day run of their show. They told me that they had just received an email from an audience member that criticized their performance from the last night's show. It, of course, put them in a state…they were trying to face that night and needed a NFL sized pep talk. I gave them the much needed pep talk (the same one they had given me at another time…s…) and then told them I would call them back in a sec and I then ripped apart my well loved book cases to find and send them this…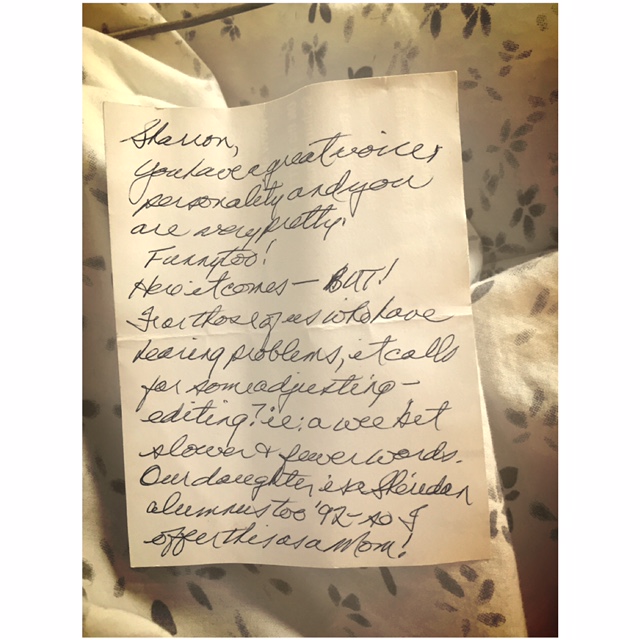 About this note: I had JUST finished a SOLD OUT show….yes, the sound in the venue had been a bit challenging but we overcame…I had JUST KILLED IT, I had spent a great deal of time and some of my own cash (even thought my show was presented) to market and sell out this show,  I had just sold about 25 CD's, I was literally as triumphant as one can get and…there was this woman… a woman who stood in line…in line, people…to meet me…and then she handed me the above "note" … folded in half…told me it was a love letter…and that she was a fan…and not to read it till she left…she never left her name…and she never signed the note. If you are gonna say it? Have the stones to sign it. I was floored. I almost threw it away…but I kept it…to remind myself that no matter what you do someone is always going to have an opinion of your work that is unpopular…and you will find out that years later…it is just a friggen piece of paper from a stage mom. I even considered what she said…and made the decision on the merits…one must keep an open mind…even to stage moms who don't sign their notes. I have always wondered whose Mom she is. I am sure they are THRILLED.
I am the writer and creator of my work.  I have the power to decide.
AND how amazing and to-the-bottom-of-my-soul thrilling is that?
I don't want to be bossy, or preachy or sound all Pollyanna…or like I know it all…or WHATEVER…but back to that 10 minutes of sitting there and mulling over my scores filled with work…of seeing where I was…finding the above note AGAIN (it was tucked away in between the pages of the sheet music for Britney Spears' TOXIC…I shit you not…) and being reminded of all the wonderful support I have had through the last ten years…of the collaborations I have been a part of…of going from a self starter, self producer to an artist who has (and has had) the honour, blessing and joy of developing her work in conjunction with three wonderful and diverse theatrical institutions….Buddies in Bad Times, the Young People's Theatre and Soulpepper….I felt thrilled. And proud. And daunted. And inspired. And a bit tired. And scared. And excited.
Because….if and as we all continue… it will be joyous, it will be hard, it will be worth it, it will take you breath away (good and bad), it will take all your resources, it will make you lay down, it will make you cry, it will make you question your birth, it will reward your soul beyond measure…and it will ALWAYS be a struggle…it just will. I realized that. And I know I have realized that fact before…but that post…with stories and short comments from some of the most acclaimed artists in Canada really sent it home…maybe because I felt a little less alone in the struggle. So, I thank you, respected playwright, for your frank shout out. I have built something in this 10 years…something I am proud of and ready to grow and develop.
We forge onward…hopefully upward, probably a bit backward, and then forward again…on shaky legs. It is not for the faint hearted…but is a fucking ride I buy a ticket for EVERYDAY all the same.
#peaceandpassionin2016