Christmas Gifts? Les Miserables T Shirts FOR EVERYONE!!!! #fancymess #help
It is frigging December 1st.
How did this happen?
All year long I kept saying to George, "December is SO far away…we don't even have to worry about booking the guests, getting the score ready, making sure that Jim Clayton still loves cookies enough to play for us, have George start the major process of making 400 cookies (I sew hair pieces and balance budgets…I don't bake, people), start finding a new player in Stratford, oh AND finding guests for that show as well, coming up with a marketing strategy for the BIG room in Toronto, begin hanging posters in both towns…oh, and getting ready for my Sharron's Christmas Party shows in Brampton and Ajax…WE DON'T need to worry about THAT yet…"
Well, shit.
But the thing we are never ready for…in the 23 years we have had together…is buying Christmas presents for our families…don't worry…this is no surprise to them…AND, let us be honest, they have given up on reading my shit years ago.
Every year, on December 22nd, George and I put on some armour and go Christmas shopping…which is a bit disappointing to my sister, Gwen, who calls me in June and tells me that she has found something really special for our Christmas Box. Yes, our family exchanges Christmas Boxes instead of singular presents. The pressure to be seasonally awesome is almost too much.
SIDEBAR: My sister starts watching ANY Christmas movie that will play on Lifetime TV the first day of November. Serious.
We end up getting a decent raft of gifts for the family members who we are buying for that year…but the price we pay? The stress of shopping with the crazy group of people who head out ot the mall on December 22nd is quite high, people. It is a full on shit sandwich.
I remember the first year I could finally afford to buy gifts for my family.
It is a day that will live in friggen infamy.
I was 21 years old and I had just been hired to be in my first big show…Les Miserables…and I was fucking thrilled…what a year it was…and I felt so fancy and excited…and fancy. Who would not want to be this fancy? (Please remember that I was 21 before you start judging what follows too harshly…)
So, for Christmas…the first year I could buy Christmas gifts for my family WHY would I not want to share the symbol of my good fortune? And how excited would I be?
So, I went to the merchandise table in front of the Royal Alex Theatre and bought Les Mis t-shirts, mugs, and posters. And that was it…but wasn't that enough? I even got special signed posters (the Mirvish Family would sponsor signing parties with wine and pizza and we would sign posters for hours…literally hours…who knew where they all went?) for my sisters. How lucky were they?
Christmas morning I hump it to Hamilton with all my presents…and I cannot tell you how excited I was…and as they begin to open them…the theme became clear…
My brother in law, Chuck, opened his t shirt and mug…and looked at me…and did his level best not to laugh…which was not as good of an effort as he thought it was…and, my friends, it did not occur to me till years later, when I was walking by my sister's open laundry room door at a party, and saw the signed Les Mis poster hanging over the dryer…that this brand of gift giving might have been a little self centred and ill advised. I actually JUST wondered if she puts it up when she knows I am coming.
But I was so excited…and I am very thankful that they all didn't tell me to go get stuffed or get over myself…I was 21 after all.
And no one has ever said a word.
I will bring it up this year…because it is time. And it is time because we all have a sense of humour now…THIS was Chuck's fave gift from last year's Christmas Box…I wish I had bought it…it is my Lifetime Christmas movie watching sister, Gwen, who found this…
So, I ask you…now that it is December…WHAT is YOUR fave Christmas Story? I really wanna know! Funny, moving, scary…anything!! Put it below this post on my FACEBOOK page…or on our SUPERFUN Christmas event and fan pages…
…or right here on my blog page!
We really wanna know!
Just try and short form it for us…because we are looking for a storyteller…we really are…our annual SUPERFUN Christmas storyteller, John Austin, is going on vacation this Christmas…I KNOW!! and we are looking for a storyteller… AND we just wanna hear your stories…
We are also heading into NEW promo this year…we will be doing some TV and Radio…and we are more than half sold in both locations…so please buy your tickets…we do not want you to scramble and we would love to see you!!
TORONTO: Box Office: 416 975 8555
STRATFORD: In person at Revel Caffe, 37 Market Place, Stratford
George started making cookies…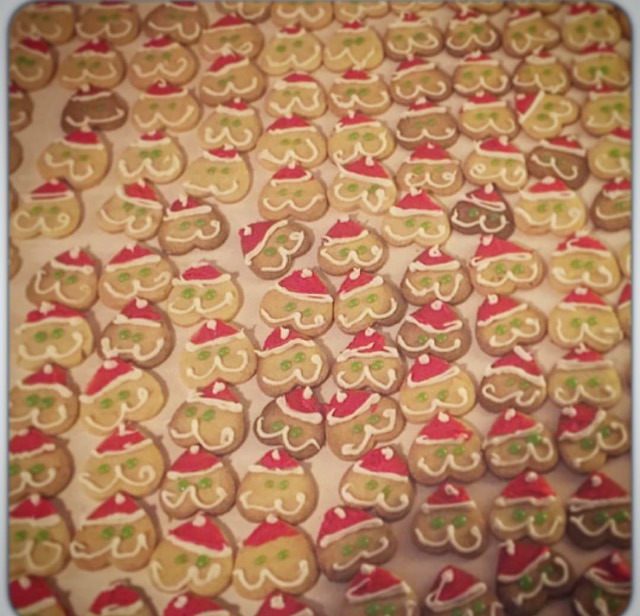 And I started sewing hair pieces….
And to all a good night….