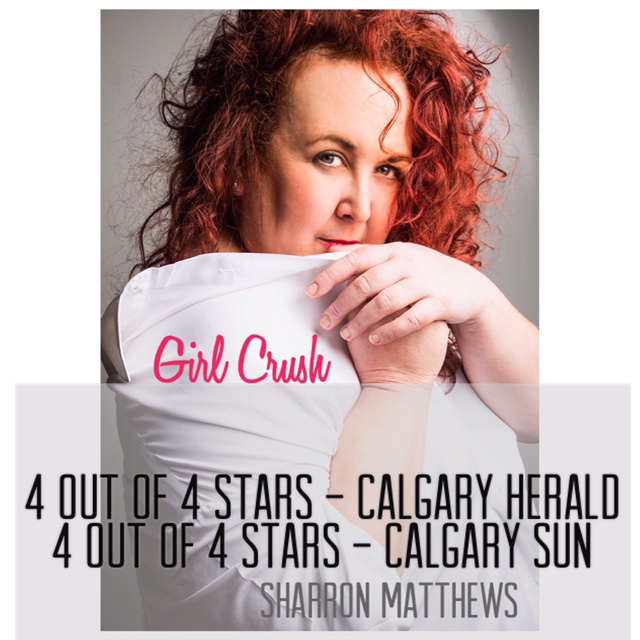 Sharron Matthews is not only a world class cabaret artist, actress and singer but also a bad ass, body warrior and in collaboration with Canada's Lunch Box Theatre, Sharron developed and premiered the ground breaking cabaret, GIRL CRUSH, in early 2017.
"
Girl Crush is as achingly personal as it is immensely entertaining. She becomes an old friend not just a dynamite cabaret star. There is one downside to Girl Crush. It ends far too quickly." – Calgary Herald
4 out of 4 Stars – CALGARY HERALD
4 out of 4 STARS – CALGARY SUN
"She just commanded the stage. My favourite thing was that she was wholly, unapologetically herself; hilarious, emotional, and totally engaging." – ONSTAGE.com
Girl Crush is an inspiring and hysterical musical journey that weaves Sharron's singular re-imaginings of the diverse music of artists such as Kim Carnes, The Police, Blondie, Rick Springfield, Beyonce and Cyndi Lauper into tales of heartbreak, obsession, awe and love.
GIRL CRUSH will awaken your heart and mind and it is FILLED with some of your favourite songs as you have NEVER heard them before…sung by an incomparable artist at the top of her game.
A ONE NIGHT ONLY EVENT NOT TO BE MISSED.
AUDIENCE RESPONSE TO GIRL CRUSH WAS OFF THE CHARTS!
"Okay everyone! I don't usually say this stuff but: GO SEE GIRL CRUSH! This lovely lady is Sharron Matthews, the creator of the amazing show! It's a cabaret where she sings everything from Girls Just Wanna Have Fun to Jessie's Girl to Mr. Brightside. #lunchboxyyc #girlcrush2017" – @chasingthedragon1 on INSTAGRAM

"Yes, that is THE @sharronmatthews from Mean Girls AND the INCREDIBLE show GIRL CRUSH playing @lunchboxtheatre in #yyc RIGHT NOW! I laughed, I cried, I fell in love. Sporting my super suit today! This is a show you don't want to miss! #youarebeautiful @soami @supersuit #ilikeher #goseethisshow#unreal #feelingempowered" -@alyshiagrace on INSTAGRAM

"I think it's safe to say we all have a MAJOR GIRL CRUSH on @sharronmatthews! This inspiring, heartwarming, and hilarious show is for EVERYONE! GO! NOW! Be inspired! Laugh! Cry! Sing! Dance in your seat! #lunchboxyyc #yycarts #raiseyourhandifyouveeverbeenvictimizedbyreginageorge"  – @justinewestby on INSTAGRAM