Today is NATIONAL NO DIET DAY. So.
So, yes, I just found out that today is National No Diet Day.
Then I sat here in front of the computer…staring…wondering.
Should I say something? I do say a lot.
Huh.
After all the joyous success that I have had with Girl Crush, a show that speaks to many issues that basically surround… LOVE YOURSELF ALREADY…BEFORE IT IS TOO LATE. RIGHT NOW!!…I have been enjoying a peace like never before…and an unexpected push back in my mind like never before…that push back says, "Sharron everyone can really see you…you need to lose weight…" which is the direct opposite of what I want to feel…and the voice of a 14 year old girl inside me who is afraid to REALLY be seen.
So….
I realized, while working on this show, that I had gone from a Jenny Craig induced size 8 (almost skeletal for a frame like mine…seriously…take my word for it) to a PLUS SIZE (whatever the high holy fuck that means) over the last twenty years…and though I feel more at peace with myself than ever…and talking about it has been amazing…there is this one thing that I cannot get out of my mind.
I performed my cabaret, "GIRL CRUSH" at Lunchbox Theatre ( a lovely 120 seat cabaret style set up) 25 times…and have done it twice since…once for a private party (50 people) and then, last week, I did the show for about 500 people in a large theatre. And I have loved almost every minute of it…but there is this one minute that is always a challenge for me…when I was at  Lunchbox I had the blessing of having a lovely set filled with pictures right behind me…pictures of my life…it looked like this…
It is wonderful to be able to button a thought with a picture…and at one point I talk about when I was 24 years old in Showboat at the Ford Centre in Toronto, how I lost so much weight my own mother didn't recognize me.
I reference a picture that I have carried with me in my soul and mind everyday of my life since it was taken…and how it is a anchor that I have dragged behind me to this day.
Then the picture is illuminated.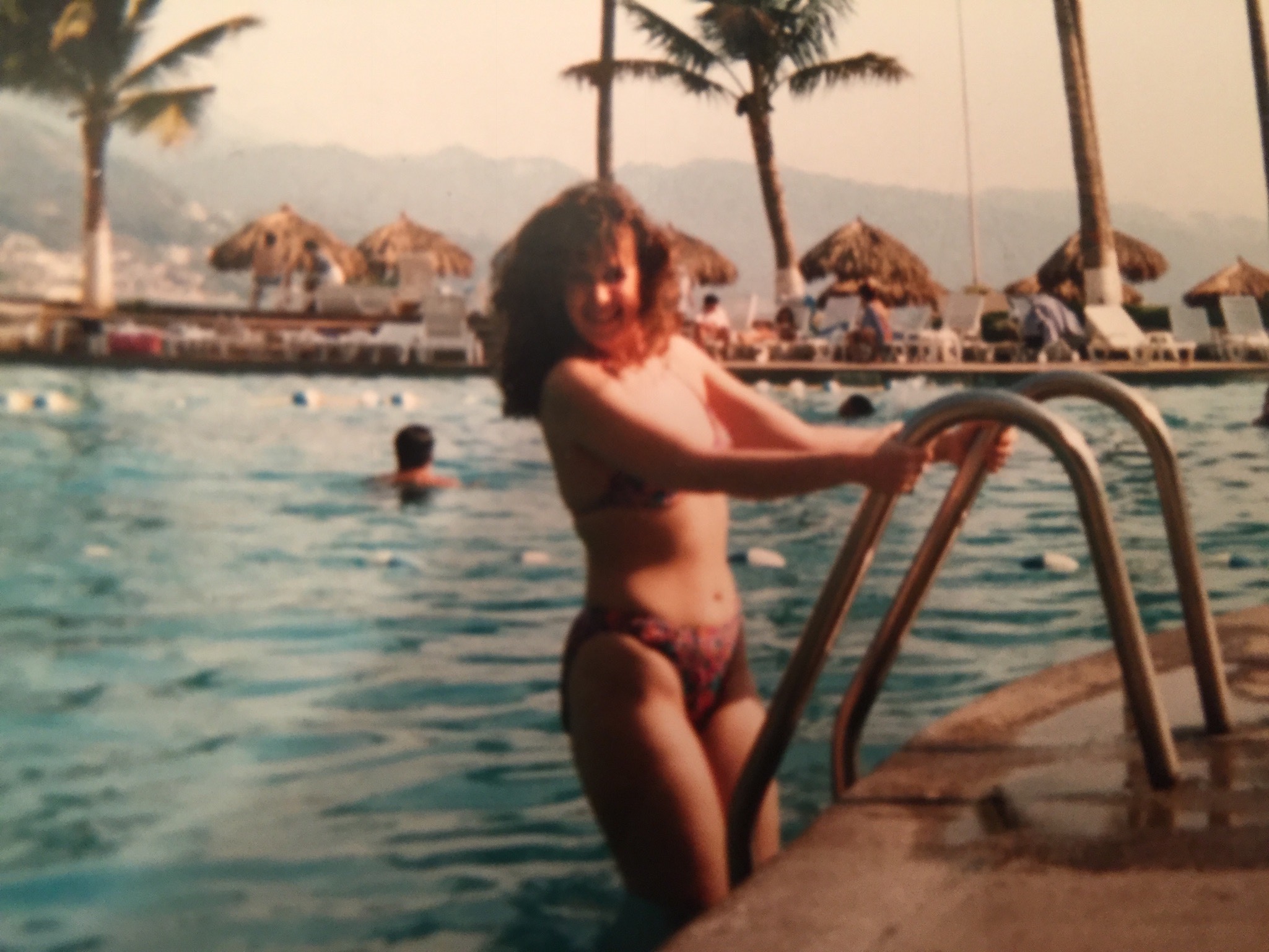 There was always an audible response when the audience saw this picture.
Then I would look at the audience…and they were all so close to me…I could see them so clearly… and would really see them…all those wonderful people…seeing me…looking at me standing in front of them in all my today's size glory.
They would be REALLY seeing me as I am now…and, with the picture directly behind me, as I was then.
It would punch me in the gut every night…and I let it. They had many looks on their faces and I would drink them all in. Joy, disbelief, worry, happiness, surety, sadness…confusion…a lot of faces, people.
I had not yet told the rest of my story…but this moment between the audience and me would inform the rest of the show…and without gilding the lilly, I will tell you it was hard to be in, that moment. You see the way people really feel.
And I created this moment because I want this to be the beginning  or the spark of changing some people's minds about the way they see, speak about and treat people of varying sizes.
As I always say, IT IS ONE OF THE LAST TABOOS.
Comedians talk about it (I turned off a Bill Burr comedy special when he started to talk about how you had to be nice to fatties now)…kids are constantly shamed for it by other children and adults without repercussion …weight loss industries makes billions of dollars based on people's self esteem…it is idea used to describe someone and the way the are not "normal"…it is still open season on people who are big. And I wish it not to be so.
After the show one afternoon I was chatting with a perfectly lovely person who I just met and we were in conversation with a couple of other people I knew better. Person number one, who had JUST seen my show, described someone they all knew and talked about how this person was just getting bigger and bigger.
I replied…and I tell you I was all in innocence, "Oh, are they really killing it in the business?"
And all went quiet…that is when I realized they meant size not success.
And no one knew what to say. And I said nothing…but I know everyone there was thinking back through my show…and instead of getting upset about it I saw all their faces really seeing me again…and seeing my show in their head…and I am hoping, seeing themselves.
That is why that moment matters.
I know there are a lot of minds to change.
Just two days ago, after I put up a clip of a part I played in the final season of  TAKEN (which aired last week on Global and NBC), a reviewer sent me a review of the show that talked about how great they thought I was in it. I was so thrilled to see it I showed it to George and read it to him…I had skimmed it so quickly that I had not truly registered that over the top of a picture of me was the beginning of this quote:
"It Ain't Over Till…."
And when I read it out loud I knew…and I was embarrassed for a moment….a moment, people…and then I wrote the reviewer and mentioned how I loved the review but that part wrecked it for me.
They wrote me back, apologized and told me they didn't mean any harm…and took it down.
I thanked them for taking it down…but…what else could a person mean by something like that?
I hope they saw me (the TV version of me) and really saw me…and then saw themselves.
So, on National No Diet Day I wish people peace.
I wish people can see themselves as the beautiful souls that they are right now…because no health changing measure truly works until you are doing it out of love for yourself instead of hate.
I wish the weight loss industry a bit of shame on what they cash in on.
I will keep having that moment onstage and drinking it all in…because it is the life blood of change.
HAVE A GREAT DAY!
HERE IS the Clip from TAKEN!
Sharron Matthews: GIRL CRUSH will play in New York City on May 26th, 9:30pm at 54 Below…here is a link for info and tickets:
https://54below.com/events/sharron-matthews-girl-crush/
And here is an clip of my cabaret/comedy work!
And you can find out all about me at: