Kissing Evan Solomon, Calgary, New YORK CITY and…I'M JEALOUS!!!
Hey ALL OF YOU PEOPLES IN THE WORLD!
I hope this finds you all well, and pretending that winter is over for a couple more days.
Oh, February…you mostly suck…so off you go, am I right? Unless you are in South Africa or Australia…then…carry on. : )
BUT before February gets the eff out I wanted to have a little email/internet chat with you all…just to make February a little better…mostly for me. : )
I don't know if you have been following any number of the social media platforms where I put up hundreds of things ranging from my homemade breakfast sandwichs on vintage plates (I know how it sounds…but some people really dig it so you can stop your judging right now) to pictures of me and hosts from the CBC/CTV that I have dragged up to the stage in arena theatres with audiences of 3500 to hold my water, hold my jacket…and then hug, smell and lay a kiss on…no really….
Sigh…I was looking at him and looking at him…thinking, "I know him from the TV…" but not wanting to point it out and muck up my set. HE is Evan Solomon and was just about the sweetest dude around…a VERY good sport and an even better audience date.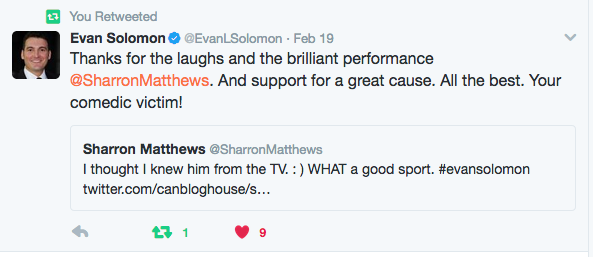 See?
So sweet.
This was all part of the ALTERNA Crack Up Festival that I performed at last week. Two huge shows in front of about 3500 people each night…seriously…it was amazing! And all the money goes to Mental Healthcare in the Ottawa Region. I got to work alongside Deb DiGiovanni, Mark Forward, Ron James, Jeremy Hotz, John Wing and James Mulliger…and truly gifted bunch of stand up comedians. It was really effing awesome. Just sayin'…a great way to start the year! AND NOW??!?!?
ONWARD!
There is a lot to announce and to post today besides me kissing Evan Solomon (Calgary GIRL CRUSH, 54 Below NEW YORK CITY GIRL CRUSH with a coupon even, and a vid from last years 3 camera shoot)…SO I will be short…and yes, George WAS at the show and saw me kiss Evan Solomon…he was fine…we have a business to run, people.
I start rehearsing GIRL CRUSH in Stratford by myself this week and fly out to Calgary on March 8th for previews to begin on March 20th running to th April 8th. I love this show. I love the message of body positivity and self love…and how the women who have run through my life on screen and in person have influenced that love…and those GIRL CRUSHES (see what I did there?). I am excited to run it at LUNCH BOX THEATRE!!
Here is a link for tickets! PASS IT ON!

TODAY I am officially announcing a NEW YORK CITY show of GIRL CRUSH at 54 Below on May 26th at 9:30pm. ONE NIGHT ONLY!
I would love to see you there!
Here is a link to a FLASH sale on a limited number of seats for ONE WEEK! IT is 35% off people!! That is unheard of! The food is fab and the room is killer…and it is NEW YORK PEOPLE!!!
GET YOUR TICKETS by CLICK BELOW AND USE THE CODE SHARRON35!
 
There is A LOT of other special shows in the hopper for this year that I cannot announce yet…but it is pretty effing exciting!
AND HERE?
Here is a little number from the 3 Camera shoot of SHARRON MATTHEWS SUPERSTAR that I did last November…remember? The one I did that crowdfunding campaign for? THANKS to all who contributed and supported! My pal Mike and I are moving onto the next phase of the project which is interviews about cabaret and attaching them to numbers…but we wanted to put some of the show out there…we are thankful and really excited about it!
Thanks to you all, as always, for following along and I hope to see you at a show soon!
Keep on being awesome…for serious. Life is too short to be less. : )
Shar xoxo