Twas Heaven Here With You, Buckingham. Adopt a dog.
As we drove home in the car last night George said, "Sadness is the absence of happiness…and Buc was all happiness…so…"
Some people don't understand dog love.
And that is okay…I mostly don't understand kid love…DON'T FREAK OUT…I appreciate it…and there are many kids who (whom? I don't know) I love…but I have never wanted one of my own.
BUT I have always wanted a dog.
We have shared our lives with four amazingly different dogs.
Otto the Schnauzer, who we lived our lives with for 15 years…was wonderful, loving and had terrible manners…which was TOTALLY our fault. We didn't know. We had not had a dog before. BUT he was our dog. AND we loved the hell out of him. He came to us as a puppy and when I had to leave him at home for the first time by himself for an extended period of time to go to  work, I had to pull over the car halfway there when "Circle of Life" from Lion King on the radio.
He peed in the house for almost his entire life and humped everything…but god how we loved him. His passing was strange, scary and too fast and it scarred us for a long time…but we had never had a dog before…we didn't know that we could take our time…and stay with him for a while after it was over…and search for peace with his form. BUT I did recount to him his life story when we sat at the park with him on that last day. I told him about how we found him…and all the places he had been with us…and the people he had met…and the joy he gave us in our lives. And I hugged him so hard…and I petted him. And then, hours later, he was gone.
Cassie was the dog we thought we would NEVER have. We wanted to get a rescue but we came up with a list of rules. We would never get anything with Pit Bull in it (she was totally Pit Bull) and nothing too big (she was bigger than Otto) and NOT a dog that was sick (she had an auto immune disorder). But there was just something. She was so perfect. And she and George were in love. I know she loved me…BUT when hard pressed…if she had to ever make a choice…she would choose George…and somehow I found that okay.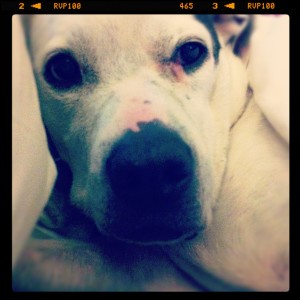 AND not long after her arrival…because we had to go back to the Humane Society for 6 months to follow up on Cassie's blood work…and because we clearly had lost our ever loving minds…one of the animal investigators convinced us to go and look at a dog who was so scared being there…that looked so much like Cassie…but weighed 120 pounds (what the literal fuck). And we saw him…and thought about it for two days…and did not come to the natural decision that it was too much…or that he was too big…BUT that he was also perfect.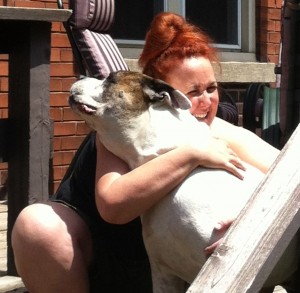 And we actually moved to the country for them. They were challenging in a lot of ways…she could not go to the dog park because of her disorder (she could not have a rabies shot) and he was…120 pounds…hard to get people to take care of a woolly mammoth…but we found a handful of wonderful care givers and friends who would take care of them for us and who loved them as well. God, they gave us joy…they were clowns…they were love…they were an hour at the front door putting on 8 dog boots in the winter. They were both older when we got them…and after beautiful 5 years they both left us about 5 months apart. And they told us when it was time to go. And we took time with them…we told them how beautiful they both were…and we told both of them the story of their lives with us. We thanked them for helping us through some hard times with their love and we told them that we would never forget them…and that we would think about them every day. And we did…and we still do.
We said we might never get a dog after them. It was heart breaking to lose them both so close. Then we said at least 10 years till we got another dog…if we got one.
Two years later, George came to me and said, "Maybe we should get a dog."
Me: "No, honey…no."
He: "I would really love a dog."
Me: "….It would have to be small…"
He: "…oh…hmmm….."
Conversation over.
Two months later.
He: "What if it was small…and we could take it everywhere…"
Me: "Oh, honey…I am scared…I want to…but we have had so many awesome dogs…the odds of us getting an asshole are high….and what if…what if."
He: "I would really like a dog…"
Two days later.
Me: What about this dog?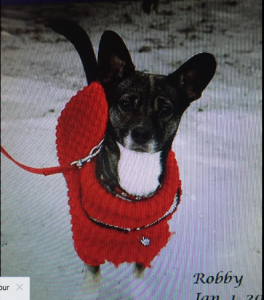 He: "Okay."
We got bowls…crates…beds…and everything before we even met him. We were excited. George was excited. I was excited and nervous. What if…
When we met him (like when we met Cassie and Tyson…but not Otto…Otto was a puppy…our first puppy…but these were grown dogs) they quite simply look like "dog". They don't look like your pet just yet. They are a bit on their guard…they are wanting to give themselves to you…but they have been abandoned in some way…so, they are a bit…the tiniest bit distant. They are "dog".
Then we took him home. And from the first moment he was perfect. What were the fucking odds, right? He was our fourth dog…our third rescue…and he was the coolest, sweetest, smartest, cuddliest, easiest, awesomest dog (Sidebar: we would take any of our dogs back in a hot second…they were all amazing) and after about 5 days…he went from "dog" to Buckingham.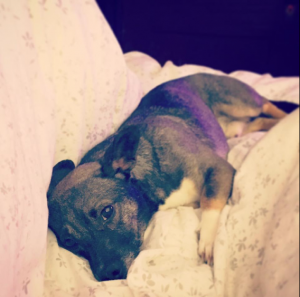 They tell you when you get a rescue that it takes about a full year to bond. But not him. Not him. He was our family within days. I felt such joy…we felt such joy and elation. And he became the focus of our days. It was like we always had him…he fit in…he was so easy and good. And he was a total clown. He also knew a lot of things when he came…that he revealed to me as we got to know each other…he knew how to sit, lay down, to stay…but he took his time showing me. He wanted to make sure that I was worth it. :  ) And I don't begrudge him that at all.
We got him for a lot of reasons…I had done some research…and had come up with a list of qualities we wanted in a dog, so we would not be surprised or feel like we had unrealistic expectations when asking a dog to be a part of our life AND THIS TIME WE WERE GOING TO STICK TO THE LIST:
House trained
Good with people and kids
Good with other dogs
Under 20 pounds (so he could fly in the cabin)
Short hair ( I have allergies but Cassie and Tyson were short hairs and I seemed to be okay)
Good in the car
Easy going
Under 4 years old so they live a longer life with us
It seemed like a good list. And BUCKINGHAM's list of attributes on the rescue website covered all of these things…with one added awesome quality…"good for seniors".
He just seemed perfect.
Getting any dog always comes with a risk that they might have some hidden quality or issue…but when you get one you sign up for that.
He was perfect.
And for 10 perfect months we lived in the moment with him…I documented his every moment on my IPHONE because it is my hobby…George said when we got into the car with him and I started taking pictures that he was excited that I could get back to my part time job of taking pictures of our dog. And I did. And I am so glad I did.
We had NEVER taken him to the vet…he had had a full work up at the rescue we got him from…he had been give a clean bill of health and was strong as a bull and built like a tiny tank. He ate well, pooped well, peed well, slept well and lived well. Buckingham was truly the picture of health.
So, when I said "see you in a couple days sweet boy" to him when I went off to work, how could I ever have known?
We were in NYC and got the call that he was acting strangely. We chalked it up to separation anxiety…but when our pals who were minding him called us back and told us he seemed unwell, George went into care mode. He told me not to worry about it, as I had a big show the next day…he would help our pals Lisa and Kirk deal with Buc. He told me he was ill but would be fine. I did my show the next day…and right after George told me we had to get into the car and go home right them…Buc was not fine.
We drove all night. And during that drive George took me through all the scenarios…and none were good. Buc had a disease in his spine…that was always just waiting. We could have xrayed him days before and it would not have shown up. And while at Lisa and Kirk's he jumped or turned the wrong way and paralyzed his back end. George said it was like he got hit by lightening.
And the parts that were not paralyzed caused him great pain.
After driving for 9 hours…crying and talking…we arrived. And Buc was not fine.
He would not ever be fine.
And we felt so much sadness for him…and we touched him and tried not to hurt him. And he was still perfect.
And I told him the story of his life with us…and we let him go.
It was one of the hardest things we have ever done.
He had not lived out his promised life span…he was just a baby…he was healthy…he was…god.
After he was gone we hugged and touched his little perfect form.
And I could have stayed forever.
It is the walking away that is one of the hardest things.
I would never trade a moment…it was only 10 months…but it was so full. It was like he knew he only had a short time…so he fit everything in. He changed our lives.
I am absolutely…we are absolutely heartbroken.
It is the absence.
And now the house is quiet. The house is empty. For a little dog he took up a lot of space.
And we watched videos of him on our phones…and my hobby of taking his picture has helped us a lot. I put up so many shots of him on INSTAGRAM and Facebook during the last 10 months…and he developed a loyal following…hashtag #buckinghamthewonderdog.
And I thought last night, because I hoarded so many pictures that I could post a new picture everyday for three months and have them still be new shots that no one but me (and George) has seen. And, when I had this thought, it soothed me. It is a way to keep him every present as we grieve his passing. It is not the same I know…but it is something.
"I wish Buc would come home."
We have both said this a million times over the last two days.
If there is anyone who does not understand this dog love, that is okay…I get it…it is a lot.
But to those who do…you just do…and you know.
Adopting dogs has been one of the great joys and sorrows of our lives. But we really would not change it…we take the sad with the happy, grudgingly…but we take it…and as I cried a couple of days ago I came across this: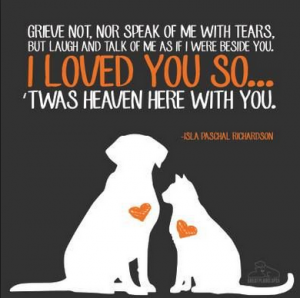 And it was…for us…and I truly hope for him.
We loved him with everything we had…and he gave it right back. It is a sacred relationship…one that enriches every part of your life.
So, thought the pain is not close to abating, I still believe. I mean, NOW the odds of getting an asshole are even better…but then I think…maybe there isn't one asshole (okay, we all know there is an asshole dog at the park right now)…but maybe he is a product of his environment…ya…that!
I am not totally sure that we will ever get another dog…our hearts are pretty broken…but I remain open to miracles.
Adopt a dog. Find an abandoned soul that will change your life. It is so worth it. And know that the benefits far outweigh the grief. I do believe that too.