MEME gURL Airs in THREE DAYS on SLICE TV!!! WHAT!?!?!?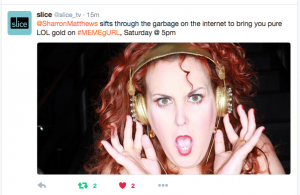 THREE DAYS AWAY ON SLICE TV!!!
Both episodes will air ON SLICE, back to back on Saturday, June 25th following The Other Woman at 5pm. It would air again in late night at 2am and then on Sunday at 12pm.
I BREAK down the very best, funniest, bitchiest and weirdest things on the internet so YOU can rest you little typing fingers! I do it ALL for you!
Check out the TV SHOW page on SLICE TV's WEBSITE!!