6 Years since THE WORLD DOMINATION TOUR! ARE YOU EFFING KIDDING ME!?!?
Those FACEBOOK memories are wonderful, sad, happy making and jarring all at the same time, am I right? When my dearly departed dogs pop up I spend a bunch of time having a little happy weep. As much as we all talk about how we can get to hating Facebook, the memories keep me coming back every day.
This past week I have been seeing a bunch of memories about my first tour of…the world…yes, I said it…and it is TRUE! I did two shows at Buddies in Bad Times (to raise funds for the tour…it still makes me lose my breath when I think that I raised just under $40,000.00 for the whole shebang) on May 8th and 9th, 2010 and then I went off to Joe's Pub in NY for two SOLD OUT shows and then in August I had my first visit to the Edinburgh Fringe.
6  EFFING YEARS AGO!!
And what a time it was….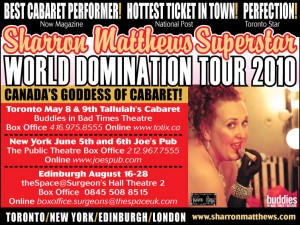 And now? All these years later I find myself at the end of both a wonderful workshop and this country's first Cabaret Residency…both supported by (and at!) Buddies in Bad Times Theatre, the place I had that show 6 years ago before I went to New York and Edinburgh…feeling excited about what is to come! Cabarets for kids, my first Canadian long run of an original cabaret presented a theatre company (thanks LUNCH BOX!), and tour dates booked through 2017  all across North America…and so much more in the hopper.
After one writes a bunch of grants, it becomes easier to list credits (as I did above) BUT it is always great to stop and really have a look at them. I feel pretty thrilled and humbled about where cabaret has taken me…physically and spiritually. I have traveled around the world, and I have gratefully ended up where I so hoped and prayed I would. With #peaceandpassion
Cabaret brought me to a place of self confidence that I never had before. Cabaret gave me wings. I went from not being able to walk onstage because of performance anxiety to walking in front of 2000 people, with just a trusted, trusty and accomplished wing man or woman accompanying me…and feeling pretty joyous about it. It opened my mind and my heart to limitless possibilities. I am SO very grateful for all the gifts it has given me. I went from having no outside world at all to having…the world. And that…well, how do you categorize that?
And very grateful to ALL the people who have supported me throughout…and so FAR! This past weekend I had invited showings of the piece I have been working on for the last THREE YEARS (god help us, who knew?) at Buddies. On this piece, I have gone from flying alone to working for the first time with an excellent dramaturg (fancy) and director (fancier) in the form of the multi talented Andrew Kushnir. I have worked with many talented, sensitive musicians on this piece…Steve Thomas, Chris Tsujiuchi, Matt Marcoccia, Jason Chesworth, Michael Doherty, Jamie Drake and this time I had the pleasure to work with Mark Selby and Bob DiSalle….all so helpful and dear. And the audiences were filled with people from all the years I have been doing this…everywhere I looked, joy. Thanks to Evalyn Parry, Shawn Daudlin and Brendan Healy for having me at Buddies and supporting this exploration. And thanks to my dear pals, Patti and John for putting up with me for three weeks…seriously.
And to celebrate this wonderful 6 years of touring and exploration, I have two exciting Ontario dates NEXT WEEK! If you know anyone who might be interested PASS IT ON!
SPRINGWORKS Festival in STRATFORD
On May 12th, I am opening the SPRINGWORKS Festival in my hometown of STRATFORD.
I have put together a very special concert to celebrate this amazing festival…supported on piano by the amazing Mark Selby and percussion by the equally amazing Jamie Drake.

 
Featuring songs by VARIED artists such as U2, Prince, Coldplay, AC/DC (yes…AC/DC) , Beyoncé, Cheap Trick, Beatles, Shirley Bassey and SO MANY MORE! It is not very often that I have the luxury of leaving my home and traveling a short distance to sing and tell stories! Get YOUR TICKETS now! Seating is limited!

 
CLICK HERE FOR TICKETS!

 
SUDBURY THEATRE CENTRE!
And on May 15th, I will be doing my first show in Sudbury at the wonderful Sudbury Theatre Centre! If you are near (or know someone who is near) please come on down…and pass it on!! SUPERSTAR is my award winning touring show…with Songologues, Medleys and Mash Ups for any and all! I can't wait! The show is a real crowd pleaser!

 
GET YOUR TICKETS NOW!!

 
CLICK HERE FOR TICKETS!
---
AND THAT IS THE END OF THE 2015-16 TOURING SEASON!

 


But I already have a full slate of North American dates in 2016-17…FROM Idaho, to Washington State, to 54 Below in New York City, BACK to the East Coast of Canada (Fredericton, Saint John and Yarmouth!), Mississauga, Collingwood, Richmond Hill and a run of a NEW SHOW at Lunch Box Theatre in Calgary!

 


Check out the UPCOMING TAB on my website for DEETS! 
And here is one of my fave videos…Wayne Gwillim and I at Joe's Pub performing "Creep" with a story on June 6th, 2010…BE WELL, ADVENTURERS!