Happy Thanksgiving 2015!
I am sitting here on my couch, after a hell of a week, with the rest of today brought to me by this: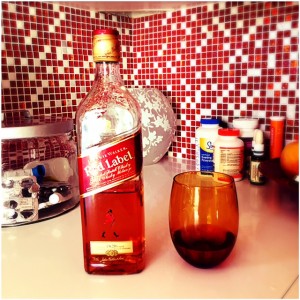 I just drove back from Hamilton, and have a tummy filled with a pretend turkey dinner I made (bought at Zehrs) myself…it is pretend because it is chicken. And because the whole thing was pre made. Ah well. It is still filled with mashed potatoes.
I feel tired and stressed…and George is far away working… but I am still thankful.
I am gonna be honest here…I have a family member who is recuperating from major surgery, another who is constantly trying to heal from  and deal with a challenging situation…and both of these things were brought into sharp focus for me this week…and still, I remain thankful.
I love my little house in Stratford. And today? The wind is blowing warm on my face through the open window, the sun is still in the sky (even though my tummy is already full of pretend turkey…when you are on your own for the day? you can eat whatever time you effing want.)  and I feel peace wash over me. George told me that once I got home peace would wash over me…he is always right…almost always.  I am thankful.
Last night, we had the most fabulous time at my sister Kim's house…we laughed…we ate…we drank…we were joyful. I am thankful. (My sister Kim is elusive when it comes to pictures…)
I had the good fortune to do something(s) this week I could never have done when I was working in shows that ran 8 a week…I stayed with my wonderful sister Gwen while I helped out with my family members' surgery recuperation. And in the evenings, Gwen and I did something we used to do when I was younger…we watched WHOLE nights of scary movies. I never do that anymore…and by watched I mean:
At one point we were both under the smallest blanket…and I was literally on her lap. For serious. We laughed…and then…when it was way too late to eat…we had pumpkin pie with whipped cream. I am thankful.
And today, before I left…my sister, mom and I had a tea party…wearing hats from my sister's extensive vintage hat collection…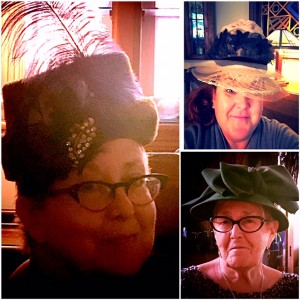 I am thankful.
And now, I have come home to get ready for a whole gaggle of adventures. I am thankful.
Dear Universe, though you give me so many challenges, you populate my life with blessings and wonderful people…family AND friends. I am so very thankful.
May you be warm, may you feel cherished and loved (by yourself and others) and may you have great blessings coming your way.
Happy Thanksgiving.
Below is a short story I wrote in 2008…and I put it up every year at Thanksgiving…I think it says it all.
Thanksgiving 1968 to 2008
Thanksgiving is like New Years to me.
I always find myself….at some point in the day…remembering what the day was like when I was growing up…the house we lived in…my family…how cold it was outside, the kind of cold that if you went for a walk without your coat your skin got tight and dry.
We had a ton of trees around the house, so the leaves were gorgeous.
 Today, I find myself a bit melancholy.
Sigh.
There was something so fabulous about being a kid on "two day" Thanksgiving.
That Sunday and Monday…I never knew which was the real day…and I did not give a crap because we got another day off of school. But it was still the beginning of the school year…so anything was still possible…I could still become cool…I could still get the part I wanted in the school play (note: I DID not get Dorothy in the all-white version of The Wiz…I played the Wicked Witch with a purple afro wig…that is ALL kinds of wrong). AND it was the beginning of the Holidays…the countdown to Christmas had begun.
I loved waking up in the morning and smelling the Turkey that would cook all day…and yet somehow would only end up half cooked due to the fact that my Stepfather had installed the oven incorrectly.
The house was warm. Warm with family. Even though mine was weird as all get out…I think everyone's was a little weird…I felt like we were the family in a black and white picture for that one day. With the green Tupperwear bowl that contained the 'salad'…which was a head of iceberg lettuce ripped in half…and the plate of cranberries…which was still in the shape of the can. The TV playing CFL football…I think there were two teams with the same name…and we only had 9 teams for christsake…the Roughriders…how queer is that name in retrospect…and we didn't even know it yet!!? Well, maybe just me.
My grama doing macrame in the corner in her yellow velveteen chair. My sister Gwen coming over…I loved it when she came over from her 'married' house…bringing me a cool outfit that she had made me on her sewing machine.
It wasn't too exciting a day. Just exciting enough.
I would get mashed potatoes. I love mashed potatoes. To this day I have to control the impulse to fill my entire plate with them. The potato? My nemesis. And my dear sweet lover.
I feel melancholy because a couple of years ago I came to the obvious yet startling realization that I could never go back to that time. When everything was possible and I was still someone else's responsibility.
Sigh.
I am thankful for all that is and that will be. And remembering all that was.
Happy Thanksgiving.
(written October 2008)