George, Take My Picture in this Bathing Suit….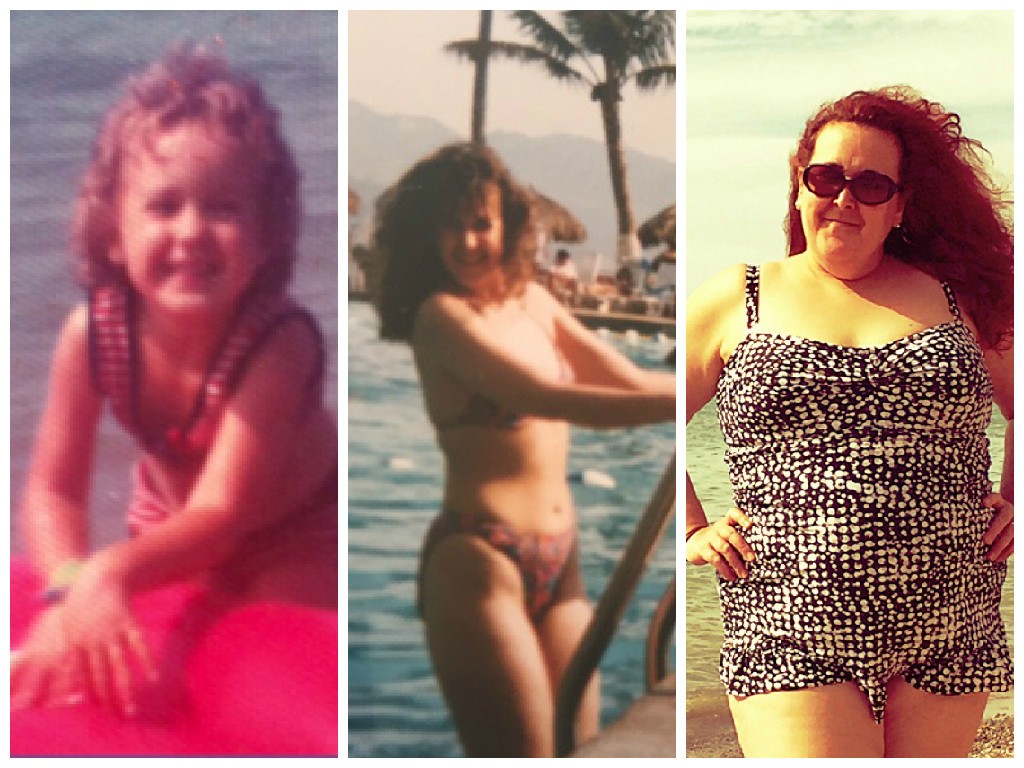 One of my fave things in life…in all my life…is going to the beach.
I dream of it all winter…and in the summer…while I am doing other things…like work…all that is running through the part of my brain used to multi task are images of the beach and plans of when I can go.
Growing up…when Mom found the money…she rented two rooms for us in a motel that was on Wasaga Beach…like, right on the beach, people. It wasn't fancy…it was just a motel room…but when you opened the door the lake was right there.
I stayed in the water for hours…and hours…and my Grama would implore me to come…for food…for rest…to get out of the sun…but, you see, Grama didn't like getting in the water…so, Grama, come and get me.
There was no other thing but the beach. It was and is a time when I truly live in the moment.
I think that is why I still hold it so dear…and I cherish it so much.
As my body has changed over the years my bathing suits have been many sizes. And my body is a body that changes. I have talked about this a lot in my writings and in my shows. I am not one of those people who goes for a physical and the doctor holds up a chart (Yes, I know that they don't do this anymore…there are computers) and compares their weight to last years weight and says, "Well, Melanie, you have to be careful…you have gained 5 pounds over the last 5 years…you might wanna keep an eye on that."
I can't even imagine.
I am going to be fully honest here…though my stage fashions have fully embraced whatever size I am at the time, I would be lying if I didn't share with you guys that my weight has been a cross…a burden… something to agonize over… a shocking banner of pride when I keep it down…a symbol of status and success, a source of deep pain and shame and a comparer-of-where-I-am-at.
Oddly enough, the times when I experience the most "success" in my work is when I have more weight on than I wish. This is when I book all my TV and film work…when my shows flourish…when I am in the creative zone.
Once, when I was terribly underweight for my frame and we were living in Vancouver for a year, I went to see an agent and he told me I was not pretty or thin enough to be the lead girl or romantic interest…and I wasn't interesting looking or big enough to be the best friend… "you see, Sharron, you fall between the cracks". Literally.
This was around the same time I visited my mother and when she answered the door she didn't recognize me…and also the same time I went shopping with a dancer and when I told her my weight, she crinkled her eyes and said, "Well, you'd never know you weighed that much…"…and she said it as a compliment…and I barely weighed anything.
I have sat in dressing rooms at my make-up stations between really tiny women talking about how fat they thought they were, comparing how fat they were to the slight girl sitting beside them…while there were women in the room who were probably three times their size.
It is really…a problem. That this thing…our weight…our size… is what any amount of our worth depends on.
The last few years have been an interesting time for me in regards to my weight.
When I shot Canada Sings…and I know I have said this many times before…but all you lovely people who read this blog, please bear (bare?…I never know…you get it…) with me…there might be new people, you guys…when I shot Canada Sings I had just gone through a weight fluctuation…and I had literally no clothes to wear. When the stylist came to fit me for about 30 different outfits, we looked through what I already had…and I was ashamed that I had almost nothing. She (the wonderful Lisa Williams) was so very wonderful…and when she left she asked me if I had any thoughts on the style she would create for my show look…and I asked her, "Please…just make me look awesome. I would love people to watch this show and say, She looks awesome…and NOT awesome for her size…just awesome." and she did.
And as we got further along, the PR person for the show said that part of my PR would be focusing on my style and look on the show. And I was floored.
(Again…more weight on than I would have liked…)
And it began the change for me.
I began to look around on the internet and find bigger women whose style I liked and I looked for where they shopped…and I started to buy clothes for myself.
Because, up until that point, I would tell myself to not buy anything new…wait until you lose weight…OR the ever popular, "buy it a size smaller…and you will lose weight to fit into it…"
THAT is always really good for a state of mind…or happiness.
Happiness.
The moment.
I want those things.
I want them back.
That is what I thought about a month ago.
I have spent a great deal of time focusing on the past…on one thing in particular.
In the back of my mind…there is always this picture.
When George and I went on vacation to Mexico the first time I had just lost a lot of weight…it was just before my mother didn't recognize me and the dancer shopping incident. And I bought a bikini. The last time I had owned a bikini was when I was little and went to Wasaga Beach with my family.
Happiness.
The moment.
I put on that bikini and I got into the pool and George took my picture.
I love that picture.
I look awesome.
So thin.
So happy.
And that picture has been in my mind forever as a frame for what I would like to be again. I can be that again.
So….ya, I know I was barely eating at the time of that picture…but I can be that again…I know this was the time that all my panic attacks really kicked into high gear…but I can be that again.
Don't get me wrong…I had a wonderful vacation…and I loved being with George. And I was in the moment, mostly. BUT I was not happy.
But that picture…so in my head…so good for comparing-where-I-was-at.
That picture is emblazoned in my subconscious.
That bathing suit moment was part of the road that got me here.
Slowly, since that moment with the stylist on Canada Sings, I have been owning more and more who I am in the moment. Sometimes I have to really work at it…and sometimes it is almost easy. I love the clothes I buy…I love dressing up…I love eating…I love exercising…I love…I love…I love…my shell. The thing that holds my heart….and brain…and ideas…and creation…and love…I love my shell.
I think about that picture of me in the bikini.
Yes…today you need to remember Sharron, you love your shell.
And then, there was this day…I was at the beach with George…and I had bought myself a new bathing suit…not a bikini…although I HAD purchased a couple bikinis earlier that month…and I liked them…but didn't love them…I found this cute bathing suit with a frill…a frill, people.
I love this bathing suit. And I love how I feel in it.
And I stood on the beach…looking out at the water and the sun…and I thought, what if I just was the way I was.
What if…what if I was just the way I was…and that was…fine.
So many words that we hear and say everyday…till you hear them.
And I have said them before…
But there, standing on the beach…in happiness and in the moment…they were powerful.
I felt a kind of relief wash over me. I could have cried.
I have been presenting this theory to the world…in my shows…in my clothes…in the way I would carry myself…but I didn't totally believe it. AND still have to remind myself everyday since of this amazing moment.
What if I was just the way I was…and that was great.
To not be embarrassed if something does not fit…to not worry if people are judging you because you are bigger than some…to not worry about what the casting director might think because you are a different size than you were last time…to not care that your flirty skirt is short, because that is the way you like it…to have the cake…to wear shorts in yoga and not give a shit…to buy bras that feature your voluptuousness…to FEATURE your voluptuousness.
To be happy in the moment.
So, at the beach that day…I asked George to take my picture.
I have not had my picture taken in a bathing suit…on purpose…since the day in wore my bikini in Mexico…also taken by George…my husband of 21 years…who loves me all the ways I am.
What a day.
(Post Script: I decided to explore this whole theme and idea with music. I am doing a very, very intimate show in my hometown of Stratford on August 23rd with Jason Chesworth on guitar at Revel in Market Square. There are 15 tickets left. I would love to see you….the show is called, GIRL CRUSH. You can get tickets in advance at Revel Caffe, 37 Market Pl, Stratford, ON Phone:(519) 305-1600 As always, Thanks for READING!)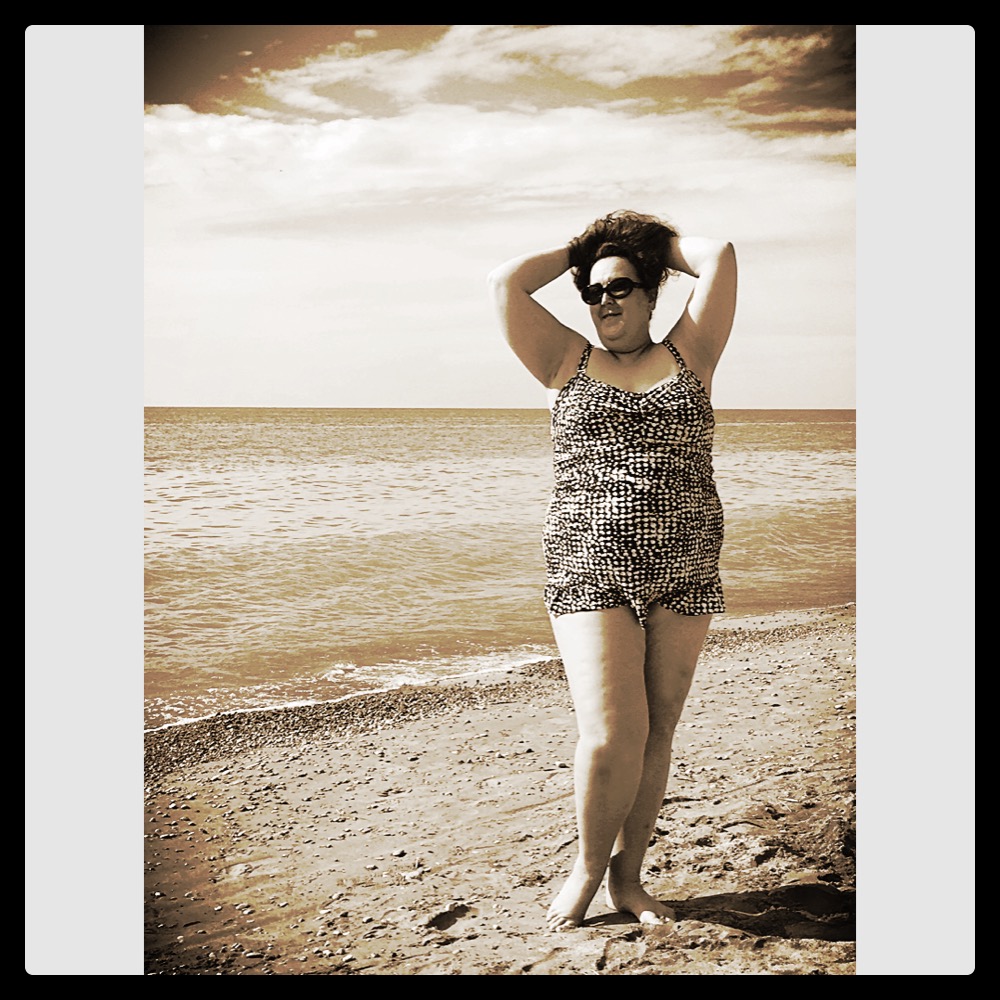 POST SCRIPT 2: Over 2000 people have read, shared, tweeted, instant messaged me about, direct messaged me about, and/or emailed me about this post. EVERYONE deserves the sweet relief of self acceptance. I wish it for all of us.
AND to all the people who commented that myself or the people who shared this were possibly living unhealthy lives, there was one thing I forgot to add at the end of this post the first time. Anyone who wants to comment on other peoples bodies, should keep it to themselves. Live your OWN  life as we all do our very best in our search for joy, truth and happiness.
My happiness probably does not look the same as yours.