A couple of reviews of "Closer Than Ever" here at TIP!!!
So, as an independent producer I have to read reviews.
It is a slippery slope, my friends…reading good and bad shit about yourself…is NOT for the faint hearted…it is the old, "if you believe one you have to believe them all" adage…is that you how you spell that? Ah well, you know what I mean…
Being an independent producer forces you to get over yourself in many ways. For instance, I have become pretty desensitized to pictures of myself…I used to be so unhappy if I didn't think the picture showed my body in a pleasing way…or if I didn't feel I looked nice in it…and now, I see a product…I will totally sacrifice my ego for a good funny picture to sell my shows…like this for instance.
I was doing the show with Mary Walsh on tour…and we were in Airdrie at the Bert Church Theatre…and I saw the photographer in the audience during the show…so I actually stopped and posed so they would have a nice picture to post…and this is what the Airdrie Echo chose…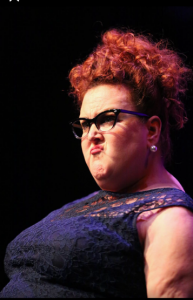 But kinda funny, right? I have actually grown to really dig this shot.
So, I am gonna use this blog to post a couple reviews for the show I am doing right now in Gananoque at the Thousand Islands Playhouse. It is a show I originally did last year in Kamloops, at the Western Canada Theatre, directed by Daryl Cloran. It is called "Closer Than Ever". If you are around, there are some pretty awesome people doing some really fine work…fun work…with an amazing support crew and fabulous musicians. Hope you all are well…you will be sad to hear that I moved out of the spider, mouse, Blair Witch Cottage into an awesome apartment across from the theatre…the house the apartment is in looks like this: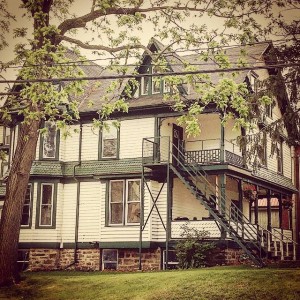 Which my dear friend, Brent, then turned into this: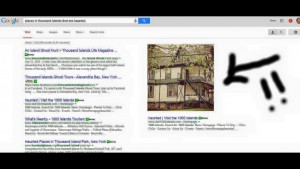 I know it is hard to read (this blog is a new format so I am not sure how to enlarge the picture and keep the format clear…running the world can be difficult) but the search line is "haunted houses in Gananoque" or some such thing…because people are hysterical…and mean.
Anyhow, off for a bike ride.
I hope the bike isn't haunted…
Here are a couple of reviews of "Closer Than Ever"…